Between fighting, lighting firecrackers, and playing pranks, I got into my fair share of trouble in school. So when I took a tour of the Billy Bishop museum with new curator, Emily Jollife, she explained how Bishop got into mischief regularly as a child, and I felt a real connection the World War I Ace.
"He used to shoot squirrels, fly off the roof, fight in school, cheat on tests; he was a bit of a rascal," she says.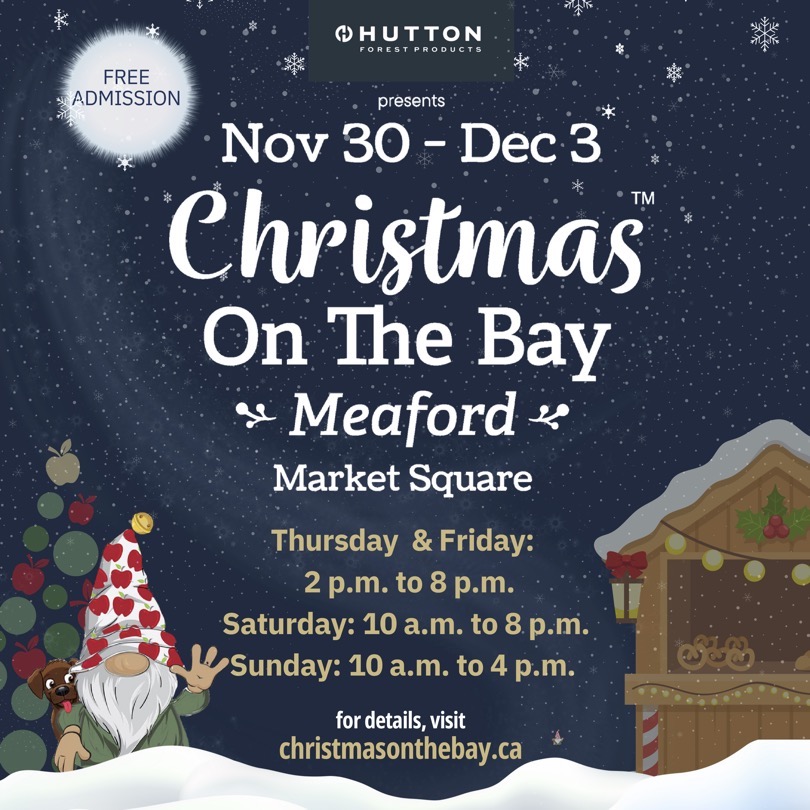 Yes, that is exactly what I was: a rascal.
But the difference was that his troublemaking got him sent off to Military College, where he found his calling and became one of the Commonwealth's most celebrated war heroes and now has two airports named after him. My shenanigans only got me a stern talking to by the principle and a scolding by the priest.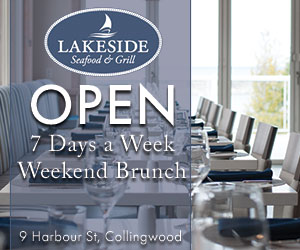 The other thing Bishop and I have in common is that our tomfoolery took place here in Owen Sound. Before shipping off to Military College, he called this place home, and even went to the same high school as me, OSCVI. I took a tour of the house-turned-museum recently, a tour I hadn't done since I was ten years old, when everything was bigger, except for Bishop's legacy – it's still as large now as it ever was.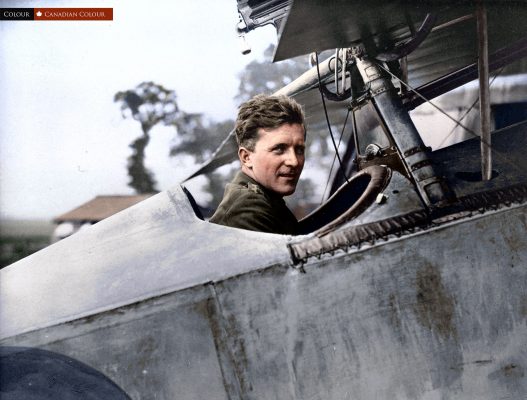 To put things in perspective, to become an 'Ace' in the Great War, you had to shoot down 5 enemy planes. Bishop had 72 kills – the highest in the Commonwealth. "It could even be 100 more because he was a lone wolf," Joliffe tells me. "He went out by himself a lot."
The airmen were called '22 Minutemen' because the lifespan of the members of the RAF was 22 minutes. This is something I knew after reading up on my grandfather's time with the RAF in WWII. He was a mid-gunner and outlived that 22 minutemen label himself by flying on over 80 missions. These were just numbers to me as a kid, but as I've grown and understood the world a little more, they've gained perspective and respect.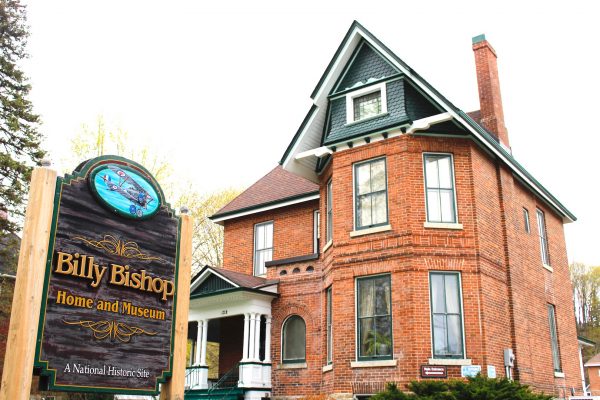 RAF fighters like my grandfather and Billy Bishop put their lives on the line every time they went up in the air. It was dangerous up there, but that was part of the appeal – at least for Bishop.
And this type of accomplishment made him a legend in his own lifetime. "He was like a rock star at the time – boy band status – he was on baseball cards, in the paper everyday," Joliffe says. Her tour is filled with interesting stories and detailed facts like that – Bishop on a baseball card. I had no idea.
Since taking over the director's position, Emily Joliffe is doing some great work to cast a spotlight on the role that Owen Sound and figures like Bishop played during the two Great Wars.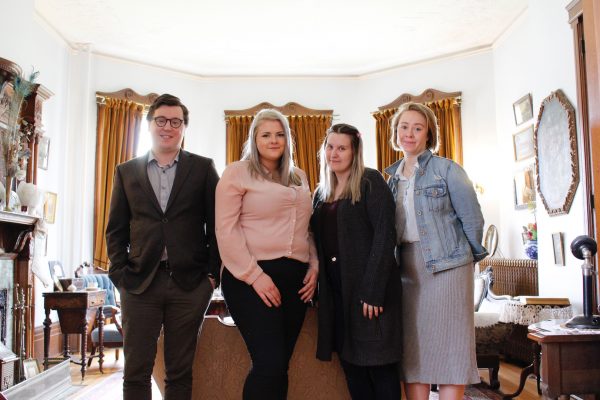 As we walked through the famed rooms of Bishop's youth, she points out the fascinating artefacts, and even let's me poke my nose into the flight simulator. "The kids love it," Joliffe says, not knowing how badly I want to hop in and play.
She fills me in on all the cool events coming up at the museum. Not only do they have monthly teas where a group can book a table to have a chill afternoon in the legendary home, but they're putting together interesting exhibits to bring local history to life.
On May 24th, the exhibit opening of Conduct Unbecoming: A 75th Battle of Normandy will take place at the museum, and Joliffe hopes to build on the success of their previous opening for the exhibit currently drawing interest titled Living Memory: Jeszcze Polska nie zginęła, which brought over 100 people on May 3rd. "The rooms were packed," Joliffe says. The exhibit tells the story of the Polish soldiers who were stationed and trained in Owen Sound during the Second World War, some of whom returned and made this city their home.
Do you know the carved beech tree on the Bruce Trail near Woodford? When the trail was diverted in 2014, it was discovered and has been a local attraction ever since. It was carved by one of these Polish soldiers.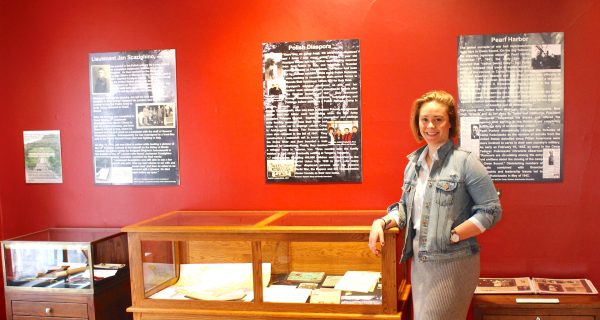 But their presence didn't come without a few fist fights with the local dudes, who weren't too keen on these handsome Polish men stealing all their gals. Joliffe has received much help and interest from the local community to make these exhibits a success and she's hoping Grey Bruce comes out to support the Conduct Unbecoming exhibit, put on by Ryan McManaman and the OSDSS students.
The museum relies on donations to keep these exhibits and the history of Bishop alive in the community. The City is responsible for the exterior of the building, and the Museum is responsible for the interior. Money is also raised through events like Fire and Ice, where women purchase tickets for an evening of dinner, wine, and a diamond necklace auction. The servers for this event are all men from the community; yours truly served this event multiple years and I can testify to its success in raising money in a very enthusiastic manner.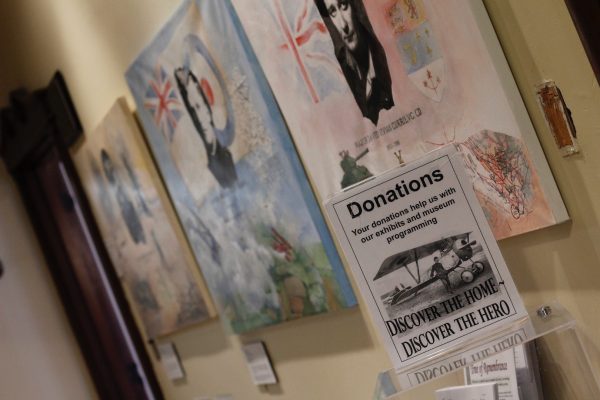 As we finish up the tour of the revered estate, I ask what brought Joliffe to the position. "I love history," she says quite frankly. Along with a history degree from U of T and Masters in Museum Studies, she also has a law degree, but realized that wasn't for her. It worked out well for Owen Sound, a city she's working hard to engage in its storied past.
She's enlisted a group of summer students to help her in her mandate. Tessa Al, Nic Van Alphen, and Karolina Brozy are working on some initiatives intended to make the Billy Bishop Home a busy place this summer. One of their ideas is to set up an Instagram photo booth on the front lawn for people to take pictures and hashtag them. The winning hashtag so far: #theamazingace.
"Like the Amazing Race," says Tessa. Who doesn't love a good wordplay? For the more literal, the hashtag #billybishop will suffice I'm sure.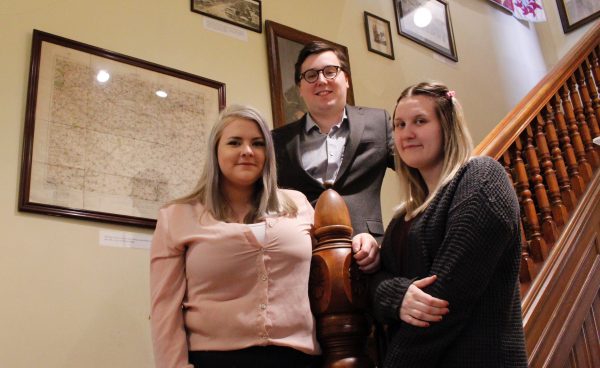 Overall, Joliffe's goal is serve the area. "I want to make it a dynamic and interesting space for the community," she says. "I want them to feel like it's their space."
It's definitely an interesting space with a bona fide hero to celebrate. So let's start proving all the historians wrong who say that Canadians don't celebrate their war heroes like the Brits and Yanks. Get down to the Billy Bishop Museum for one of their events, or just take a tour through a really fascinating old house with rich history, ongoing exhibits, and a great staff.
And if you're heading to an exhibit opening, get there early before it fills up!
Catch all the events at the Billy Bishop Home website or on our Rrampt Events Calendar.
---
Written by Jesse Wilkinson
Photos by Jesse Wilkinson