Who wrote The Hunchback of Notre Dame?
What was the first year a record sold a million copies?
How many Masters tournaments has Tiger Woods won?
If you know at least two of those answers, you'd be in good shape at Ross Docherty's popular Smart Phone Trivia Night. The Rrampt team, who took part in the most recent event at Casero Kitchen Table, only got one of those right. Maybe that's why we didn't win. But hey – we didn't lose either, and every time a music question came up, we nailed it (I'll use the royal 'we' in this article to make it sound like I actually helped my team out).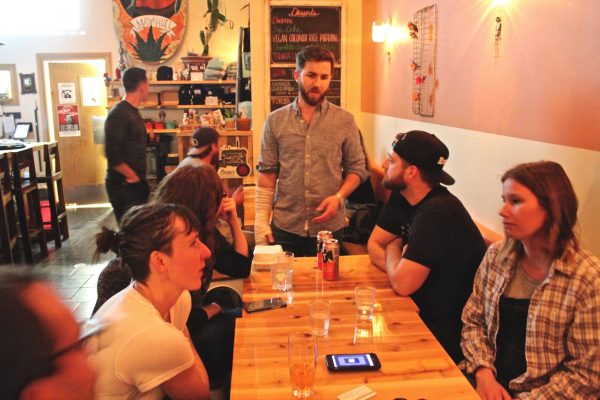 We showed up to Casero with our index fingers nimble and our minds focused. First though, we devoured some tacos to fuel our precious neurons, and surveyed our competition; it was a battle of the youth with most teams under 30.
We had been warned about the doctors and their damn photographic memories. But it was the Coffin Ridge crew who dominated this evening. They were fast and they were spot on answering everything from current events to movie trivia to visual prompts. Luckily, our teammate Sarah is a Harry Potter aficionado and secured us a few points in that visual category.
Advertisement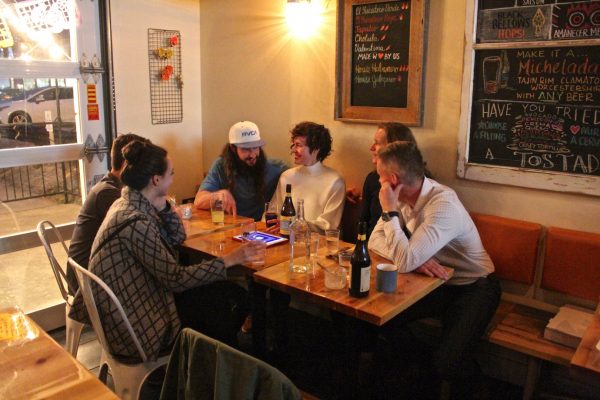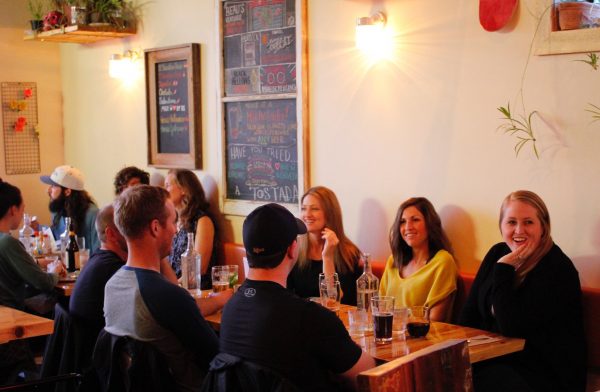 Besides the competitive banter between tables, the host Docherty was doing most of the talking and carrying the night on his pun-laden back. He has the kind of British, self-deprecating wit that has you in stitches for so long, you forget you're supposed to have your game face on.
"I love puns," he says. "To the point I drive my wife to distraction."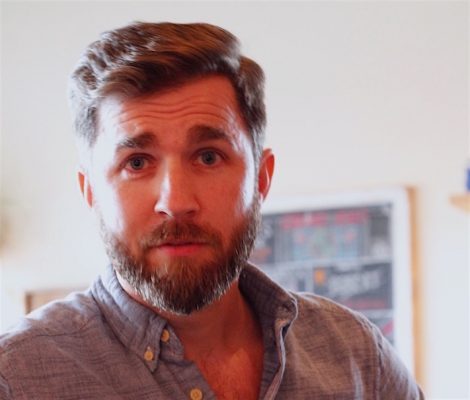 When Casero decided to throw their first trivia night, he was the perfect choice for a host. He and his wife, Alison, had just moved back from England to Owen Sound, where Alison grew up.
"They wanted to host events and they thought a trivia night would be good," Docherty tells me over a beer. "They thought it would be funny if they had an English guy come and do [it]..and I was English." He takes a sip of his beer and adds for effect: "I still am."
That first trivia night was a big hit and led to ten more events at the popular Mexican restaurant downtown Owen Sound. Docherty is ready to start taking his brand, Trivia by Ross, on the road. He's hosted events in Wiarton and Southampton recently, and his next gig is the YMCA Trivia Night Fundraiser on June 14. After hearing about our recent efforts, the YMCA crew officially challenged us to this event, but sadly we were already committed to something and had to take a rain check (really, we're just intimidated by those super-fit Y trainers).
And speaking of intimidation, Docherty admits that trivia can make people a little nervous, but because it's done in teams and the score is secondary to a fun night out with friends, no one should feel hesitant about coming out to one.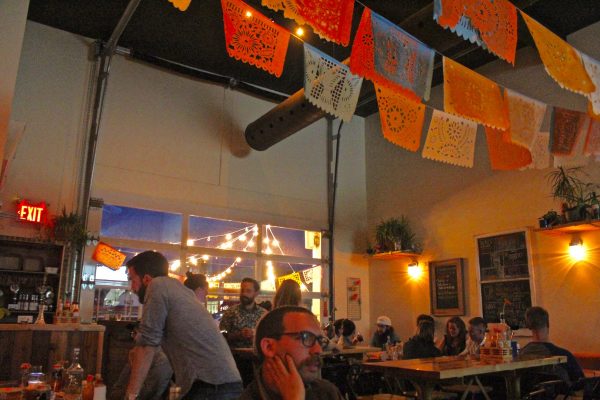 "They get into it when they see I'm just joking around," he says. As a teacher by trade, he's comfortable in front of a group and can think quickly on his feet. "You have to be on the ball all the time and entertaining."
One distinction between working a group of four year olds in the classroom and a room at trivia night is that he allows the trivia crowd to throw insults at him; actually, he encourages it – just playful ones that get a bit of banter going. He calls it 'taking the mickey out of him' which is a British way of saying 'joke around with him.' Here's one thing you can do: call him Australian – he gets that a lot. Or try out your British accent. He won't be shy to give you his Canadian drawl. You'll love hearing him say 'dart board' in Canuck.
"I enjoy [joking around]," he says, but clarifies: "not being mean in any way, but you get that back and forth…that's how you get a livelier crowd." Essentially, he's showing Canadians how it's done in Britain, where one can attend a trivia night any evening of the week.
"There are other trivia events out there," he acknowledges, but signals he's doing something unique. It's not about the questions per se, but about the overall experience. "When I'm hosting it, you know you're going to have fun, there are going to be some laughs…I make sure I get around and speak to everybody…and I do that right at the start to put people at ease."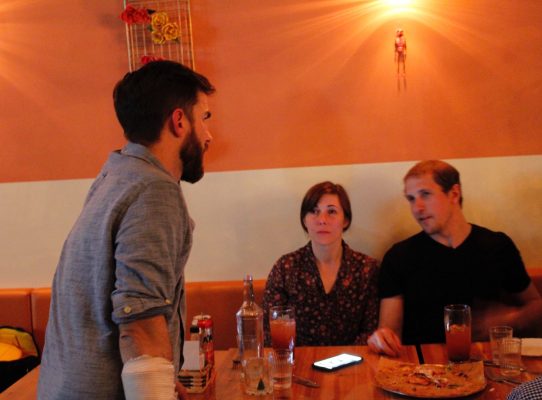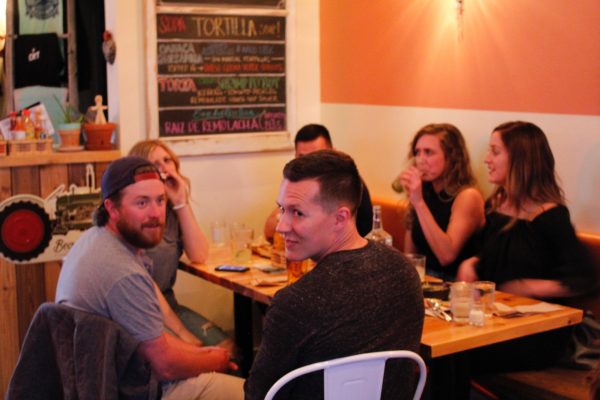 A lot of the inspiration for his style comes from some unusual pop culture. "I got a lot of inspiration from British TV comedies…highlighting the ridiculous or making the mundane ridiculous," he says. "I like generating talk. No matter if you win or lose, no one will lose empty hearted."
And he's opted for the Smart Phone approach to avoid those lulls that can happen with pen and paper like adding up all the scores at the end of the night. It moves the night along and allows people to know where they're at as things progress (we hovered around the middle most of the night). It's definitely faster and you've got to be on the ball a little more, which makes things exciting. But you can also tune out and socialize knowing your team can carry on without you for a few minutes (my team definitely did).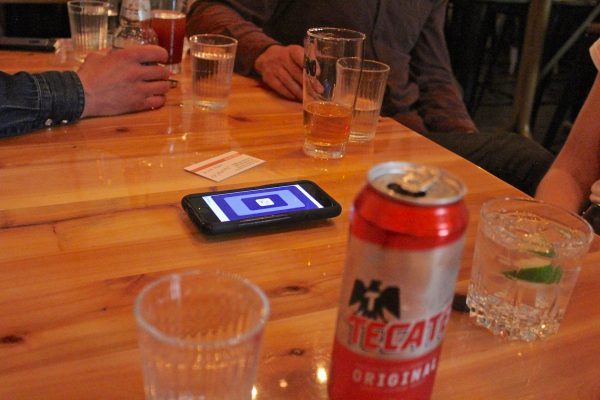 He's hosted a number of fundraisers and social nights out, but he's looking forward to doing things like birthday parties and wedding events. "It's all about what's going to be right for your corporate, private, or fundraiser event….depending on the event and what they want out of it, I can offer that. Or the traditional pen and paper."
He's looking to expand his brand of trivia throughout Grey Bruce and Simcoe. "It doesn't matter if I'm in a room with 30 people or 180…you try to keep everybody happy," he says.
"I just want to be loved," he jokes as we finish up our beers at the bar.
It's not easy to keep everybody happy, especially when some people have to come in last (not us), but it's easy to fall in love with this kind of event: food, drinks, a great host, lots of laughs, and little competition. What more do you need? Well, maybe a pun or two.
And apparently Rrampt is game for a challenge (we're looking at you, YMCA). So if you think you can beat us (you've got a 50/50 shot, really) then sign up for a Trivia By Ross event, let us know, and we'll gladly try to match wits in the name of a great night out.
And be ready to take the mickey out of Ross a little. He'll be expecting it.
---
To book a Trivia Night with Ross you can email him at triviabyross@gmail.com
You can also follow him on Insta at @triviabyross
Keep an eye out for future trivia nights on our Events Calendar.
---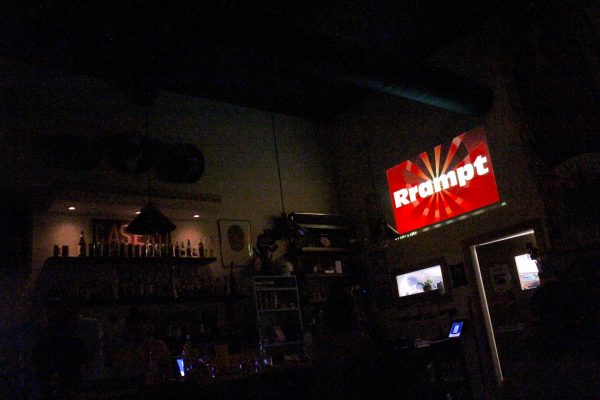 ---
Written by Jesse Wilkinson
Photos by Jesse Wilkinson and Nelson Phillips