Josh Burnett accomplished his personal best deadlift this past winter. Guy budged 515 pounds. With that number comes weeks, months, and even years of dedication to training, nutrition, and proper form, sure – but there's often another factor that helps people move mountains in the gym. And it's got nothing to do with free weights, spotting partners, or supplements.

Music is a powerful motivator and represents an inspiring psychological boost to all those who call the gym a second home. Music can be a friend, a confidant, and even a worthy adversary – but there's no denying its constant presence when working out is the topic of discussion.

So, while it probably didn't influence his progress alone, what song helped him achieve that PR?

"The Greatest Show, from The Greatest Showman soundtrack – which is a musical with Hugh Jackman about a circus…"

Advertisement
Why you may ask?

"It's just a good, pump-up, happy song," laughs Josh from his office. "It just gets you energized – it's completely out of the ordinary from the other ones [on my list], but it played well in the movie and I swear I listened to it every workout for months after. It just got me fired up."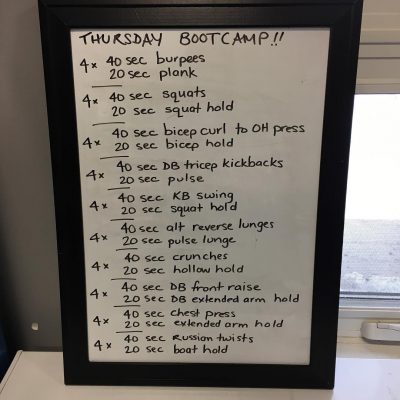 And that's the beautiful thing about music – it's deeply personal. It hits people differently. What does it for one person may not do it for others, but to the right eardrums, it can help you muster the energy and the spirit to prove something epic to yourself.

I'm sitting with Josh in Owen Sound Fitness & Training, the local gym he's owned for the past 8 years that recently won the Owen Sound Sun Times Reader's Choice Gold award for Best Fitness Club in 2018. Josh himself took home the honour as Owen Sound's Best Fitness Instructor in 2018 – not too shabby for a 33-year-old.

Josh has taught overseas on two separate occasions, once in Icheon, South Korea and once in Jeddah, Saudi Arabia. These experiences helped him realize and grow his passion for fitness, business, and for life back home in the Scenic City.

The man is a graduate of York University's Honours Kinesiology and Health Science program as well as The University of Windsor's Education program for Physical Education and Biology. A Registered Kinesiologist to boot, he's also a Certified Personal Trainer Specialist and Healthy Eating and Weight Loss Coach through Can-Fit-Pro and made the decision to do what he loves every day by helping his members and personal training clients live healthier lifestyles.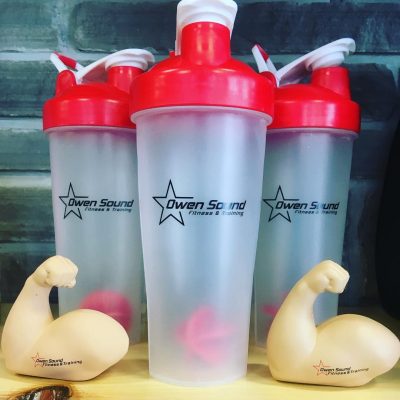 Specializing in weight loss, as well as strength and overall fitness and health improvement, through both personal training and nutrition, Josh has been able to help a wide variety of clients to achieve their health and fitness goals – but he's also got a firm, albeit, unique grasp on gym music that's pretty intriguing.

We sat down to talk about the greatest gym playlist of all time, a topic that spurred him to open the floor to OS Fitness members, who have helped shape a fresh and evolving playlist that the gym now plays daily to help motivate its patrons.

"I've definitely always listened to music in the gym. From day one – headphones, listening to something. People go through stages of what they listen to, for sure. When I was a younger guy I'd listen to angry music that let me get all fired up, and then it transitioned into more lyrical stuff. Music just helps your psyche. It just lets you zone in, so you're not thinking about other things… It keeps your energy up during a workout which is your goal."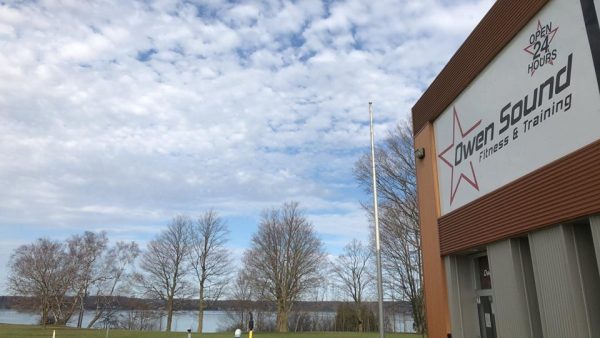 When he first bought the gym, he played the radio all day. Decent tunes, no doubt – but the news can put a damper on your energy levels. Satellite radio didn't last long either; top 40 lists typically cycle the same songs over and over – so for a guy who spends upwards of 12 hours in a single space every day, a custom playlist is what needed to happen.

Without further delay: here's a comprehensive list of the top 35 workout songs curated by Owen Sound's favourite trainer and gym owner.

—

Eminem: (because, well…he needs his own category)
'Til I Collapse
Lose Yourself
Not Afraid
Cinderella Man
Berzerk

Hip-Hop (Not Eminem):
Remember The Name — Fort Minor
You Can't Stop Me – Andy Mineo
Stronger – Kanye West
Turn Down For What – DJ Snake/Li'l John
Ante Up – M.O.P.
B.O.B. – Outkast

Hard Rock/Punk:
Rollin' (Air Raid Vehicle) – Limp Bizkit
Monster – Skillet
Chainsaw – Family Force 5 ft. Tedashii
Click Click Boom – Saliva
Animal I Have Become – Three Days Grace
Indestructible-Disturbed
Bodies – Drowning Pool

House/EDM:
Bangarang – Skrillex ft. Sirah
Battle Sirens (Brillz Remix) – Knife Party/Tom Morello
Don't You Worry Child – Swedish House Mafia
Levels (Skrillex Remix) – Avicii
Delirious (Boneless) – Steve Aoki ft. Kid Ink
We Found Love – Rihanna ft. Calvin Harris

The Classics:
Eye of the Tiger – Survivor
Thunderstruck – AC/DC
The Final Countdown – Europe
It's My Life – Bon Jovi
Crazy Train – Ozzy Osborne
Welcome to the Jungle – Guns 'N Roses
X 'Gon Give It To Ya – DMX

Wildcards:
Sexy and I Know It – LMFAO
The Greatest Show – The Greatest Showman Soundtrack
I Like To Move It (2016 Edit) – Reel 2 Real
Where Dem Girls At – David Guetta ft. Nicki Minaj/Flo Rida
---
Written by Nelson Phillips
Photos courtesy of Owen Sound Fitness & Training