Timothy Showalter was having a rough year. It was worse than a rough year – he was falling into a deep depression. It was 2017 and he didn't think he'd write music again. The way he puts is "2017 tried its best to take the magic from me"
You might know Showalter as Strand of Oaks, the intimidating-looking, soft-spoken, insightful singer songwriter who burst onto the scene in 2014 with the amazing record, Heal.

I fell in love with that album. Certain lyrics really spoke to me. "Comfort doesn't mean you're better off" was one of them. Some just echoed simplistic truths like "I was mean to my dad, 'cause I was mean to myself."
I was traveling through Egypt when I sunk my teeth into Heal, and it will always be tied to the magic of the pyramids. It's a good traveling album; his lyrics are reflective – slightly regretful, often melancholic. But he's not shy to let walls of synthed-up guitar crash through the tenderness of his songs at times, washing away that melancholy with heavy rock. There's a power to his songs that many artists seek out.
Advertisement
I don't care how cliché it is to sit here and write about the depression of a musician. Strand of Oaks is a musician, sure – but Timothy Showalter is a human being. He goes through ups and downs just like everyone.
I want to address the most recent depression he went through and what helped him out of it. You see, as Strand of Oaks, his second album, Hard Love, didn't get very strong reviews. I'll admit – I didn't review it well on this platform. I was honest – it had the best song he's ever written on it, Salt Brothers, but as an album it fell short of what Heal had accomplished. I feel a burden every time I give someone a bad review, but I think the role of the critic is an important one. I've been on both ends.

Now, did the depression cause the lacklustre album or did the bad reviews cause the depression? I don't think it helps to be that reductive. It's not that simple. But the truth was that he fell into a dark place following Hard Love. He admits he didn't think he'd ever write again. He wasn't even sure he was going to keep on living. He was, self-admittedly, at the brink.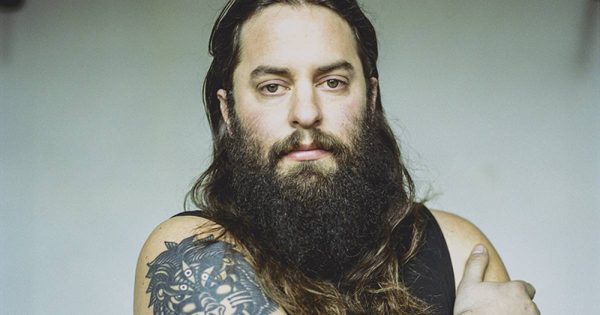 If anyone knows me well, they know that my favourite band is My Morning Jacket. I've played their albums more than any other band; I've seen them live more than anyone else. The best live show I've ever seen was their late night Bonnaroo set in 2008.

So what does that have to do with Strand of Oaks?

This is the part of the story that makes me feel good about the world. Carl Broemel of MMJ knew his friend Tim wasn't doing very well, so he gathered the rest of the band (minus Jim James, who was off doing solo stuff) and just booked studio time without telling Showalter. They called him up unexpectedly and told him they were making a record. Showalter didn't even have any songs ready. But the friendship and respect for MMJ, got him out of the house and into the studio. You see Tim's not only a friend of the guys from My Morning Jacket, but he's also a huge fan, like me. "Those are my heroes. That's who I look up to," he said in an interview in 2017.

Showalter admits that Eraserland shouldn't even be an album. It was never intending to be. He had figured his days as a musician were over. But his friends were never going to let that happen.

Everything about this story fills me up, and when it comes down to it, the quality of the album that resulted doesn't really matter. It's actually fucking amazing – but the key here is the action of a few people to drop what was happening in their lives and tend to a friend in need.
We need to hear more of these kinds of stories. In the age of empty pop stars, meaningless lyrics, and packaged music, this raw honesty, dark emotion, and human triumph is so important. These stories need to be told. Let's skip a day of Trump headlines and focus on the good that is happening all around us – people helping people.

In Showalter's own words, he says: "These ten songs are about existing and continuing on, a testament to the hope that even if we feel like we are disappearing, there is that glimmer of light. You may not come out the same person you started as, but that's okay. I'm glad this record is here now for whoever chooses to find it."

I have been selfishly waiting for five years for a new My Morning Jacket album, and I thought at first that maybe this was the closest I'd get. But this is a Strand of Oaks album through and through. It might be better than Heal. It's easily just as raw. Even more honest. And that's what Strand of Oaks does best.

"I don't feel it anymore/ I somehow see clearer than before" he opens the album with. It's is a good account of how his friends helped him through a dark time. "It's what you make and the people you love" he later sings.

No matter how dark things get, he's got some good people in his life who know when to step in and help him out regardless of how far away they are. Consequently, he gave the world a beautiful album that will, in turn, help others through tough times. I know music is where I turn when things get shitty. So, I guess this whole thing is about music and friends. Let's add them to the list of food, water, and shelter. We really do need them to survive.
---
Written by Jesse Wilkinson
Feature image by Matthew C Golden Photography