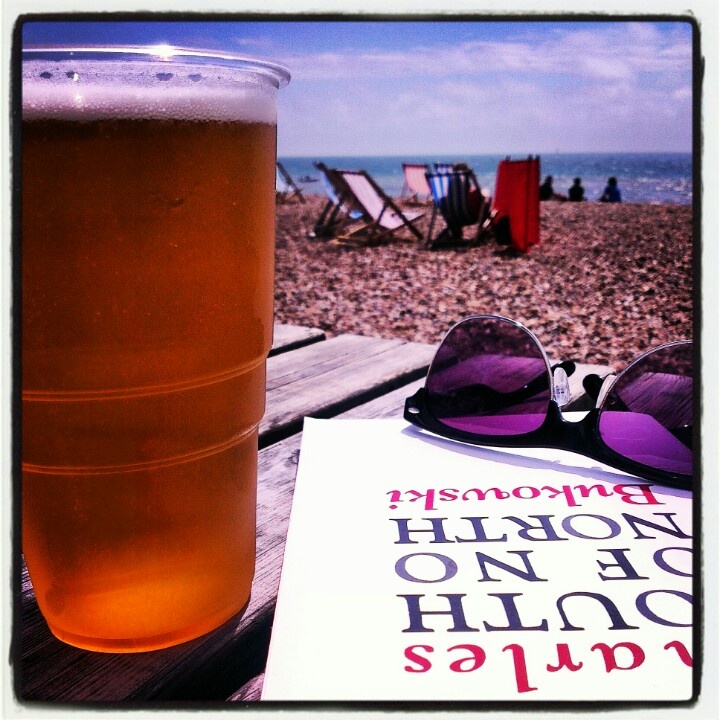 Now that you've read our suggestions for novels to read this summer, it's time to get rrampt about some non-fiction reading.
So here's a list for all those who prefer history over horror, biographies over bildungsromans, and social sciences over steamy romances.
Advertisement
Book: The Subtle Art of Not Giving a Fuck by Mark Manson
This book came along for me at just the right time. I think I've been giving too many f-cks lately about things I shouldn't be giving any f-cks about. Manson's writing is exactly the kind of cool, funny, self-deprecating style I gravitate to. He adds historical and philosophical references to his approach but not so much that it weighs down his prose. I'll now be checking out his blog, which is the impetus for this book apparently.
Craft Beer Pairing: Collective Art's Brewing State of Mind IPA
Why? This Hamilton Brewery has done the brilliant, but obvious: paired beer and art together. While you're reading Manson's advice on how to live a good life, you might as well be sipping a beer called State of Mind. And since Manson is calling his approach an 'art' that he's hoping becomes part of a collective consciousness; hence….Collective Arts.
Book: One Day We'll All Be Dead and None of This Will Matter by Scaachi Koul
Koul offers her take on sexism, racism, feminism, surveillance, and culture in a hilarious and deeply personal set of essays on everything from her fear of flying to the time she brought her non-white boyfriend home for the first time. She sparked some controversy as a BuzzFeed editor when she tweeted "IF YOU'RE A WHITE MAN UPSET THAT WE'RE LOOKING FOR NON-WHITE NON-MEN I DON'T CARE ABOUT YOU GO WRITE FOR MACLEANS". You've got to admire anyone who tweets with such rawness. You'll find the same 'I don't give a f-ck' attitude in her book of essays.
Craft beer pairing: Coffin Ridge's Forbidden Cider
Why? Coffin Ridge is known for their macabre theme of death, which ties in nicely with Koul's declaration that we'll all be dead one day. You may be familiar with Coffin Ridges' Back From the Dead Red and Into the Light White, but The Forbidden Cider is one of my favourite summer drinks. Their's nothing sinister about it except for the name. If we're all gonna die one day, we might as well enjoy a good book and a beer!
Book: Awkward: the Science of Why We're Socially Awkward and Why That's Awesome by Ty Tashiro
Tashiro combines an engaging biographical narrative with his doctoral studies on sociology to bring us this fun, timely book. We're all socially awkward to some degree, and Tashiro has fun trying to explain to us why this is.
Craft beer pairing: Nickle Brook's Cause and Effect Blonde
Why? This Burlington brewery touts this beer as a 'Miracle of Science' but I wouldn't call the taste awkward at all. It's delicious, actually and the blonde is nice change from all the hop-crazy craft beers that seem to be ubiquitous right now.
Book: A Field Guide to Lies by Daniel J Levitin
Did you know that on average every human has one testicle? Think about it. This is just one of the cool examples Levitin uses to make us rethink how we can use averages, statistics and techniques to 'lie' to people, or in other words, 'convince' 'persuade' or 'fool'. This is great guide to navigating the current waters of 'alternative facts' and perspectives spouted from every corner of the world. We need more critical thinking or we're all doomed!
Craft beer pairing: Collective Art's Rhyme and Reason Extra Pale Ale
Why? For a book about understanding logic and reason, we better go with something that promotes the same values. This book is a guide to critical thinking in the modern age; this beer is critical drinking. We wouldn't lie to you.
Book: Testimony by Robbie Robertson
Full disclosure – I have just started reading this book but it's one that I've been excited about since I heard Robertson discuss it on Marc Maron's podcast this winter. I've read a few Band biographies and the best so far has been Across the Great Divide by Barney Hoskyns. I've been waiting to hear Robbie's side of things for a long time now and it's proving to be a great read so far.
Craft beer pairing: Outlaw Brew Co.'s Two Moon Junction
Why? The Outlaw Brew Co. from Southampton describes themselves as a 'good ol' honky tonk brew pub' that are not only a brewery but a live music venue, and that's right down The Band's alley. Hell, Robertson and they boys almost called themselves The Honkey's according to Richard Manuel in The Last Waltz. In regards to the beer, it's a smooth wheat beer infused with berry juice so it's a beauty for summer sipping.
Book: How to Be Everything by Emilie Wapnick
This one caught my eye because I consider myself a 'multipotentialite' as Wapnick explains and why that's a good thing, not a thing to get bogged down about. Are you someone who doesn't feel like you have a singular passion or purpose? Embrace plurality, she argues. She structures the book around three areas: work, productivity, and self-esteem/fear.
Craft Beer Pairing: Well since Wapnick's whole point is to reject a singular career or passion, we'll follow her lead and say 'why settle for one beer when you can have three to sip on and share with others.' So here's a selection of some I've been drinking lately: Side Launch's Mountain Lager, Beau's Lug Tread Lagered Ale, and Mill St Organic.
Book: On Tyranny by Timothy Snyder
Have you been following the outrageous actions of Trump and his administration? Snyder's timely book helps understand what's going in by placing things in a historical context. He offers twenty points on how to avoid tyranny and after listening to his interview with Sam Harris on Harris' podcast, I couldn't be more interested in reading this book. It's currently #1 on the New York Times Bestseller's List for non-fiction and one that I can't wait to get my hands on.
Craft Beer Pairing: Northwinds Crazy Horse American IPA
Why? Since this book helps explain what's going on down south of us, you should probably be sipping on an American style beer. And the word 'crazy' is quite fitting for the leadership style that our southern neighbours are experiencing right now. Thank God Snyder offers such sanity in his explanation for what's going on and why it's happening.
Written by Jesse Wilkinson