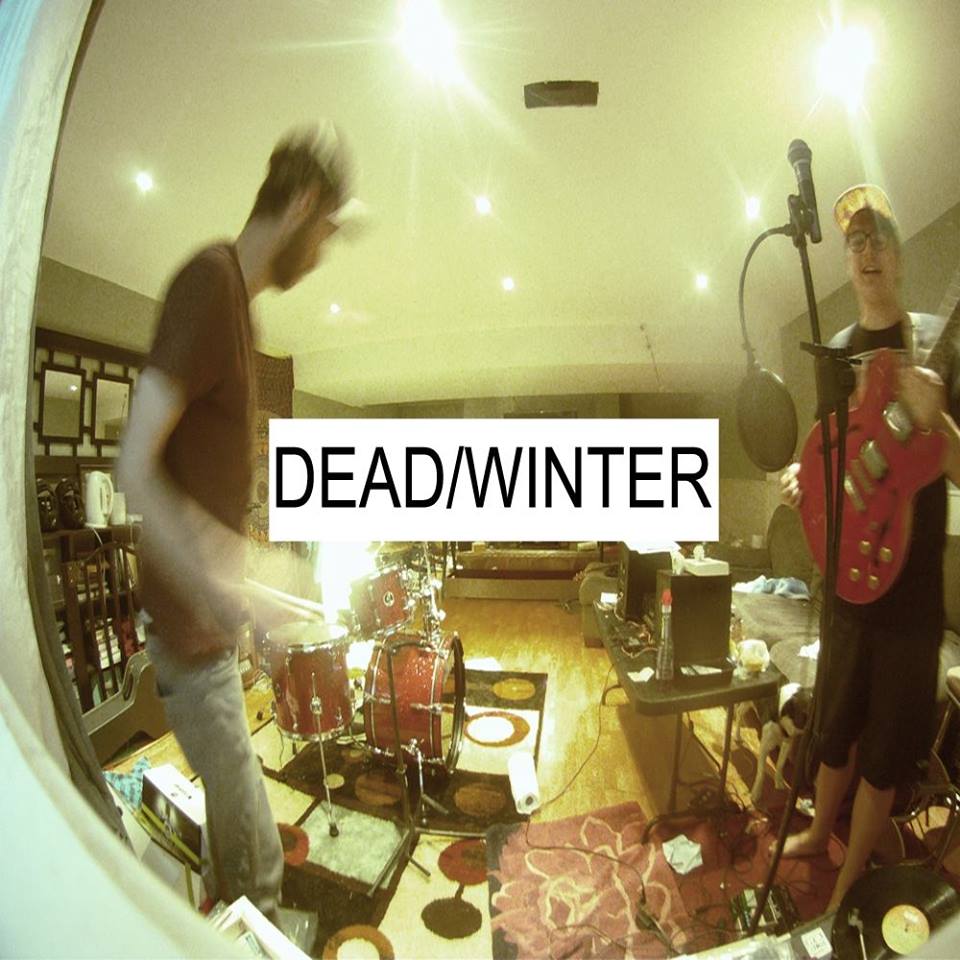 Rrampt Interviews Dead Winter
When people talk about all the talented young musicians in this area, they are speaking about people like Okee Brand and Dev Travis, who form the group Dead Winter. You may have seen them perform at one of the many open mic nights in the area, which they've used as an opportunity to work on new material before they begin playing their own shows.
Or you may have seen Okee playing the very first Lupercalia festival as I did. He opened for Liam Sanagan of First Rate People and while I was there to see Sanagan, Okee really impressed me. Since then, he has collaborated with musicians from all over Ontario and even Quebec. One of his collaborations, named OK Sex, caught my attention a few years ago when Rrampt was just a baby (we're a toddler now and still looking for approval from everyone and throwing the odd temper tantrum).
It's clear that Okee has found a perfect counterpart in Devon Travis, who runs Lamebird Records in his own right, and together they are making some great music. They are working on a first album and will open for David Dino White this Friday at Heartwood Hall. I sat down with them this summer to chat and find out where they're headed musically.
Advertisement
Rrampt: So, where do you guys jam?
Okee: [Devon's] house. The Lamebird headquarters.
Rrampt: I've been interested in what is under the umbrella of Lamebird Records – your solo work and the recently formed Dead Winter?
Dev: Ya, and even non-music related things like I'm doing this online art exhibition with visual artists, videographers and some special effects. It'll be a website that runs for a month to showcase people.
Okee: I found out about that through a text message in the morning. He was like, 'oh by the way I've got like 12 people signed up for this'
Dev: Everytime I have an idea for something it's always like late at night and I'll spend the whole night working on it.

Rrampt: Can you take me through the evolution of Dead Winter?
Okee: We met [at Bleeding Carrot] 2 or 3 years ago and I was in a different band called OK Sex. And we always liked Devon, so when that band broke up, I was like 'I wanna work with Dev'. So we ended up producing numerous album ideas.
Devon: finding our sound
Okee: it's natural to us.
Devon: when we first started it was all just producing and sending stuff back and forth. It had an electronic vibe.
Okee: [Dev] actually wrote a solo album and was going to release it and I somehow talked him out of it and got him to contribute all these songs to Dead Winter.
Rrampt: Is the recently released single, St Ages, one of those songs from Dev's solo album?
Dev: No, they were both (St Ages and @Night) Okee produced.
Okee: I spent last winter working on both solo stuff and Dead Winter. I was having a hard time trying to define what Dead Winter was. Then I realized it was me and Dev.
Rrampt: 'Cause you guys had been collaborating with a lot of different people like Ghost Buffet. But then at one point you just decided it was going to be you two?
Okee: Not necessarily…we still want to collaborate
Dev: we definitely don't want to lose that collaborative piece
Rrampt: And there are a lot of people to collaborate with in this area.
Okee: one thing I'd really like to see change is bands of different genres [playing shows together]. It would be nice to do like a folk opener, alternative in the middle and even some metal. It would get more people to show up. I don't want to have those barriers. I mean there's Summerfolk and lots of folk, and Josh [Richardson of Mudtown Records] did his Otherfolk and that's the direction to go in my mind. A bit of everything. No boundaries.
Dev: we have songs from awhile ago that have real pop vibes and then lot's of real punky grunge vibes.
Rrampt: Your single St Ages is upbeat and catchy. It's pop.
Okee: I was listening to the radio like crazy when I wrote that. Especially this Australian producer named Flume. I love this guy's sound. I want to learn his style.
Rrampt: What other music has been an influence on you over the years?
Dev: you might not be able to hear it but I get so much inspiration from Mexican music melody-wise. And then Radiohead would be the most consistent influence.
Okee: I think lately with what we're doing with our live show: Tame Impala.
Dev: the Dodos
Rrampt: When do you guys plan to start playing these new songs live?
Dev: Very soon
Okee: so far we've applied to the Collingwood Art Crawl and talked to Laura Conning From Route 26. [Note: their application was successful and they will be in attendance on Sept 23]. We've gone to Heartwood and played our stuff live at open mics and it's been unrehearsed and it gets a generally positive response, but rehearsed is going to be way better.
Dev: it's already moving so quickly and going so well.
Rrampt: When will the full album be ready to roll out?
Okee: We did have the album ready to go, but…we wanted to let [the songs] grow a little bit.
Dev: develop them live a little more
Okee: we get release happy and that's a thing with being a DIY indie artist….we make a new song, it sounds really great and we want to share it….we've almost released the album a couple times and then it got mixed again and we got new equipment
Dev: and I was going to release an album and then I thought it would be so much better to do it with Okee
Okee: it's going to be generally more exciting for people. It's going to sound like us. I think it's a good move we're making. It is a lot more indie rock but there's still keyboards. Also, as a live show we didn't want to be two guys pressing buttons. It didn't feel right to us.
Rrampt: Have you guys ever thought about doing a house concert?
Okee: That would be so fun. We like those vibes.
Rrampt: Where did the name Dead Winter come from?
Okee: That was my bad (laughs). I had a really dark winter two years ago.
Dev: when we started, it was based around those emotions…the dark winter stuff, but these new songs that we're bringing to Dead Winter…upbeat, lively, colourful songs. Just exciting stuff.
Okee: I think people will like it
Rrampt: What do you guys want people to know about Dead Winter?
Okee: We're here to stay. We're living it and we'd love to work with anyone out there
Dev: we're putting a lot of hours into it
Rrampt: what would you want people to say after a Dead Winter show?
Dev: That was weird but cool
Information Friday's show can be found here.
Interview by Jesse Wilkinson