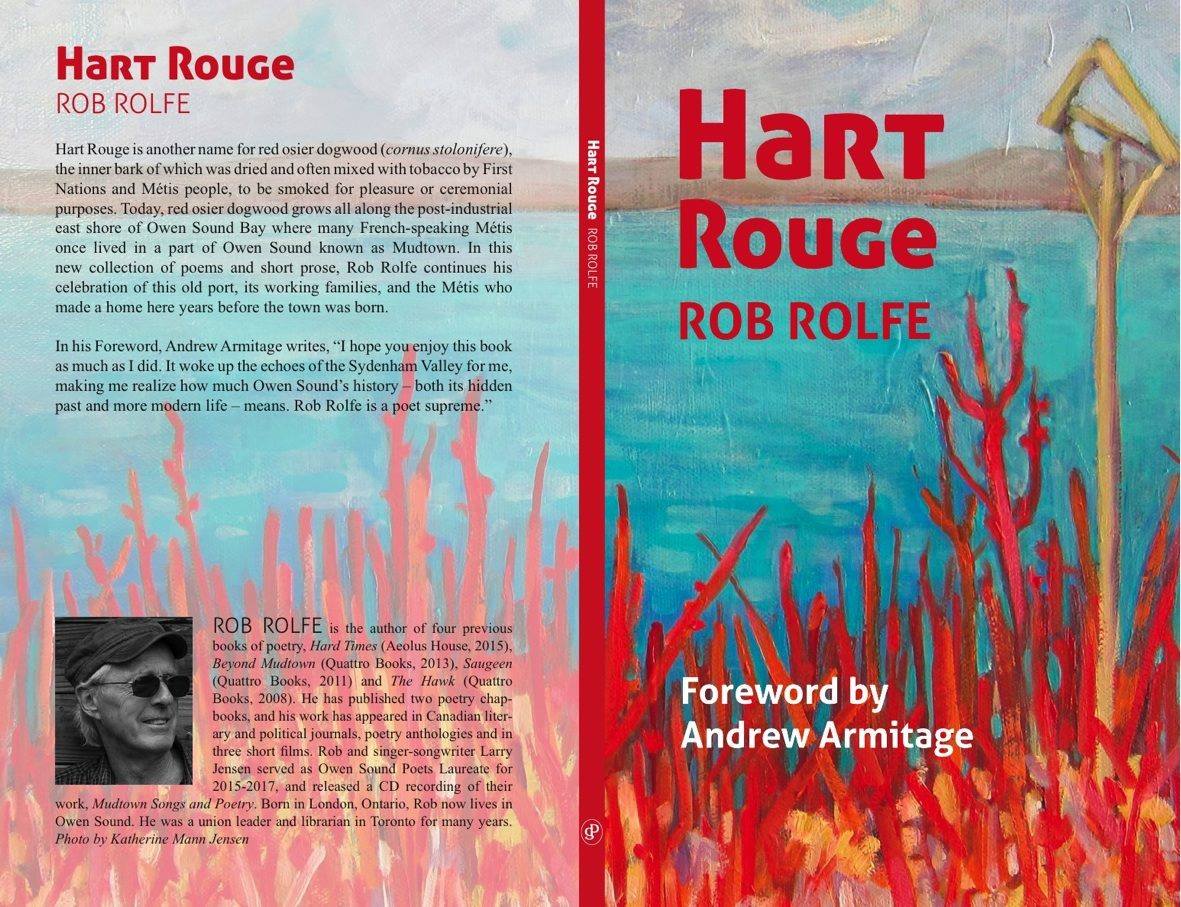 Hart Rouge is Rob's 5th foray into poetry, and his first presented by local publishing house, the Ginger Press. Hart Rouge follows a familiar structure to the likes of his previous works Beyond Mudtown, Hard Times, and The Hawk. His stylized stanzas are short and sweet, offering up vivid scenes of local tenacity, grief, isolation, and celebration.
Rob puts a lot of himself into his work, and this causes his poetry to adopt an existential sensibility, accentuated by the very evident emotions of the moody Georgian Bay and its towering shoreline cliffs – to me this makes him Owen Sound's Al Purdy. The heart-wrenching lucidity of Rolfe's Maga Dog is comparable to the macabre expressiveness of Purdy's Piling Blood. There are similar parallels in the locality of Rolfe's St. Clair West: A Memoir and Purdy's iconized At the Quinte Hotel.
To say his poetry is transportive doesn't do justice to the way it makes you feel; it's more like a black hole in that you can't easily escape Rolfe's etymological dynamism. It's easy to liken Rob's work to that of living things. His poetry evolves and shifts its aggressiveness, its compassion, and its willingness to wear a heart on its sleeve. When you read his work, you sense the result of moving around and physically experiencing the places and emotions he's allowed to fester onto paper.
His words don't so much hold on to you, as they sink their teeth into you; the poetic bite of a farm dog protecting the flock from the advance of brush wolves. His words also ring true with the spirit of these streets. I'll give you an example that stuck with me:
Advertisement
In Friendship, Rolfe retells the story of a father, sticking up for a black friend who was subject to the racism of Grey County's distant – and not-so distant past. Following a humiliating Donnybrook wherein the bigot was laid out, the father is struck by a retreating car in retaliation. I read this over and over and over, recalling a memory of my own wherein a black friend was subject to blatant racism in the street. As a friend, I should have done more. As an Owen Sounder, I should have cleaned the guy's clock. I should proudly bear scars for my friend – just as the father in the poem happily endured a lifelong limp from the hit. But I don't, and I have to live with that. That 60-some odd word poem stung – I didn't so much read it as I did feel it, bringing back palpable regret. It prompted me to put down the book and reach out to my friend, apologizing after 15 years for not knowing how to stand up to racial bigotry as a young teen in my own neighbourhood.
And that's the power of this book. It reaches into your life and reminds you that we've all been cowards, heroes, enablers, and supporters. It reminds you that we're a part of miniscule intricacies that add up over time, and that history repeats itself – only because we're content to allow it. Hart Rouge is a powerful reminder that not much has changed, although it should; and now Mudtown's streets are paved.
Hart Rouge is also an extension of a resolution made in Hard Times – that the disenfranchised populations of this gnarly little port town have always, for more or less, stood shoulder to shoulder with one another, making the most of lives kept out of sight by the powers that be. Maybe Rob had more to say, prompting this second wind. Whatever the reason, there's afflicted joy in this book, riddled throughout stories of heartache, sport, triumph, and agony. I can feel he was able to get something off his chest. There's peace at the end of this book.
The success of Rolfe's writing, and his tenure as one half of 2015-2017's Poets Laureate of Owen Sound stems from the attention he pays to the very landscape he lives on. He's an incredible listener that shows evidence of his learning through action – like a literary Joe Sakic. A postmodern Mudtown local, he lives along the east shore where the Corkscrew City's Metis population once resided. Rolfe not only recognizes they used to live here – but that these collective histories and stories have as many lives as feral cats – it's not so easy to get rid of them. These stories and histories have many lives, thank God, and that makes Hart Rouge a canonical local publication of invaluable worth to the culture of this rural city.
I'm always honoured to receive a phone call or an email from Rob. He's a good man – a good Habs fan – and an even greater poet and writer. If there's anyone in this valley town who should next be recognized with an Owen Sound Cultural Award, it's him – thanks in part to his dedication to learning these stories and histories, but more so for his ability to share them in a way that prompts action and transforms our morality.
Written by Nelson Phillips
Photos by Nelson Phillips