Please don't tell anyone (just kidding – tell everyone), but I have been a cannabis consumer for close to 30 years and a grower for almost 20. For most of those years, I was simply happy if I had some weed. In the last 2 years, however, I started the attempt to define what I enjoy so much about cannabis. Part of this definition includes paying closer attention to different strains and their effects. So I was excited to be asked by Rrampt to be a judge for the 2020 Wiarton Bongspiel's BS Fall Fair growing competition.
The Bongspiel enjoyed some serious media attention in its first year, and that followed into its second – but new for 2020 was a dedicated showcase of pride for local Bruce Peninsula outdoor green. As much fun as it is curling high, the growing community on the Bruce has always been a strong one, so shifting some of the focus to the efforts of local growers is all about building and celebrating community from this newly unleashed and legal subculture.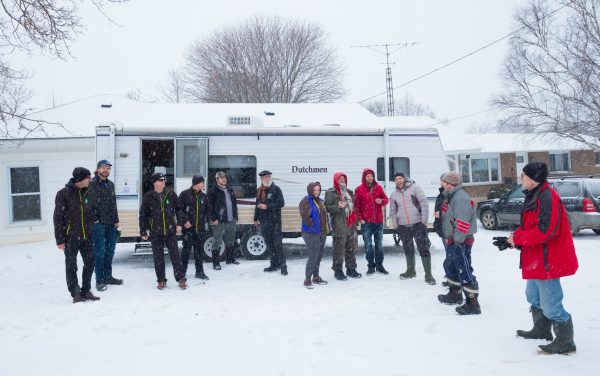 Now, truth be told, I have yet to find cannabis I don't like. But I do now pay attention to the smells and tastes more carefully. And the quality of the cure. I continue to test different combinations of Indica and Sativa strains to see how they affect me.
One thing I have definitely learned is that I prefer Sativa plants, Durban Poison being one of my favourites. The pure Sativa originating from the South African port of Durban is well known internationally for its uplifting spirit and sweet smell. I enjoy the energy it provides. It makes me want to be creative and organize. So in a world full of bias, there's mine. If you like more of a body-stone that Indica strains give you, you may not agree with my choices.
Advertisement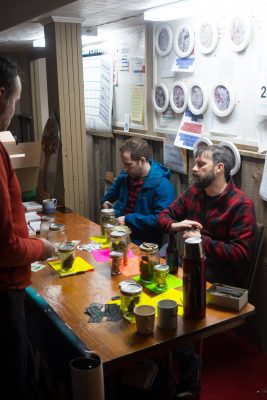 But after recognizing my bias, I tried to be thorough and fair in my judging. I used my loupe microscope to look at the trichomes of each entry. I smelled and tasted carefully, noting slight differences. But it was hard, sometimes, to find any. So, in the end, I went with the most important indicator: which samples made me feel the best. Below are my scores with some of my comments.
The BS Fall Fair Growing Competition official winner was Andy Elliott's "White Squirrel" entry with an insane THC content of 23.72% (but no, not the same Andy Elliott who writes Blood Sweat & Beers for Rrampt). The representative from Leafalyze Labs, who tested the strains for tetrahydrocannabinol (THC) and cannabidiol (CBD) was pretty blown away two of the Peninsula buds had THC content approaching 24%. For perspective, the highest THC content the lab has found in samples grown by licensed producers was about 25% – so yeah, Bruce County backyard bud can hang.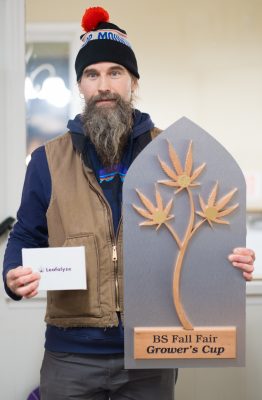 Congratulations to all of the entries. There wasn't one that I didn't enjoy.
John's Notes
1 – WILDBERRY – 27 – "Tastes like slightly burnt caramel," "Some ocular pressure."
2 – TANGERINE DREAM – 28 – "Peppery", "A nice high; not terribly motivated to do this."
3 – CHOCOLOPE – 33 – "Nice after taste", "Makes me want to organize shit."
4 – GOD'S POISON – 36 – "Perfectly dried", "Diesel smell", "Mild headband feeling."
5 – BRUCE COUNTY CHEMDAWG – 35 – "One Bud", "Creeper."
6 – GREAT MONKEY – 39 – "Almost a wow for smell", "Lovely flavour", "Nice head-stone."
7 – HAZE LEMON SPARK VW – 35 – "Very nice odour – a little different", "Straight to my eyes – heavy."
8 – GOD'S SUPER SKUNK CHERNOBYL – 43 – "Perfectly trimmed", "Lemony exhale", "A little spacey…nice."
9 – WHITE SQUIRREL – 39 – "Lots of trichomes", "Heavy ocular pressure."
10 – GOD'S VAGINA – 45 – "Sticky", "Lemon Pledge smell," "Best tasting of the bunch," "Creative and thoughtful – my clear favourite."
---
Words and photos by John Fearnall.
John is a celebrated photographer and thinker as the man behind the lens of Good Noise and a founding member of The Potcast: From the Cave of the People.