On October 17th, 2018 something wild happened in Canada. After generations of Canadians had silently endured years of procuring grass via some sometimes shady and certainly less-than-legal methods, the federal government of the Great White North effectively rescinded prohibition of marijuana and the recreational use of the plant became legal.
The date was pegged by many as a triumphant finish of a more than half-century battle to see weed use legalized — for recreational use, sure, but also for therapeutic and medical purposes as well. For others, the symbolism of marijuana becoming legal on the one-year anniversary of iconic Canadian musical frontman Gord Downie's death (Rest in Power) was the icing on top. For a smaller population on the Bruce Peninsula, October 17th, 2018 meant another special thing: the long-awaited legal ability to hit up the local curling club and burn one down.
The Wiarton Bongspiel is back for its second year of uniting some of the most stereotyped pillars of Canadian small-town life: weed, boozing, and curling. Event co-founder Ted Ratcliffe (along with co-convener, Grant Nicholson) tells us the event is evolving for year two, but keeping in stride with its roots as a true community event meant to bring folks together. With a short ticket shelf-life last year, it was more of the same for 2020. Tickets sold out in just 24 hours with no marketing effort, in spite of team numbers being boosted by 50%
"It's been a real treat for me to organize this event," says Ted. "It started as a joke idea and has evolved into a touchstone for cannabis culture in Bruce Grey."
Advertisement
The idea didn't come away clean with 100% support though, adds Ted. But the initial shock and awe of a weed-based curling tournament has burned off, and now, there's nothing but support.
"We had some push back at first, but the club has really come around to the idea and have been extremely supportive. I think I'm most proud to bring local cannabis culture out of the shadows and show people that cannabis can be a fun and positive part of our community."
In order to boost the number of participants by 50% this year, the event is shifting gears to encompass a more unique bonspiel formula that should create more of a party atmosphere, where it's as much about cannabis culture as it is curling. It also keeps the run time about the same as last year as "people are pretty burnt out by the end of the day," admits Ted with a smile.
"People are pretty burnt out by the end of the day."

– Bongspiel co-founder Ted Ratcliffe
Taking place on January 18th at the Wiarton & District Curling Club, the Bongspiel is open to the public from 9am-6pm when the curlers come off the ice for some grub and prizes. Everyone 19 years-of-age and over is encouraged to drop in for a cold pint, a chat, and some good old fashioned homegrown Bruce Peninsula outdoor green – a distinctly unique addition to the Bongspiel Ted has dubbed the BS Fall Fair wherein people take part in judging the creme de la creme of local dope growing prowess.
"Participating growers each supplied samples in advance of the Bongspiel for judging and lab analysis. The lab testing was carried out by Leafalize based in Kitchener. We selected 8 teams of judges that will grade the cannabis in advance," says Ted, who included Rrampt in his selection of judges – we obliged.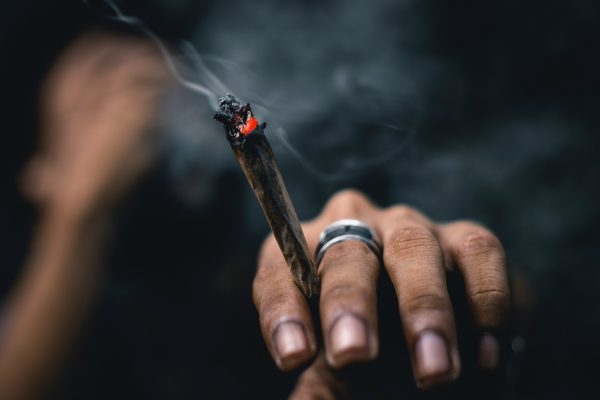 In order to smoke legally, indulgers have to leave the Curling Club property. What they do with respect to cannabis outside of the club is up to them. In year one, someone's uncle allowed the Bongspiel to set up a tent in his driveway nearby, all in exchange for a case of Labatt Crystal — a bonafide Grey Bruce sentence that as I type it, puts a major smile on my face.
To enter the Bongspiel Fall Fair you have to be curling in the event, but judges, on the other hand, do not have to participate in the curling. We asked local photographer extraordinaire, podcaster, and Thought-tub thinker, John Fearnall of Good Noise to be our official Rrampt-sponsored judge — the man will share his findings after the event.
"It was important for us to get a wide swath of cannabis culture to be judges," explains Ted. "We have regular joe judges, Black Market insiders, judges from the licensed producers, as well as medical users. The growers will also be providing samples to Bongspiel attendees on the day of as the final component of the judging. At the end of the day we'll be awarding a trophy and a prize for the winner.
Curling begins bright and early at 9am with three divisions: novice, intermediate and competitive. Each group plays three short games with about 1.5 hours between games to smoke, socialize, eat, and take in some entertainment. DJ Osound will be spinning tunes throughout the day, and comedian Rob Thompson will pick up the mic for a comedy set while curlers enjoy a Mexican buffet dinner.
This year's Bongspiel is sponsored by Hoss Glass, the Vancouver Seed Bank, Jordan of the Island, Leafalyze, and Michaels Marijuana Supply. All proceeds from the Bongspiel go to the Wiarton Curling club to help pay for essential repairs.
So, if you enjoy a solid toke, curling, music, Mexican food, and a drink with some friends, you know where to go on January 18th. Stay tuned for our follow up.
---
Words by Nelson Phillips
Title photo: screenshot from the Wiarton Bongspiel Facebook page. Credit to John Hryniuk for Leafly Canada
Additional photos by Ahmed Zayan