When Lauren Carter and Rory Crozier moved to Thornbury in 2018, they knew they were in for a change. Accustomed to big city life, the pair had met a decade ago working in the hospitality industry in Toronto, where they were both born and raised.
"The place where we met had a real raw bar focus – oysters, especially – and we both really found our passion with that style of food," explains Crozier. He then moved on to working with high-profile champagne and spirit brands such as Moët Hennessy and Pernod Ricard, which required him to travel extensively.
But then, things shifted. "We got pregnant, and our lives changed very quickly," says Carter. When the couple's daughter, Chloe, came along a few years ago, Carter was spending less time in Toronto and more time in the Thornbury area visiting family while Crozier worked abroad, and they decided it was time for a change. "It seemed a bit crazy at the time, but we chose to permanently move to Thornbury and embrace a totally different lifestyle," she says.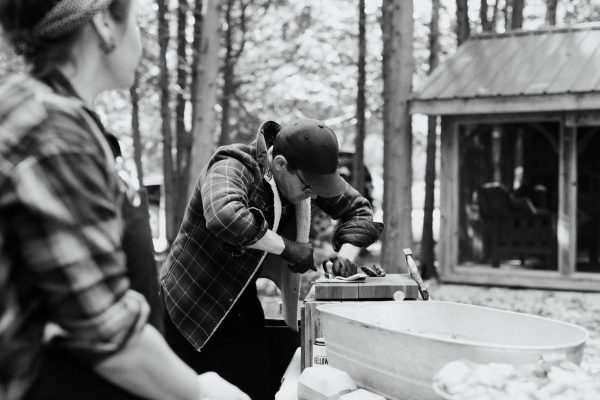 Soon after moving, the couple began thinking about new opportunities and how they could combine their shared expertise gained from the hospitality industry. "We wanted to do something independent, where we could incorporate all those skills we had gathered over the last ten years," says Crozier. "And we also wanted to bring something new and fresh to an area that we felt would really appreciate it."
Advertisement
---
"We really enjoy what we're doing. we're meeting so many amazing people."
---
So, in 2019, The Bivalve Oyster & Libation Co. was born. Despite having hosted their first event as recently as May, the business already boasts an impressive offering: an oyster and raw bar catering service; bespoke pour service specializing in champagne, wine and spirits; and guided tastings and pairings, all suited to private parties, events, pop-ups and collaborations. So far, The Bivalve has hosted events in Thornbury as well as The Blue Mountains and Collingwood area, with plans to expand as requested by clients.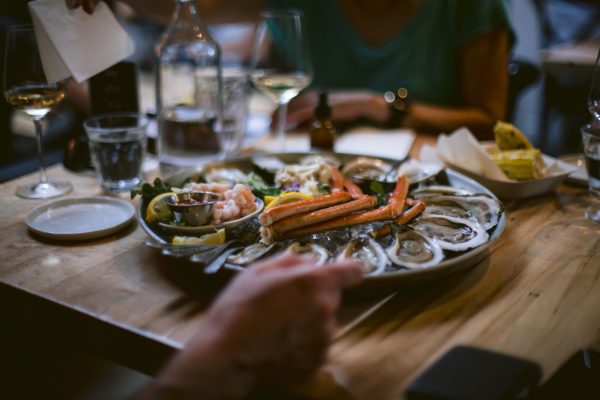 Initially, to promote their new venture, they started sending out emails to local businesses to introduce themselves. However, they found that they made some of the best connections just by going out to eat at nearby establishments, such as The Cheese Gallery, Thornbury Village Cider & Beer and Collingwood's Gibson and Company, venues where they have since held multiple events. In fact, working with other like-minded local businesses and entrepreneurs has been a key aspect to The Bivalve's growth.
"The guys that own Gibson and Company are so awesome and easy-going – they love their wine, their whiskey, their champagne, and they know good food. We connected with them professionally and personally, and have had a lot of fun doing events with them," adds Carter.
Also, the pop-up model has been another factor in generating buzz for the young company. They've been able to integrate themselves into their new community, and build relationships with neighbours and potential clients.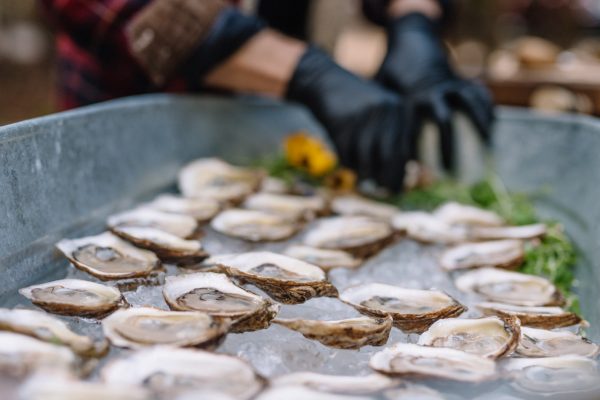 Preparing for these events, says Crozier, takes time and effort. But ultimately, the focus is on super high-quality products and keeping everything simple, delicious and fun. And, a division of labour ensures everything runs smoothly. At pop-ups, Crozier often takes over as the main oyster shucker (in fact, he's been known to shuck more than 650 oysters in a just few hours). Meanwhile, Lauren focuses her skills on presentation to make the food and drink look spectacular. She uses eye-catching accents such as edible flowers from Sideroad Farm in Markdale, which make the oyster platters pop with bursts of colour. She also curates the company's Instagram account, which has helped generate a significant amount of attention and new business leads. So much so, they say, that they haven't had time to create a website yet.
---
"Everyone in this area loves throwing parties, so I think we're going to fit in"
---
As for the oysters, Carter and Crozier prefer the East Coast variety, which they source directly from Raspberry Point Oysters in Prince Edward Island. In their opinion, the Malpeque variety of oyster available from that region are some of the highest quality in the world, and can arrive on their doorstep in two to three days.
"The oyster world has really changed," notes Crozier. "There's an old saying that you only want to eat oysters in the months that have an 'r' in them, but that really depends on your individual taste. If you're looking for a more plump and fatty style oyster, then in those months, yes – you'll typically see a larger style oyster. At Raspberry Point Oysters, the crew will cut holes in the ice and draw out oysters on the frozen ocean, which means we can get amazing products all year long."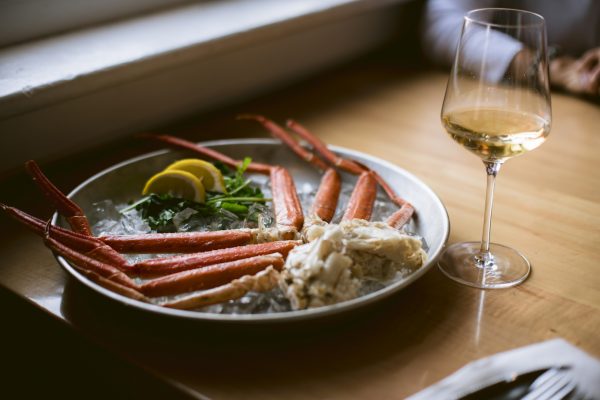 Reflecting on the past few months of running The Bivalve, Crozier and Carter are still somewhat in awe of the support they've gotten from the local community and the positive experience they've had. "Starting a new venture is always a little stressful, especially when you have a little one," they say, "but ultimately we really enjoy what we're doing. We're meeting so many amazing people."
Looking to the future, they're optimistic about the growth of their business. "I think down the road, when the chance comes our way, we'd love to have a small, intimate space of our own," explains Crozier. "And we'd like to be based right in Thornbury, because that's where we've planted our roots. At the end of the day, we'd like to have an interesting, somewhat elevated champagne and raw bar experience for guests, whether they're coming up from the city or locals trying something new."
But ultimately, the couple is thankful for the opportunity their move away from the big city has given them. "There are so many hard-working entrepreneurs here, and I think there is a lot of room to succeed in an area like this," Carter says. "Sure, sometimes we do miss Toronto, but it's so great being up here. And everyone in this area loves throwing parties, so I think we're going to fit in." Cheers to that.
---
Written by Emma Bell
Feature photo by Alyssa Joline