As I sit down in the shade of Ben Harris' Guelph backyard, I glance up to see him pouring a beverage into a Mudtown pint glass. He insists it was just a coincidence, yet it still seems quite serendipitous since the reason for my visit today is to chat with him about the upcoming Railyard Music Festival at Mudtown Station.
The Responsables, a band he has been a member of since 2011, is headlining the festival on July 27th. Ben's Owen Sound roots have been bringing the reggae/funk outfit across the 401 and up Highway 10 to play shows somewhat regularly over the past several years. When asked what the draw was to leave the city and drive north to a small town to play, the affable Ben replies jokingly, "my history there with music…means that we can sell tickets". He's not wrong. The Responsables almost certainly sell out when they come to town and having many friends and family in attendance is what makes their shows so intimate and welcoming.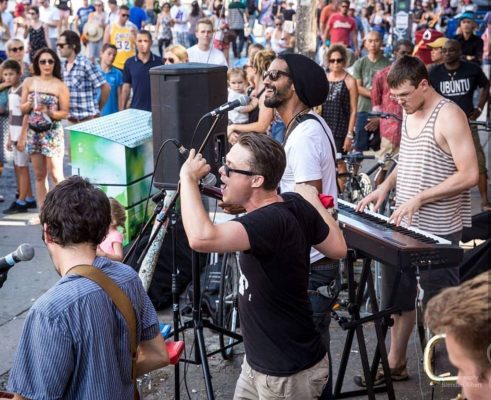 What is going to set the Railyard Music Festival apart is the fact that it will be outdoors. Of the dozen plus times I have seen the band, this will be the first time in the open air. Sitting on the grass near the water while listening to a great band play sounds delightful for any genre. However, something about the energy and upbeat style of the music the Responsables play lends me to believe that this will be a special show. Ben agrees: "there's nothing better than playing an outdoor show. Honestly."
Advertisement
I trust him.
With a residency at the legendary Toronto venue, the Orbit Room, all but finished (they managed to fit in one last show while Johnny is in town on July 31st) and no more monthly shows at Grossman's Tavern, I recollect how spoiled I have been over the years to be able to take in a Responsables show most anytime I needed to feel their positive energy. It's amazing to now be able to return to my hometown to see one of my favourite bands and visit with my family at the same time. It's like getting two birds stoned at once.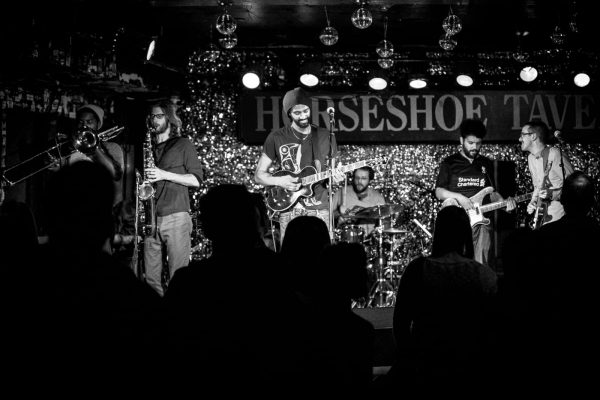 And though I did mention how pleasant it would sound to sit on the grass at Mudtown Station and listen to the Responsables, I have a feeling that most people won't be able to stay seated. I know I won't be able to. Their funky grooves will have most people on their feet in no time. And though we all may not be able to experience these guys live as much as we would like to anymore, it gives us all the more reason to soak it in when we can. The band will be on at 9pm but be sure to get there long before that to enjoy the food, drink and many other great musicians and bands playing all afternoon. It's summer, folks, and let's embrace the outdoor music festivals while we can. Owen Sound has proven to be a musical hotbed we all can enjoy.
There is more than just the thought of being outside under the sun listening to reggae music that should have you excited about this upcoming performance, though. Long time vocalist/guitarist, Johnny, will be joining the band onstage for the first time since he moved out to Victoria late last year. He just so happens to fly in the day prior to the festival. Though they do still play shows without Johnny (most recently in Owen Sound over Easter weekend), this reunion of sorts will definitely be a welcome one.
When asked where the vocal responsibilities lie since Johnny's move, Ben explained, "some songs that Johnny sang before, Isaac now sings, some I sing, and some we just don't play anymore." That will all sort itself out on July 27th, though. The fact that the band has members in Guelph, Victoria, and Toronto obviously means that the weekly practices or vocal rehearsals are no more. Vocalist/percussionist Ben has moved to Guelph. Johnny has moved to Victoria, BC. Both have young children.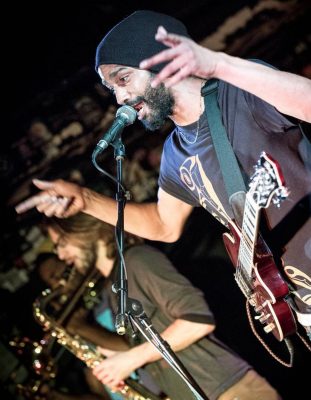 Drummer Vince is at teacher's college. Bassist Mike is a music teacher and gigging musician. Vocalist/guitarist Isaac teaches grade 4 French immersion and his wife is due very soon. Saxophonist Graeme is in the navy and plays in other bands. Keyboardist Micah is involved in film as well as music. These are just a few of the things that keep these guys busy now.
With such a wealth of talent in The Responsables, each member seems to have no problem with the sporadic nature of the band's appearances right now. Since everyone keeps themselves occupied with other things, it makes for a comfortable setting when they do get to be on stage together. They just continue to grow, evolve, and adapt as their lives do. The gigs are perhaps a bit few and far between for the liking of fans and everyone else involved, but it does tend to amp up the excitement and anticipation for any scheduled dates. When pressured about the future and long term fate of the band, Ben so succinctly and with such optimism, proclaims, "I feel as though this band could last forever……..just the way it is now."
Now that's music to my ears.
Let's all have fun at the festival and remember…
Enjoy Responsably.
---
Written by Skye Wilkinson
Photos supplied by The Responsables