"It sucks to be living in Owen Sound and not be able to go have a drink on the water," says Morag Kloeze as she takes a sip of her coffee at Frog Ponds Cafe. I tell her that many people would agree with her, including myself. "And that's the general response we've gotten," she says. "Oh my God, I can't wait to sit on that patio."
We are between patio seasons right now, so we're sitting in a back-corner booth of the coffee shop on Saturday afternoon discussing, among other things, the lack of waterfront restaurants in this historic city. I'm one of the people who would agree with her that Owen Sound needs to focus on its waterfront. I've longed for a patio on the water since I moved back to this area years ago.
While I've only complained about the issue and done nothing to solve it, Morag Kloeze and her parents have taken it upon themselves to fix the problem this spring, just in time for patio season.
They've leased the old train station on the east harbour and are planning to open a brew pub in March called the Mudtown Station. Aptly named for its location in the storied section of town, it will provide an 80 seat restaurant with a large patio, and also brew up to six beers on location. In total, it will seat 160 people and have twelve taps.
Morag grew up in Owen Sound, and left to attend Niagara College for their two year Brewmaster Program. She worked at Neustadt Brewery in the summers between semesters and then landed as brewmaster at Tobermory Brewing Company for the last few years. She's also managed restaurants such as Leeside in Tobermory and a sports bar in Niagara Falls.
It seems like this was the next logical step in Morag's career, and she agrees, although she didn't think it would be this fast: "it was definitely something that I wanted to do down the road, but it happening now was not expected," she says.
Everything just seemed to come together at once for the Kloeze's. Her parents are nearing retirement and are looking to transition to something new, so when the train station came available, they jumped on the opportunity. "It's a really cool building. It's got history. We live on highway 6&10 and the train used to run in front of our house, so when my brother and I were kids we used to run by the trains and they'd honk at us, so we've always been somewhat obsessed with trains."
I suggest the timing might be right for a spot on the harbour. Partly because the Sydenham Condominiums are close to completion and will provide some foot traffic along the river. I joke (but really am serious) that there could even be a water taxi from there to Mudtown Station and she suggests it could be a great job for her dad when he retires. I think I might also apply for the position. What could be better than ferrying people up and down the river for dinner, drinks, and live music?
When I ask her about the live music option, she mentions that the 80 patio seats will only take up half of the outdoor space, so the music piece could definitely be an option. But she's careful not to get too far ahead of herself. There are many decisions still to be made, and I can tell she's eager to get her brewing equipment and start making beer. The chef can look after most of the menu decisions, although with her restaurant experience, she's well equipped to handle it all – except for the construction phase.
"We have a good team on the contractor's side. They help a lot because they say 'this is the choice that needs to be made, but this is the better choice'. And I don't have construction experience or anything like that," she admits.
Her parents have given her full control while they continue working towards retirement. Her father is a veterinarian, and with his connections to many local farmers in the area, they figure they can source locally for the menu.
"He knows how to source meat and vegetables locally, so we're going to try to do that as much as possible. And there's Eat Local Grey Bruce. They've got a lot of producers now, so it may be easier to work with one organization than source from each individual farm," she says.
The trick for Morag will be finding the right selection of craft brews, and she's waiting on the water chemistry profile before she creates any recipes or commits to any styles. "We want to have some beers that are more accessible to the general consumer and then I definitely want to do some off-the-wall stuff too," she says. When I ask about seasonal brews, she gets excited. "Absolutely! I want to rotate the taps a lot…and make a varied enough beer flight that it appeals to all of Owen Sound. It's boring to make the same six things all the time."
She watched the trend of craft brewing take off in the States, and then in B.C., and knew that Ontario was next. And she's been right – their are now over 80 microbreweries that belong to Ontario Craft Brewers association, and many that have popped up in Grey/Bruce/Simcoe the last few years. I ask if she views this as tough competition, and she sees it as the opposite: "It's great how cooperative and non-competitive craft breweries are. Basically they're just fighting the macros. They want to work together, which is nice. I've gone down to Maclean's several times. Charles [Maclean] is willing to help. He actually called my parents when he heard what we were doing and told us we had to come down."
When we talk about the challenges and opportunities of brewing beer in this area, I assume it may be a challenge to introduce 'off the wall' flavours to the common palate, but she sees it as an opportunity: "It worked really well in Tobermory. They were very receptive to it and I'm hoping Owen Sound will be the same."
The Kloeze's fell in love with the location first at the Doors Open tour of 2014 and kept it in the back of their mind for years until the timing was right. That it was in the storied section of town, made it easy to name. "It's highlighting some of the history of Owen Sound, not always the good stuff," she says when I ask her about the choice. "These days, you don't always want to highlight all of the good stuff."
Mudtown Station is just the latest in a series of organizations using the Mudtown moniker – Mudtown Records and Mudtown Pottery have used the historic handle and Rob Rolfe recently published Beyond Mudtown, a collection of poems exploring its past.  Richard Thomas' Saints and Sinners addresses this storied city past, as does the Corkscrew City tour by Owen Sound Tourism.
They were looking for something with the right location, atmosphere and history and this stood out among other possibilities. "If lease negotiations hadn't gone as well as they did, there were other locations we were looking at." The city, as part of these negotiations agreed to put the parking lot and patio in and have been very easy to deal with, she says.
That's good news for other young entrepreneurs thinking of moving to the area. The city of Owen Sound recently launched a unique campaign called Are You Most? in order to attract young people to the city by asking them if they are the kind of person who likes to carve their own path and sees opportunities that others seem to miss.
The Kloeze's have definitely seen an opportunity in Owen Sound, but there are challenges that come along with it, like turning an old train station into a functioning brew pub and restaurant, and attracting tourists.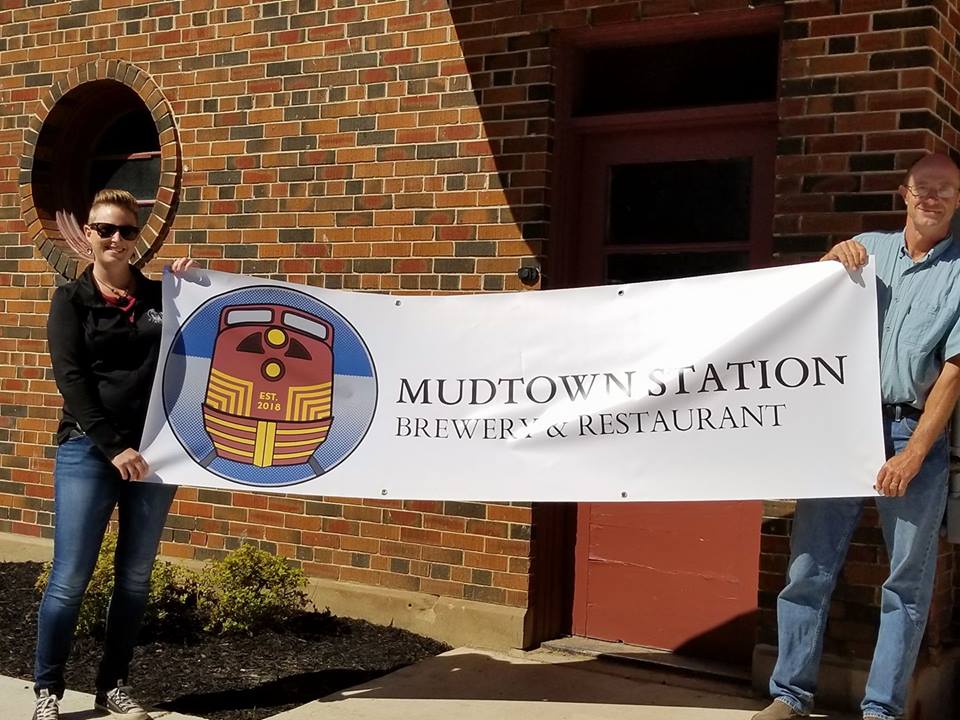 "Tobermory had its challenges being so seasonal. You're so busy in the summer, which is great. But then it's so dead in the winter. Owen Sound has the advantage that it does have the population it maintains, but the challenge will be to bring more tourists into Owen Sound. I know the city's working on that. They're putting a focus on tourism now."
The city developed a Waterfront Revitalization Report a few years ago that mentioned the train station. "As a location, if it's a restaurant, is going to bring people out that way. And they [the city] have been putting work in. They've got floating docks they've put in this summer. Hopefully it will help put more people out on the harbour again."
I've been on my paddle board in the bay enough these past summers to know that the harbour is not as busy as it could be. It's a fun paddle from Harrison Park to Leith, and now I'll have a place to stop for a bite and a beer on the way.
We're close to finishing our coffee, and Morag is a busy person these days, so she doesn't have all the time in the world to keep talking to a poindexter like me all afternoon, so I just ask her one final question, and that's this: what does she want people to say about their experience after they leave Mudtown Station? "That the food was good, the beer was good, the atmosphere was good, and that they want to go back. We really want to work on creating a reputation for quality."
I think that's a good formula for success, but I remind her it's missing one thing: That the water taxi ride was good too.
Written by Jesse Wilkinson
Photos provided from Mudtown Station and Morag Kloeze