When Robert More returned to his hometown to take on the role of Executive Director of the Roxy Theatre last February, he was ready to hit the ground running with new initiatives. One month later, that thing happened that rhymes with the Roman poet Ovid.
I'd spoken to More back when Zoom was all we had left of face-to-face interaction and was struck by the passion and optimism he held in such a precarious situation. Now, as we unfold from our quarantine cocoons, I've been curious to see what the Roxy crew has been brewing over the past few months, so More and I staked out some well-spaced seats in the theatre lobby and chatted about what's on the horizon.
We know the toll that the pandemic has taken on the arts. However, the halt in productions also came with an unexpected opportunity. "The crazy silver lining of COVID is that we have this gift of time; we can't do, but we can think," says More. With support from the board of directors and marketing committee – comprised of Owen Sound Little Theatre veterans Laura Wood, Jed Phillips, and Dan Herrick – More is moving forward with a vision to help the Roxy and OSLT reach their full potential.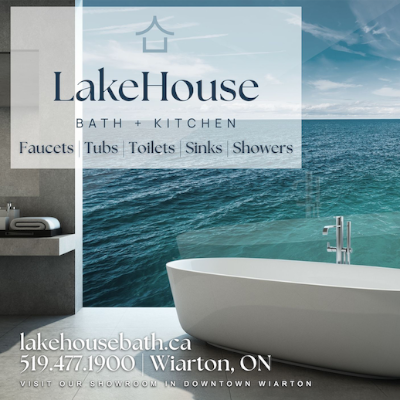 "Very few community theatres own a venue like this," More impresses. "To me, it's a real success story… all built on vision and passion and grit and gut." His love for the Roxy and OSLT is clear as he talks about the theatre's room for growth. He describes it as a local arts and culture gem, but also emphasizes that the acoustics, atmosphere, size of the theatre, and equipment make it an ideal selling point for attracting visitors from out of town. In time, he envisions the Roxy becoming known throughout the province for its artistic endeavours. Looking at the calibre of performances past and in the works, I'd say that's right on the mark.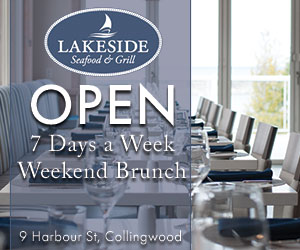 Of course, it all begins with outreach right here in the Owen Sound area. "There's a great deal of creativity, and a great deal of creative interest. The love of theatre is strong in this community," notes More. He wants to ensure that OSLT productions remain front and centre on the playbill, and he also has a keen understanding of the membership's integral role. Community is the heart of this member-driven theatre and the very thing that allows it to thrive. Which is why More will be focusing on expanding youth programming and offering a range of workshop opportunities for Roxy members, such as writing, directing, design, and even puppetry. He also hopes to establish a regional playwrights unit, opening the door for future festival possibilities right in our own backyard.
More brings to the table a wealth of theatre experience from across Canada – as a director, writer, actor, and artistic director – so it's no surprise that creativity and innovation are his driving forces. In fact, momentum is already gaining as the team pulls together final details for finishing the 2020 season virtually. A monthly online magazine, INTERMISSION, is about to roll out, bringing all sorts of news and entertaining tidbits from the Roxy, OSLT, and the local arts scene. Plans are also in the works for The Roxy Sessions, a regular series of virtual performances by local musicians, filmed on location at the theatre and enjoyed from the comfort of your home. You can keep an eye on the Roxy Theatre website and social media pages for updates, but to really stay in-the-know, consider becoming a member and supporting this cornerstone of local arts and culture.
Before we part ways, More ushers me into the theatre. We stand on stage and gaze through the darkness across 400 empty seats. I expect to feel lonely; instead, the atmosphere is one of quiet anticipation, as if this is a strangely extended intermission. More echoes the sentiment. "Theatre is timeless… People want to see their lives reflected back to them, and they want to do it communally." For this reason, there is no doubt that the Roxy will be welcoming audiences back in droves as soon as its doors re-open. The stage might be dark for now, but this theatre will continue to grow and thrive.
Written by Sarah Goldman