Consider the following:
A life sized elephant paper mâché stage prop "taken for a walk" down the tracks by a drummer and a roadie until they have to ditch it when one of the wheels falls off, only to get a call from the police about it the next day.
An impromptu football match in Holland with one of the lads from AC/DC.
Throwing darts with Gerry Rafferty.
Advertisement
Unearthing Hitler busts and closets full of Nazi uniforms in a German gothic bungalow volunteered as a green room for the band and their roadies
Watching T.Rex do their thing from backstage
Shooting the breeze in a dressing room with Charlie Watts before rocking the crowd and impressing the same Mr. Watts, the nicest man in music.
Being bandmates with Hugh McKenna (The Sensational Alex Harvey Band) and Dougie Thompson (Supertramp), who later went on to plug his hometown by reading a copy of the Glasgow Herald on the back cover of Breakfast in America.
Living in London and regularly seeing Roger Daltrey of the Who cruising through Earl's Court in his blue convertible.
These are scenes from the life of a working drummer.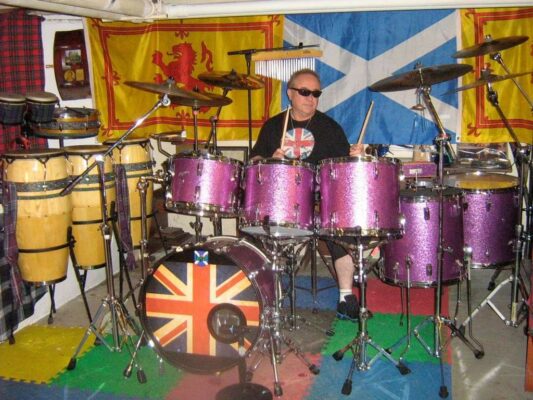 On a side street of a residential neighbourhood in Meaford, a tailor hangs his shingle, 'The Sewing House'. Billy Fairley will replace your zippers, take in your blouse, hem your pants and, if you ask, ply you with stories of earlier, noisier, more anarchic times in places far removed.
Don't be misled by Grey/Bruce's predilection for sleepy little towns, secluded country cul de sacs and quiet hamlets. People in these parts love to make good noise and Bacon's Law applies everywhere. Otherwise known as 'six degrees of separation', it posits that everyone on Earth is six or fewer social connections away from each other. Billy Fairley is this area's connection to the heady prog scene of the early 70's.
String Driven Thing were an electric violin heavy folk prog outfit led by partners in song Chris and Pauline Adams. Their first record, a peculiar slice of northern psychedelia unique for its lack of a drum track and a cover emblazoned with a carnivalesque part freakshow, part bordello scene captured in lurid colour. Signed to Charisma Records by Paul Conrad (who would go on to sign the Spice Girls to EMI) they were label mates with such stalwarts as Lindisfarne, Marillion and Hawkwind.
By the time a second album rolled around Pauline and Chris had again enlisted the production skills of Shel Talmy, respected for his work with The Kinks and The Who, and, after a debut gig at Liverpool's hallowed Cavern Club, Glaswegian drummer and tailor Billy Fairley.
The result is a heavy sophomore release called The Machine That Cried, complete with epic workouts like the title track and Heartfeeder and, showing their range, quieter numbers like Travelling (a personal favourite of mine). It also featured a cover by Hipgnosis (the folks behind the iconic Pink Floyd and Led Zeppelin album covers you know and love and SDT's first). The story goes that the cover cost more than the album's production. Promoting the album saw SDT supporting labelmates Genesis on their Foxtrot tour.
Ever the imaginative dresser, for that tour Peter Gabriel paced the stage in a foxhead and an infamous orange dress. Turns out the dress was shocking enough both on and off stage that String Driven Thing's Pauline had to pack it in her own luggage for Peter to avoid trouble at customs, even when travelling between Heathrow and New York City.
Joining a touring band was a big ask for Billy, hitching his wagon to String Driven Thing meant leaving behind steady money in Glasgow making panelled bellbottom pants for the hip young folk of Scotland and running a clothing boutique. That being said, Billy was able to put his trade to use by making the roadie jackets for the Foxtrot crew.
All told, Billy spent '73 and '74 with String Driven Thing before returning to his own projects. Since moving to Canada he's spent time touring with the Irish Rovers and working with a band called The Nukes. Rock n' roll runs in the family with Billy's son Paul getting into artist management as well as being responsible for booking the bands for Barrie's Kempenfest.
Billy never packed up his kit for good, for a time one could see posters around town advertising his drum tech services. He tells me he's gotten into fixing and selling kits lately, just never the Ludwig kit that matches the one Ringo played with the Beatles. He's got the beat, has always had it and Grey/Bruce is lucky that he calls this place home.
Written by Tom Thwaits