Driving into the middle of nowhere at 9am is the first step to this retreat.
After that comes the peace and quiet of rural Bruce County. When I finally stumble upon the Nature Babes property, I see a beautiful home with an even more beautiful landscape. Amanda Butchart, owner of the property and business, welcomes me with open arms (and a selfie).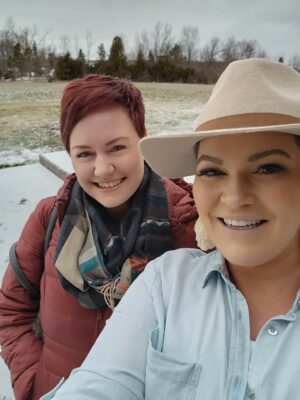 Amanda's home is a true getaway from the hustle and bustle of everyday life, something we can all relate to. Once inside, I enter a large open-concept kitchen and living room with cathedral ceilings and lots of windows. To my delight there's a wonderful spread of brunch items and coffee to start my day (no calmness before coffee for me!).
As we sit around a semicircle of comfy couches and chairs, Kim Pitton, owner of Kim Pitton Coaching and co-host of Soul Activation with Amanda, starts the day by teaching us all about the natural laws of the universe. The energy in the room is palpable and I slowly soak up the energy of the women around me.
What are the universal laws you may ask?
Some may have already stopped reading because this is getting too weird for them. That's okay. I will say that you definitely need to have an open mind and an interest in learning about something outside the "norm" to enjoy an experience like this. Luckily, this is in my wheelhouse, and I love talking about the universe and spirituality, so I am all in with excitement!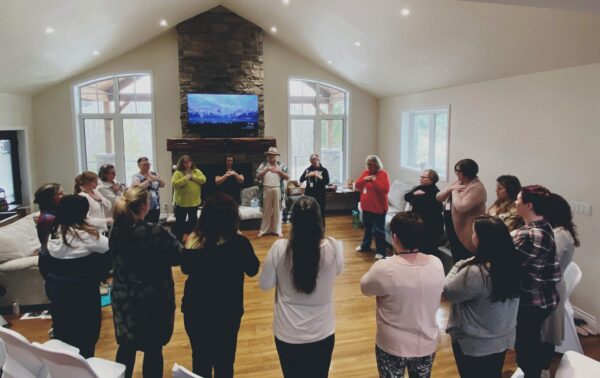 The universal laws, according to Kim, are the means by which our world and the entire cosmos continue to exist, thrive and expand. Apparently, these teachings go back 5,000 years to ancient Egypt, ancient Greece, and India; all with their own version of what the universal laws are. Kim describes why it's important that we all understand that they exist, and why it's also important that we choose whether or not to align ourselves with them in a conscious way to help recognize how they can connect to our lives and work for us to create change.
We talk about how we have thousands of thoughts every second of the day and that 80% of them are generally negative for most people. You may have heard this next part described as the law of attraction, as it's very similar: whatever we put out into the universe (thoughts, actions, etc) we get back. We learn that the purpose of this retreat, along with the activities to come later in the day, have the goal of creating more positive thoughts in our minds and raising our vibrations to allow more positivity to come into our lives.
Still with me? Great!
At the end of the learning, we have a delicious, catered lunch, and still have time to connect with the women in attendance. Women have come from all over Bruce County, Simcoe County and Toronto area. I was definitely the closest at a mere 30 minute drive, and the farthest pair of women were from Alberta! Yes, they flew in just for this! They are involved in the other aspects of Nature Babes online (which I will list in the final part of this series) and they wanted to come experience it in person!
I was blown away by that because I don't even like driving an hour to go see a movie, so I was impressed by their dedication!
Check out Part 2 of our Nature Babes Series coming soon.
Written by Ashley Baldwin MSW, RSW
Owner and Primary Therapist
Counselling Bruce County