A stroll through the Lion's Head Farmers' Market last summer while on the hunt for dinner ingredients led me to pick up a 6-pack of beer from the Paris Beer Co. Longtime friend of Rrampt, hostel owner, and former Northern Bruce Peninsula councilor, Megan Myles, turned us on to the creative ethos of Tagwerk Beer, and we've been enamored with the lifestyle that comes through in its products ever since.
The brainchild of Christian Riemerschmid von der Heide, Tagwerk is a phenomenally unique place, operated by a true renaissance man. A creator of beer, a grower of hops, and a farmer of experiences, the master brewer has created an idyllic farm brewery and innovation hub in Cape Chin on the Bruce Peninsula. The property is home to a plethora of inspiring features: 10 bee hives, a vegetable greenhouse, a small hop growing operation, apple pressing facility, the estate's original log cabin, varieties of berries, plums, pear, and wild apples, and a brewery, as well as a tasting room, event space, yoga studio, and budding culinary retreat.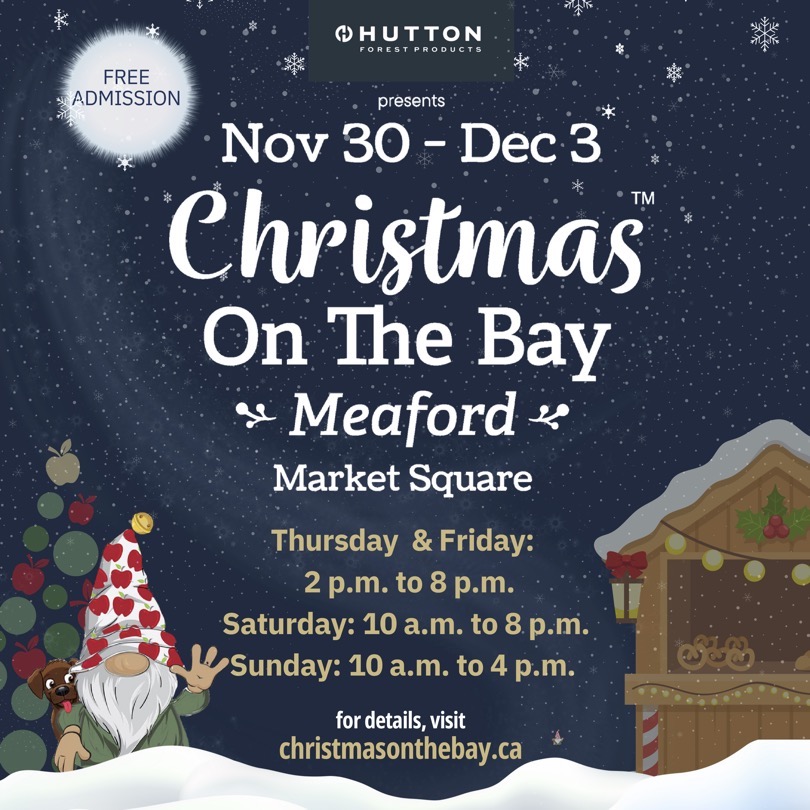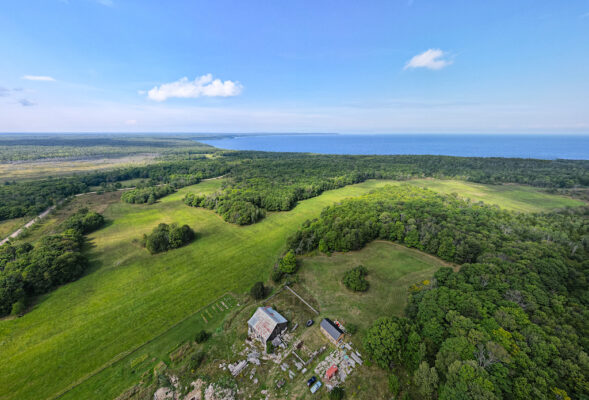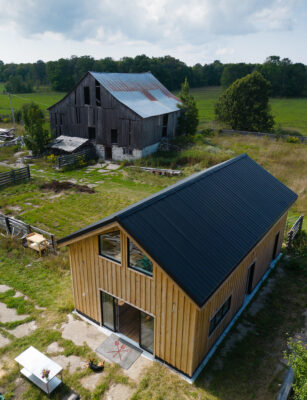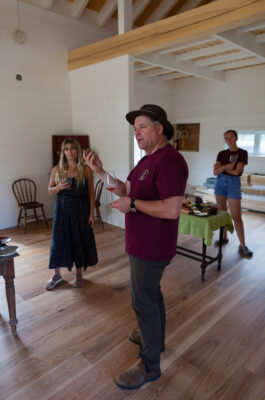 Who creates a space like this? Well, it takes an interesting guy, and Christian has lived the type of life you'd expect would be responsible for building a space like this. Forget about the Dos Equis guy, Christian is the most interesting man in the world. He got his start brewing in Bavaria at Augustiner-Bräu, Munich's oldest brewery. From there – and we're just scratching the surface here – he went on to work for Guinness in Dublin, Ireland, and London, UK; East African Breweries Ltd. in Kenya, and is a Past President of the European Brewery Convention. Since emigrating to Canada in 1996, he's worked as a Master Brewer and as the special technical advisor of the Rwanda Craft Brewery Project. In 2021, he became the COO of Brunswick Bierworks, one of Canada's leading partner breweries. He also co-founded the Paris Beer Company in 2020. Guy's busy.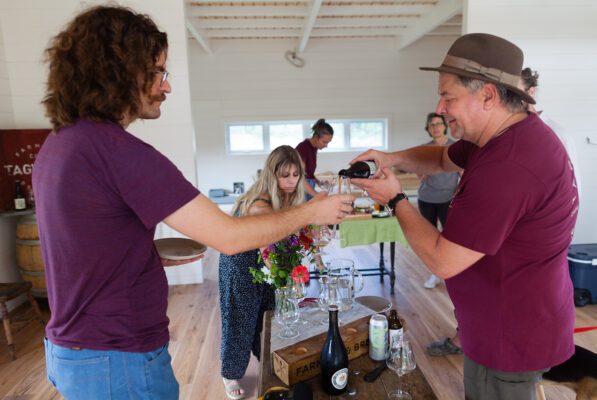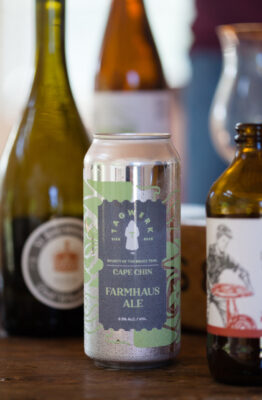 Tagwerk loosely translates to a day's work. In German, 'tag' is a 'day,' and 'werk' is 'work.' One tagwerk is also the unit of one acre, as much a farmer could cultivate pre industrialization. But when you talk with Christian, you're less and less convinced he's ever 'worked' a day in his life. You can tell he genuinely loves what he's created – this doesn't feel like work, rather a lifestyle that he lives with every fibre of his being. Tagwerk seems like it's more of a personality trait than a job. And the ideas this lifestyle brings to the forefront of his mind are nothing short of breathtaking.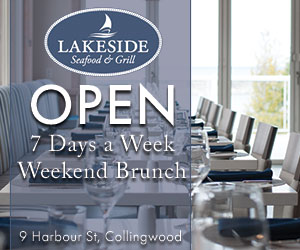 One part brewery, one part cottage retreat, and one part rural fermentation laboratory, tagwerk represents the crossroads where creativity and curiosity intersect
"I have all kinds of endless ideas. My background is brewing for 35 years. I do a bit of research and innovation – but my ultimate goal is drinkability," says Christian during an in-depth tour of the Cape Chin property. "As much as I want all of the beers to have their own unique signature, I also find it important that they're all still approachable. The common thread is how I create a design texture and mouth-feel. I'd rather focus on the sensory experience. Drinkability is the holy grail – whether it's wine, beer, mead, apple juice – whatever – drinkability is when you feel the intensity to drink the next sip and you find it very satisfying. Now, that can be very subjective – it's like asking what's the best kind of music. But there are aspects of food and music that are undeniably inviting. As a common thread, I'm building beer and beverages with complexity, but also thinking about how smooth it is and how it clears and finishes."
Not a permanently open place – Tagwerk is more about experiencing than popping in for a visit. People arrive by invitation – hikers can stop by, and there are plans for a full concert series in the near future. As it gets off the ground, weekends at the farm will be about enjoying good music, drinking, camping, and eating. Beer will be a main staple, of course, but fermentation as a whole will rule. Always thinking about what's next, Christian recently purchased the manufacturing equipment from the now defunct Collingwood Kombucha Company, so Bruce Peninsula-born kombucha is on its way. People can roam the grounds, take in musical and culinary community experiences.
"Tagwerk beers are created and designed on site, then scaled up," says Christian. "The brewing that I do here is not to say I don't do commercial – I do 100 liters – but it's for teaching, it's for innovation, it's for creativity, and it's the beginning for every beer that I design."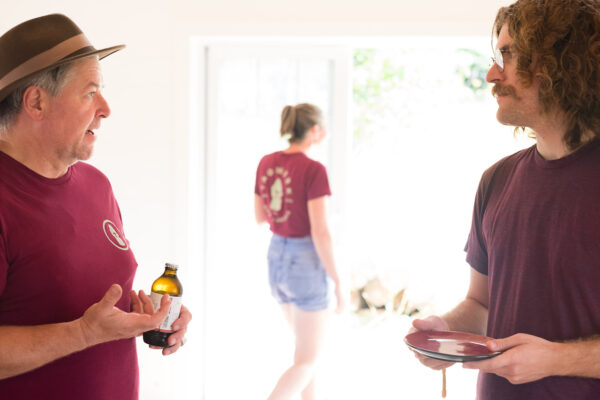 The approach is a quintessentially hand-picked one. Every aspect is over-detailed and is much more manual. What Christian brews at Cape Chin is impacted by every conceivable aspect of his environment: what's the weather like that day, how is he feeling, what music is he listening to, what's he thinking about eating that day. All of these details help to inform what gets created at Tagwerk, rather than listening to the brewing trends of the season. There's also an insatiable desire to take risks here. He's been keen to work with new ingredients from the farm that he hasn't worked with before, picking wild botanicals, fruits, and using wild yeast strains.
When he's created something unique here, he tastes that prototype and scales it up at his facility back south in Paris in a batch size of about 700 liters, even going so far as to replicate the soft, clean spring water he brews with on the Bruce by meticulously adding minerals to mimic the unique elementality of a dolostone aquifer.
There's also an air of sustainability and a desire to positively impact the environment here that helps make the beer even tastier. Christian has been working on ways to help the farm thrive from the ground up, and connect various aspects of the natural world to work more copacetically with one another.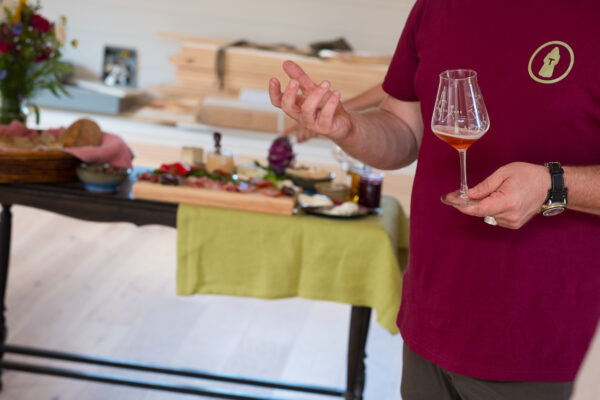 "Hops are very good for bee health," he explains. "Bees are challenged by Varroa mites. Last winter about 60% of the Ontario bee population died, so I'm also doing experiments with the hops to use the Lupulin (the yellow, aromatic pollen that gives hops its aroma). It's oily, aromatic, and hops are a sister plant of cannabis – it's not too different from CBD and the mites don't like the terpenes. So we'll be drawing some of the hops to be near the openings of the bee hives to hopefully increase their health."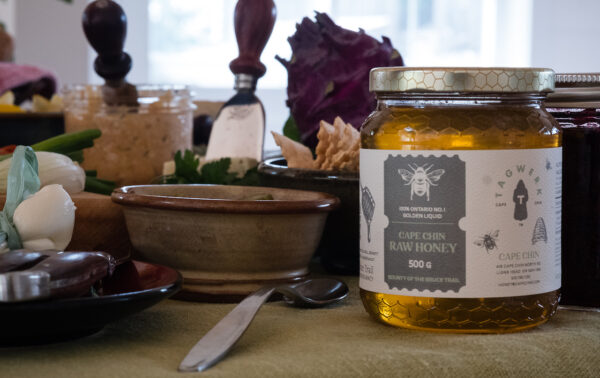 One part brewery, one part cottage retreat, and one part rural fermentation laboratory, Tagwerk represents the crossroads where creativity and curiosity intersect, all bound together by a love of fermenting, eating, listening to music, and living simply. Amen.
Words by Nelson Phillips
Interview by Andy Elliott
Photos by John Fearnall