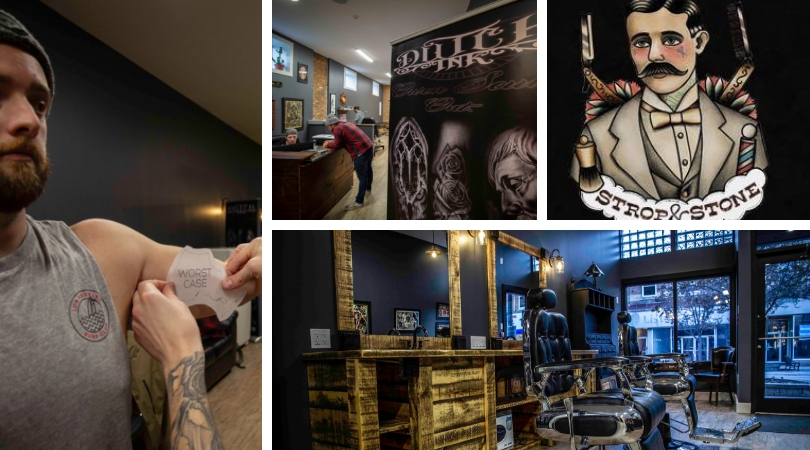 "Alright – you ready?"

Those are typically the last words spoken between you and your tattoo artist before they begin an all-out assault on your flesh. All of the time you've spent daydreaming about your next sesh in the chair, all the time pondering artwork, the layout on your body, style of art – it all comes down to those few words. You're about to be scarred for life, as my Mother would say (shout out to Michelle) – and that's one of the most powerful reasons for getting a tattoo; the permanence is motivating, inspiring, humbling – all that shit.

Tattoos are immensely personal endeavors. They can represent the entire emotional spectrum of the human psyche, but there's no law saying they have to be steeped in thought and feeling.

My first was of a lyric from a punk song – boldly and ironically declaring "No Regrets." I got it from a gent who didn't speak English on my first out-of-province snowboarding trip to Quebec's eastern townships at 18. The next was a skull and crossbones I let a first-time apprentice ink on me during my first semester of film school in Toronto's Church Street neighbourhood. The next, the result of my wife backing out of a pricey non-refundable deposit in Collingwood. The next? Being blindfolded before getting inked to commemorate the arrival of my first born. That was a morning.

Advertisement
So I have a clear cut history of getting tattoos for the sake of getting tattoos. Today is no different; an Ontario-centric Rickyism from the iconic Canadian television series, Trailer Park Boys. It would be my 6th, and I've never *wink* been one to overthink things. There will be no existential crisis today. The show is funny to me, and so is getting a tattoo for an article.

I'm laying in the chair at Daniel Vandenberg's new tattoo shop, Dutch Ink, in downtown Owen Sound. The latest addition to the landscape of our fair City's center is positioned in between the Milk Maid and Carney's Lane, nestled cozily between quaint coffee houses, artisan shops, and home decor stores, offering a beautifully balanced contrast to the block. The storefront is crisp, sleek, and modern, painted entirely black with dark tinted windows, featuring cubed glass and an insanely beautiful cedar sign designed by Dan himself and created locally by Grant Nicholson of Nicholson Design.

Inside? Simply stunning. It's immaculately clean, uniquely elegant, and peppered with beautiful decor including historical tattoo artwork, animal skulls, pop art, and some of Dan's own paintings. In the front, Nathan Park's barbershop is taking shape, lovingly hand-crafted by Nate himself, using reclaimed barn board to match the front desk, purposefully juxtaposing accents of brushed steel, canvas, and bone. The two met when Dan came to Nate for a cut during his time apprenticing.

"Dan was in for a haircut and he mentioned that since his early days' tattooing he'd always liked the idea of a tattoo parlour and barber shop together," says Nate. "It's actually a throwback to the early 1900s when tattoos were frowned upon and artists would set up in the back of barber shops so people could get inked discreetly. Historically, Barber's were good for things like minor surgery when you couldn't afford a doctor, pulling teeth when you couldn't afford a dentist and hooking gentlemen up with things that weren't considered socially acceptable."
Nate got his start barbering back around 2012, and hightailed it for New Brunswick when a barbering course opened up – supposedly the first of its kind in Canada for over 40 years.
"My wife's always been my biggest supporter and had my back no matter what crazy thing I wanted to do. Turns out the course and certificate weren't worth the paper it was written on… Barbering had to take a back seat for me in 2013 after I graduated so I could help out with some other projects and pay the bills – but my wife got me an old Koken chair and I put it in the living room and started cutting buddies. From there I bootstrapped my own shop, Strope and Stone (@stropeandstone), on a dime and built it myself off the back of the house. I'm lucky my dad taught me how to build because it allowed me to create a pretty cool little shop without much money."

As the needle begins to pierce the inside of my left bicep, the shop is closed. I've offered up my body as Rrampt's sacrificial lamb just to get a spot in Dan's chair — as soon as the health inspector gave him the green light, even prior to his grand opening, he's been tattooing steadily; at least two appointments per day, for upwards of 80 days in the new space. Opening up shop wasn't without its expected hurdles, but Dan concedes it was a great experience working with city staff, and overall, feels he's been welcomed to the main drag. Nate agrees.

"The city has actually been great and super supportive. I can't say enough about the clerk's office in particular. I've been getting some pushback on trying to pull a liquor license for barbershop patrons so they can have a beer while getting a cut, but almost all departments municipally have supported the idea. It's only been an issue for the building department," says Nate.

"This kind of thing [used to be] common. It helped make it a social place. It's not meant to be a party but a spot for good conversation and relaxation. A lot of municipalities surrounding us have refined the rules a bit to allow barber shops, in particular, to pull a liquor license for this very reason. It helps make it more than a service and turns it into an experience."

Dan found himself in Owen Sound to start a tattoo apprenticeship and worked there for the better part of a decade.

"I had always thought about doing my own thing but looked around to see if there were other shops in the area I'd like to work at. I did a guest spot at Sugar Shack in Kincardine and really enjoyed it there. I had just had my son at that time, and we were kind of deciding where we wanted to live… Owen Sound grew on me over the years… the trickiest thing was getting around the bylaws."

Word on the street was Owen Sound had a pre-existing bylaw outlawing more than one tattoo shop – but the reality is, a series of bylaws were implemented after an incident involving another shop that had briefly opened its doors on 2nd avenue in the early 2000s.

"They basically made it impossible to open another tattoo shop. You had to be 200 meters from everything – residential, church, school, daycare, everything – and it was only zoned for downtown or that little strip by the dump. After meeting with the planning department a few times I pitched this spot and they said it was OK, it didn't infringe on anything."

A month later, Dan was sent back to the drawing board to submit a minor variance. He had to attend a public meeting and the public was alerted there was a request to open a tattoo shop downtown in the local paper.

"I got really prepared for this. I got letters of support from neighbouring businesses, I went to the meeting and [council] all raised their hands in support. Everybody told me it was impossible – but you know what happens when someone tells you-you can't do something, right? Makes you wanna do it."

By now, there's a vibrating steel needle digging into my armpit. It's a niche art form for sure, but one that came naturally to Dutch, as his friends call him. He was always an artistic kid, and around the age of 16 became obsessed with the varieties of styles of tattoos and the history of the art form. After high school was when things started to make sense.

"I was trying to paint in my spare time in between working construction but it was tricky to be artistic when you're just trying to make a living," says Dan. "I just wish my guidance councilor had of said, 'hey Dan, have you thought about tattooing?' That didn't happen – but it would have saved a lot of bullshit in my 20's, man."

The learning curve is steep when you're trying to transition from canvas or paper to skin, but a supportive mentor helped get those wheels moving again.

"It's a tough gig… [but] you're learning about culture, you're learning about history, and you're learning about art. We love this stuff because it's easy for us to relate to – but Japanese art, for example, that art is next level. So many animals, creatures, and mythology… Seeing different artists putting out the most amazing work really pushed me to not stop and keep going."

Peep Dutch Ink's Instagram page (@d_u_t_c_h.ink) and you'll find a lot of black and grey realism, but there's a wealth of bolder, more colourful pieces as well. That openness to experiment and not be trapped by a certain style is important to a profession that's centered around creativity.

"It was stressful getting started, but the appeal of being able to do anything in terms of artwork kept me motivated… This is my castle."

—

Dutch Ink is open for business, with the Strope and Stone barbershop opening for a soft launch this coming week, with an official opening slated for this spring.
Written by Nelson Phillips
Photos by Zak Erb and Adam Weber