In a new Rrampt series, photographer Willy Waterton visits artists in Grey Bruce Simcoe to take a picture of their studio, their tools, and their process. This month, he visits Robbin McGregor to ask her a simple question:
Why an artist?
" I never decided to be an artist. My parents gave us lots of opportunity, living in different types of settings, both rural and urban. Growing up in grade school I survived by reading folklore, science fiction and fantasy books, so that all comes into play in the things I do and connecting with the earth – being allowed to go outside and play in acres and acres of land. We got the freedom to do that kind of thing. I was mostly attracted to nature.
Raising a child alone I tried to make everything more magical to spark imagination. I did this with everything, like decorating the coffee bags or making latte art at the Bean Cellar.
Wherever I work I bring something artistic – it just comes out that way. I have no formal art education; I learnt by doing it and seeing what works and what doesn't. I have found other people working with skulls and it's inspiring to see their work. Four years ago when I was beekeeping I found skulls and decided to do something really cool with them for myself. I never thought it would turn into something people would buy.
Advertisement
Nature and spirituality are all mixed together for me. Some people see my work as art; some do not. I create work anyways. I always want to get get better at whatever I decide to do. I know whatever I do I will be creating something."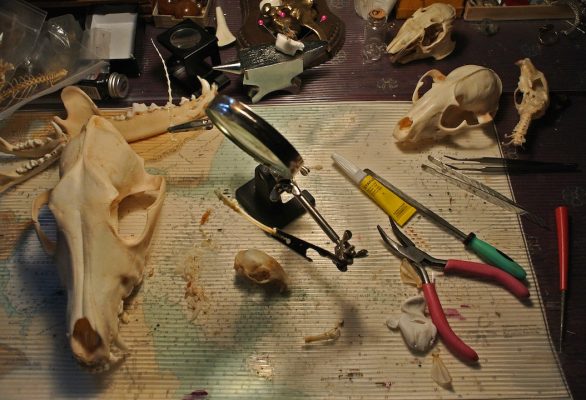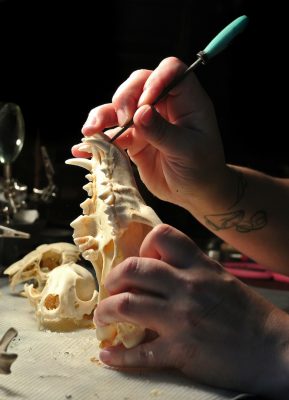 ---
Robbin McGregor
Owen Sound's Robbin McGregor is a self-taught multi-media artist creating work from found objects, mostly skeletal remains of birds and animals combined with heritage jewellery, welded metal and driftwood.
---
Photos by Willy Waterton