Beep — beep — beep.
Steph Hebb's alarm goes off, but she's already wide awake. She hits stop and hops out of bed.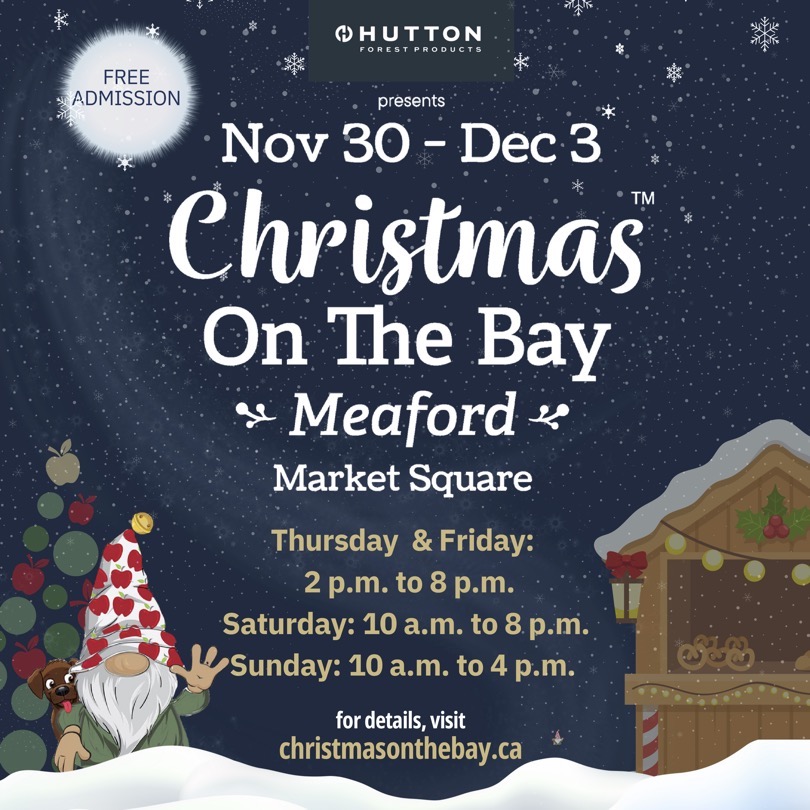 It's not even 7:00 a.m., but the wind shifted Northwest last night, with forecasts saying it could reach 40-kilometres per hour overnight — and Steph knows what that means.
Hurriedly, she throws a jacket and boots on top of her pajamas and heads outside. After scraping a tiny hole in her car's icy windshield, she blasts the heat and heads to the spot.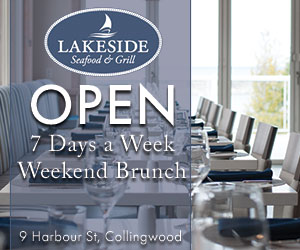 The sun is barely peeking over the horizon when she arrives at the water, unable to contain the grin now growing across her face. She fumbles for her phone and sends a quick message to her girls' group chat.
"Surf's up," she types. "Ankle biters, but it's building."
After one last look at the water, Steph hops back in the car and heads home to gear up.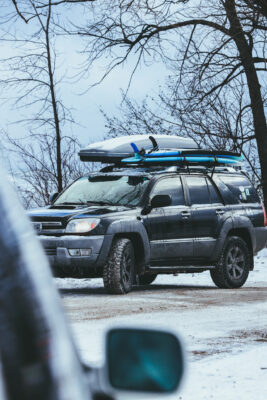 Mornings like this aren't unique, but that doesn't make them any less special for this sisterhood.
While many surfers opt for sandy shores and sunshine, the ladies of the Bay eagerly await frigid fall temperatures to wax their boards and don their wetsuits. Unlike ocean surfers, who rely on the wind and tides, lake surfers depend solely on strong winds to build swells, with the winter months bringing the biggest waves and best surfing conditions.
So when the temperature drops and the snow starts to fall, instead of seeking solace, lake surfers head in the opposite direction — out the door and into the eye of the storm.
"It's definitely given me a greater respect for Mother Nature," says Steph. "But there's something about being out there, in the freezing cold with all sorts of crazy weather going on around you, yet you are calm. It's such a powerful feeling."
Steph has been surfing in Georgian Bay for four years now, and the 40-something from Collingwood said it's completely changed her life. Previously, Steph had only ever surfed on vacation, saying it's impossible to understand or appreciate the sport if you only go once a year.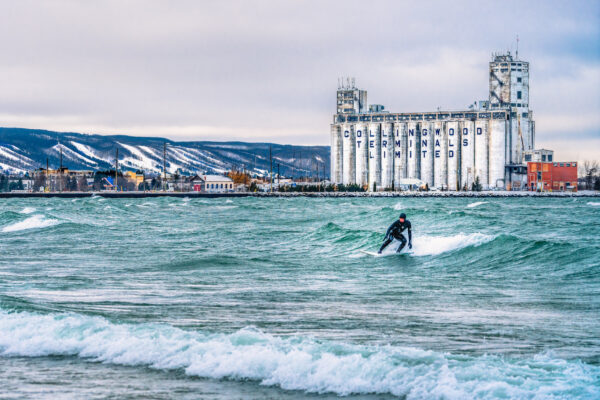 "It was always this dream. I wanted to be a surfer," says Steph. "But because I couldn't move somewhere warm, it was kind of disheartening when I turned 40."
So when someone told her she could surf right here on Georgian Bay, her "mind was blown."
She bought a board almost immediately and started getting in the water as much as possible. Even when it was flat, Steph would get out and practice paddling.
"I'd be the only girl out there. It was a bit intimidating with all these guys paddling out," Steph said. "I felt like a loser in the whitewash, falling off my board again and again. But I watched myself get stronger and get better every day."
She vividly remembers the day she ventured past the whitewash, ready for a "green" wave. Equal parts nervous and excited, she paddled just like she practiced and rode the wave right down the line.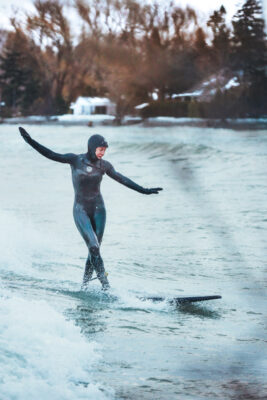 "I just remember getting off the board with the biggest smile ever," says Steph.
She's been hooked ever since.
The girls from her group chat are right there with her, including friends Britney Holmberg and Emily Pattison, who have similar stories about getting their start in lake surfing. They all shared the same affinity for surfing and surf culture but were convinced it wasn't accessible to them on a daily basis — or so they thought.
Britney moved to the area a few years ago and used to fall asleep listening to the waves crashing. She fell in love with surfing while travelling, and every time she walked down to the water she would think, I swear you can surf here. So one day she decided to try. Britney got a hold of a board and an old, thin wetsuit and decided to "go back to the basics of surfing."
Eventually, she worked up the courage to join some surfers she saw out in the water. Wearing an oversized wetsuit on top of another, Britney was shivering, and taking on so much water she could barely stand on her board. Steph happened to paddle by, playfully laughing at Britney's commitment, and introduced herself immediately.
"Right away, we were just like, connected," says Britney. "That was it, my introduction into the community."
Emily's experience was similar.
A rep for Ripcurl, Emily spent her career as one of the few girls in the industry, travelling around the world surfing and wake skating. A couple of years ago, she met Steph at a surf event in Collingwood, who invited her to come out and try surfing on the Bay.
"I had no idea you could surf here. I was intimidated," says Emily. "But I decided to go and fell in love with the whole crew. Everyone was so inviting and so supportive. It was awesome."
The other thing that these women, and all lake surfers share, is their dedication to the sport.
If you ask anyone who does it, you'll quickly learn it's not for the faint of heart.
To get surfable waves on the Great Lakes, there are several variables at play. Called a wind swell, the waves are created by low-pressure systems that bring bad weather and big winds, which affect the water in terms of friction. The wind must blow at least 20 knots (roughly 40km/hour) for approximately five hours to get waves that are rideable. But the colder the air and the colder the water, the less wind that's required. That's why, when you get into fall and winter, the waves tend to get bigger.
But it also means conditions tend to include iced up shorelines, sub -20℃ temperatures and a messy concoction of snow, sleet and hail, all flying at that 40km/hour speed.
And the surfers love it.
"There's something about being out in a snowstorm," says Steph. "Your face is so numb, and the water is so cold, you feel like your eyeballs are going to pop out."
But it's so satisfying, she says, and is convinced it's more enjoyable because of how hard it is.
Britney calls it "raw" — and she craves it.
"You find yourself on the other side of suffering," Britney says. "I am really my best self and my most true and motivated self when I get out of the water after an experience like that. It's scary and it's raw and cold and uncomfortable. But it fuels me."
Despite the icy cold conditions, Georgian Bay is becoming a winter hotspot for those who crave that same raw and freeing feeling. What used to be a relatively niche hobby has since blown up on social media, with lockdowns and travel restrictions caused by the Coronavirus compounding its popularity.
From an industry perspective, Emily says the demand for wetsuits and other gear has increased exponentially — up 300 percent, to be exact.
"It's crazy," she says. "There are three million new surfers in the water as of last year, and it's primarily women."
Emily, Britney and Steph all express their concerns regarding the growing interest in the sport, noting how important it is that it does so in a sustainable and respectful way.
But they also all agree how exciting it is to have more women in the water.
"It's like, there is this breed of us, especially women," said Britney. "It takes a certain personality type to do what we do, but you know right away when you meet one."
"You really have to want it," Steph said. "It's not like surfing anywhere else in the world. But, if you're passionate about it, no amount of crazy weather or cold water will get in your way. And there's no better way to feel a part of something."
Written by Maddie Johnson
Photos by Nick Laferriere and Dean Heliotis