Why isn't Owen Sound branded as the Outdoor Capital of Ontario?
This is the question Bella Waterton and Paul Scriver are asking since recently moving back to Bruce Grey after living and playing for two years in the self described Outdoor Recreation Capital of Canada, Squamish BC. With their jobs as professional adventure guides interrupted by COVID-19, the two are transforming into new careers in the Owen Sound area.
Bella grew up here surrounded by the outdoors; her love for the natural world was instilled at an early age. Adventuring included canoeing, climbing, hiking, skiing, and camping, which she continues to enjoy with her partner, Paul Scriver, who grew up in the Ottawa area. He was also instilled at an early age with the same love for the natural world.
Both began guiding in high school on multi-day, self-supported sea kayak and white-water canoe trips throughout Canada. From paddling through stunning canyons on northern rivers in Canada, to kayaking through sea ice in the Arctic and Antarctica, to more recently polar bear guiding on Hudson's Bay, the couple have been captivated by polar regions for the last 10 years. Since their guiding requires air travel, the two could live anywhere in Canada but they returned to Owen Sound partly because of all the amazing outdoor opportunities right at their doorstep.
Advertisement
Squamish is the half way stop on the Sea-to-Sky Highway between Whistler, B.C., and Vancouver. It was known for years as a place to gas up and grab a coffee for the road. But that has changed.
Squamish was established around 1910 as the southern terminal of the Pacific Great Eastern Railway much as Owen Sound was a terminal for CN and CP railways connecting with ship service to the Lake Head now called Thunderbay.
Other than servicing the railway, Squamish's main industry was forestry. The closing of the Interfor sawmill in 2004 began a downturn in forestry jobs that led the community to focus on the opportunities afforded by its natural surroundings.
The same has happened in Owen Sound with most of the heavy industry closing over the past two decades. Unlike Squamish however, Owen Sound hasn't embraced the opportunities provided by the surrounding natural areas.
Ok, you're going to say Squamish has the Rocky Mountains and we don't, right? Well according to movetosquamish.ca website, we have everything they are promoting plus more within one hour of Owen Sound.
Climbing
Owen Sound is surrounded by tons of possible climbing routes on the Niagara Escarpment cliffs. The West Rocks has some of the most accessible routes to be found in Bruce and Grey just a few minutes from parking areas. Lion's Head is considered to be the best limestone climbing in Ontario and some of the best outside of Europe. I haven't even mentioned Metcalfe Rock or Old Baldy in the Beaver Valley.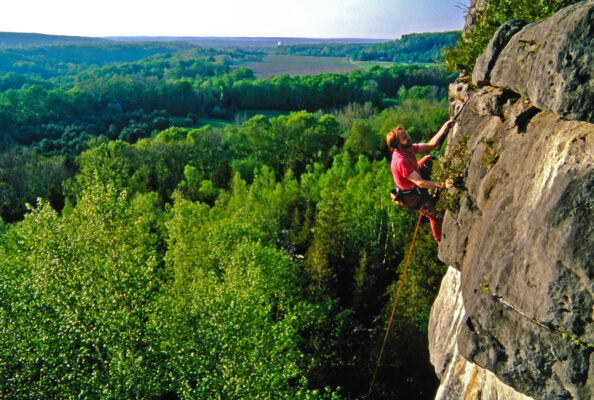 Mountain Biking
Although there aren't mountain bike trails developed yet close to Owen Sound the area certainly has great trails close by. At Blue Mountain you can experience downhill cycling after riding a gondola up the mountain. Bruce County has over 12,500 acres of cycling wilderness; five trail properties with a combined 80 kilometres of trail.  Each property is distinctively unique; from the rocky Bruce Peninsula to the deciduous valleys of southern Bruce County. And can you believe they're FREE.  We haven't even talked about road cycling possibles on thousands of kilometres of paved, quiet country roads or the rail trail leaving from Owen Sound to Dundalk, the Georgian rail trail running from Meaford to Collingwood and the rail trail leaving from Southampton running to Walkerton.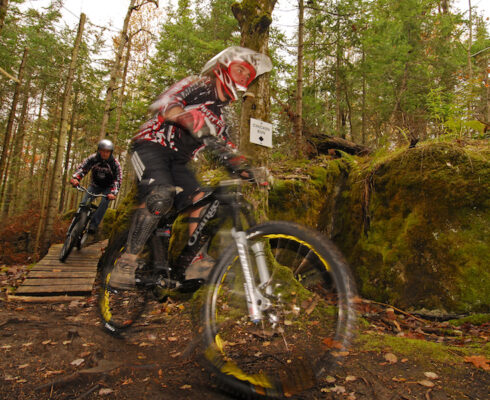 Kite Boarding and Surfing
The warm shallow waters of Lake Huron at Oliphant and Sauble beach have become a destination for kite boarding. The waters from Kincardine to Collingwood are hosting  board surfers year round (even featured in the New York Times).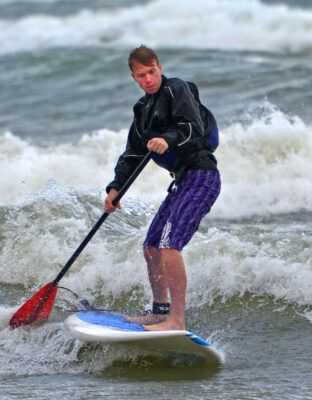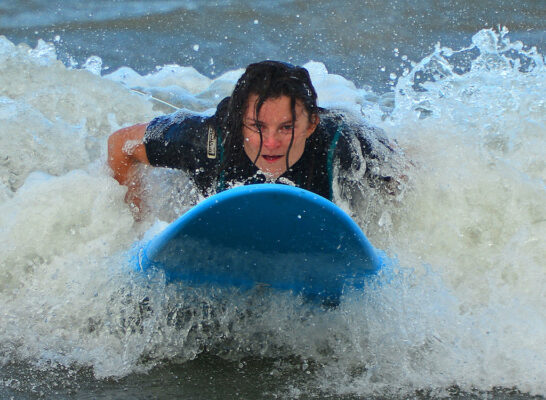 Skiing/Snowboarding
It might not be  Blackcomb and Whistler but Blue Mountain and the surrounding private clubs offer first class downhill skiing within an hours drive; a great warm up for western trips. The Niagara Escarpment offers all kinds of back country skiing for those willing to skin up the slope. When it comes to nordic skiing, within one hour of Owen Sound I can count  eight groomed classic or skate skiing, plus one backcountry skiing trail at Kolapore.  You have the full range of skiing, from birch covered sand dunes along the Rankin River, skiing along Georgian Bay at Cobble Beach, lit night skiing at Hepworth or skiing the Niagara Escarpment at Scenic Caves.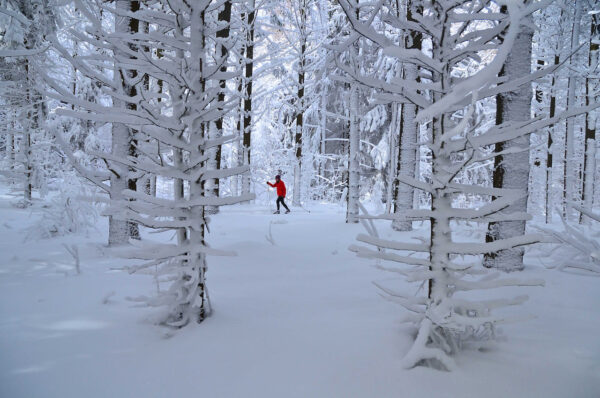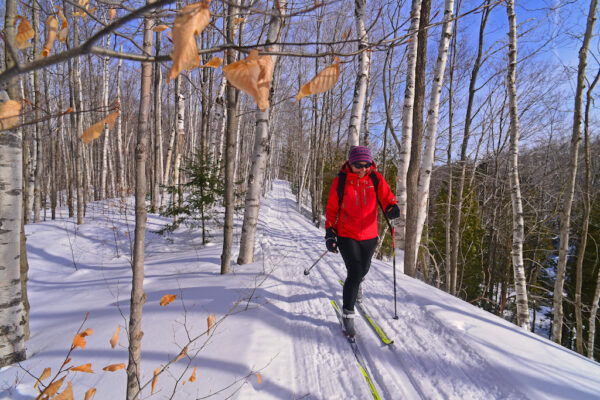 Snowmobiling
Trails leave and enter Owen Sound that connect to over 3,600 km of sanctioned trails in Bruce Grey.  Look over the islands of Colpoys Bay from trails atop the Niagara Escarpment.
Hiking
Owen Sound is blessed with The Bruce Trail, Canada's oldest and longest marked footpath winding around the city's valley. Think it's just a walk in the woods? Think again as the Palisade section of the Bruce Trail on Owen Sound's Eastside is a challenging scramble over and around chunks of the Niagara Escarpment carpeted in ferns and mosses. Combined with all the  blue signed side trails, it adds up to hundreds of kms of hiking available for the price of a Bruce Trail Membership (which helps to buy and preserve land for public use).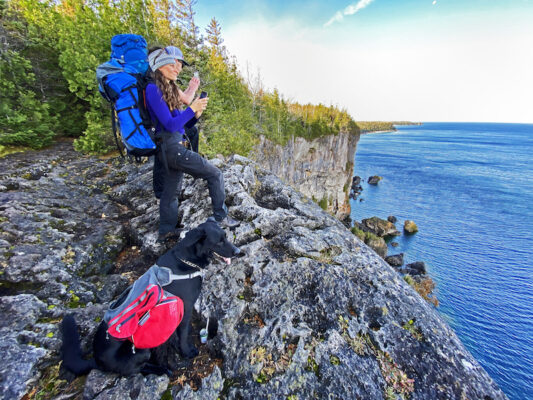 Sailing and Boating
With conveniently placed harbours, marinas and spectular coastline all along the Bruce Peninsula, Georgian Bay is a mecca for freshwater sailors. 
Paddling
A favourite activity of mine, Bruce Grey offers something for every paddler from sea kayaking the warm waters of the Fishing Islands off Lake Hurons' west coast to paddling the icy cold waters of Georgian Bay under awe inspiring cliffs at Lion's Head, play boating at Sauble Falls, kayak surfing anywhere there's a good break, a multiday trip on the Saugeen River, paddle boarding the Sydenham River in Owen Sound, running the spring runoff of mutliple rivers, experiencing fall colour on the Beaver River, or exploring flatwater on inland lakes, the choices are endless.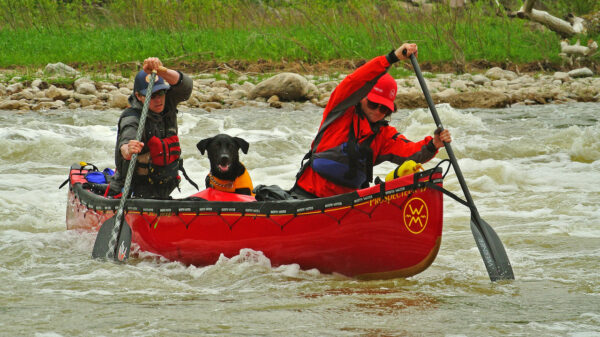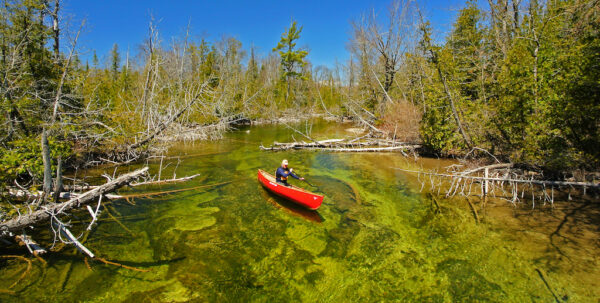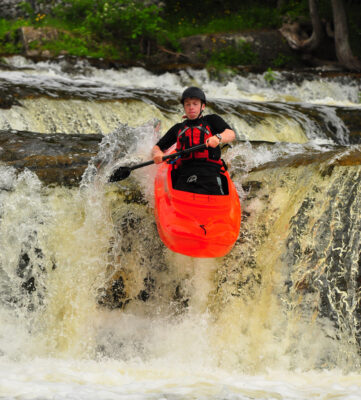 Scuba-Diving and Snorkelling
Beneath the surface of Lake Huron and Georgian Bay there is a whole world of ship wrecks and geological formations for divers and snorkelers to explore. Tobermory bills itself as the Diving Capital of Canada, which is not unreasonable given incredible visibility of 80 feet (24 meters) as well as twenty plus shipwrecks dating from the 1800's and early 1900's  along with picturesque rock formations.  For those of us who don't scuba dive, snorkel tours are offered on the shallow shipwrecks off Tobermory or explore a shipwreck off Lion's Heads' town beach.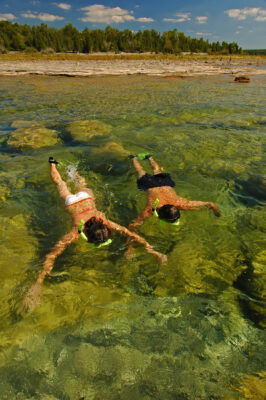 Fishing
Owen Sound bay and Lake Huron are known far and wide for big water salmon and trout fishing. Anglers flock to the Saugeen River below Denny's Dam to find one of Ontario's best trout and salmon runs. Above the dam, spring-fed  feeder streams and lakes are prime waters for brook trout, brown trout, bass and pike. Every spring the  shores of local rivers and creeks used to be lined with fishermen shoulder to shoulder for the annual trout season opener.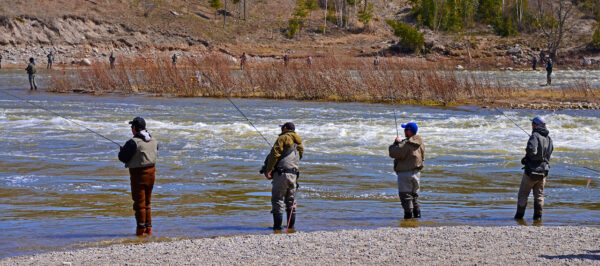 Swimming
Unlike Squamish, the water warms up to almost tropical temperatures on the Lake Huron shoreline where thousands flock to sand beachs from Kincardine to Tobermory. Or if you are into cold water swimming look no further than Georgian Bay.
Caving
Crevices and caves abound along the Niagara Escarpment from Collingwood to Tobermory, begging to be explored by amateur spelunkers.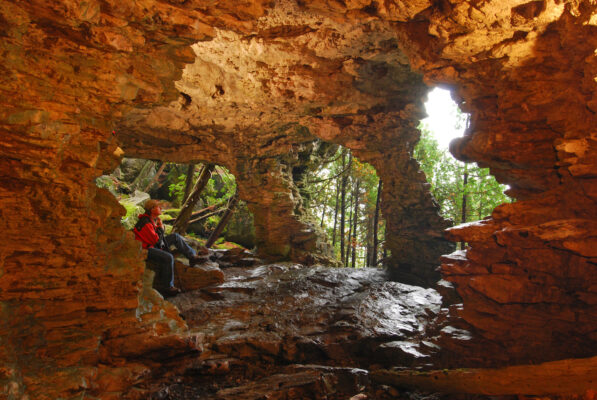 Iceclimbing
A niche sport in southern Ontario, the frozen speepage from the cliffs and waterfalls of the Niagara Escarpment offer relatively unexplored iceclimbing adventures.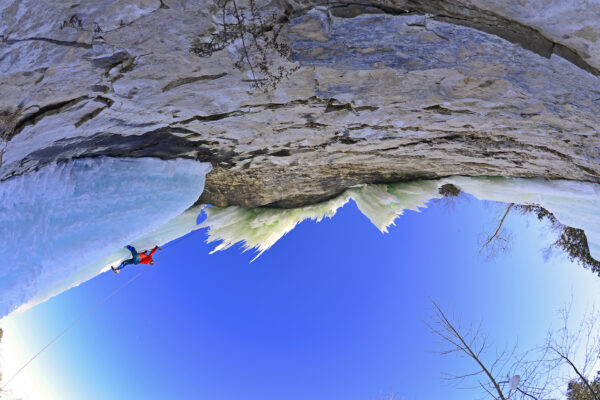 Waterfalls
There are eight waterfall tours available  in Grey County alone, with four of those within 15 minutes of Owen Sound. It's relatively easy access to view the power of water.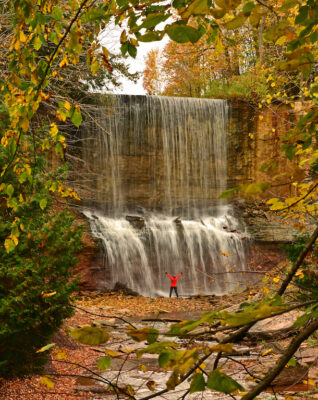 Fall Colour Tours
With the abundance of deciduous forests in Bruce and Grey, there's lots of opportunity to feast on nature's colour palette. And because of the moderating effect of the Great Lakes, the fall foliage colour begins later in the fall up the Bruce peninsula.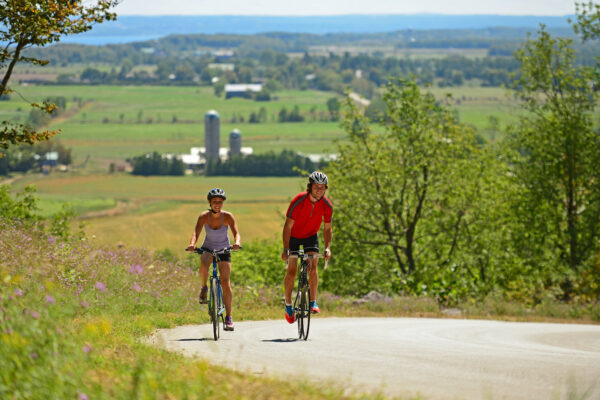 Birding
The Bruce Peninsula acts like a funnel for  migrating birds. Many have heard of Point Pelee as a magnet for birders during the spring migration, but a large number of those birds continue up along the Lake Huron coast line on their way to Canada's North. The Huron Fringe Birding Festival based at MacGregor Point Provincial Park near Port Elgin is an internationally recognized event celebrating birds, birding, and nature. This eight-day festival in late May and early June offers over 90 guided hikes and presentations led by top local, provincial and global naturalists. Participants explore the Huron Fringe of land along the Lake Huron shoreline and significant natural areas in Bruce and Grey Counties during the end of bird migration and the beginning of nesting season.
Taking all this into consideration, (plus other outdoor opportunities I may have missed), isn't it time for us to take off our pajama bottoms, put on some appropriate outdoor gear and get a taste of why Owen Sound should be branded as The Outdoor Capital of Ontario?
Photos and words by Willy Waterton