It's mid-afternoon on Sunday. I've returned from a thrifting adventure with a bag in each hand – my haul.
On this adventure, I scored a 70s paisley smoking jacket and a tin cigarette case with a pistol emblazoned on the top. I don't smoke, but I couldn't resist it. Just like the old bourbon bottle I got a month ago with a bearded prospector on the front, a whiskery so large-and-in-charge it takes up the entire front of the bottle. And, of course, there's the old milk crates that I bought to hold my records last winter, which I wouldn't have needed if not for the garage-sale vinyl I've scored over the years.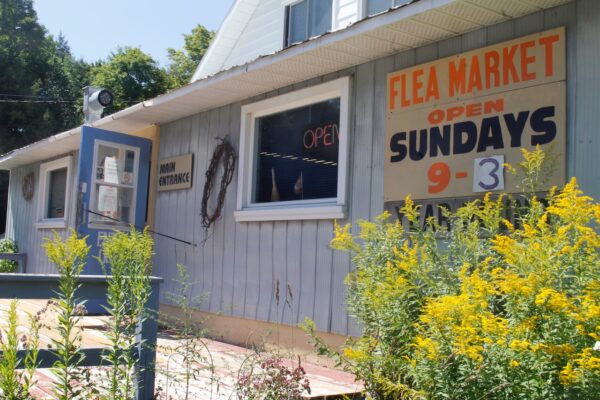 These are the fruits of my thrifting labour, often from a Sunday at the Rockford Flea Market where thrifters get their thrills and antiquers build their collections. There is one section in particular where I know I'll find some interesting stuff. James Scarrow's set-up is always busy from 10 – 3 on Sundays with locals and tourists who all have the same goal in mind: to find something that speaks to them.
People may not know the difference, but when they're looking through Scarrow's section, they're actually antiquing and not thrifting. What's the difference? Well thrifting is what one does when they're sourcing antique pieces – it could mean going to garage sales, auctions, road trips, or to thrift shops. The hope is that something valuable is found during the outing. The alternative is going to an antique mall where you know you'll be surrounded with pieces someone has sourced themselves. And that's Scarrow's profession.
Advertisement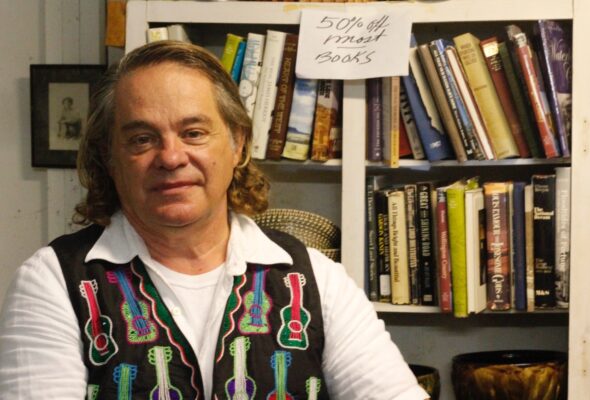 "I spend every day looking for new inventory. In fact, I was out this morning," he says from behind his desk in Rockford. "It's a lot of work finding great pieces…I'm very eclectic, I look for stuff wherever I can find it. I do road trips, house calls, thrifting, and garage sales. But you have to be diligent, you have to work hard at it."
Scarrow's his section is full of interesting vintage pieces, everything from clothing to kitchenware. He can go into detail about each piece and explain why it's special, why he chose it. He's got great taste and people know it.
The items are priced to reflect the work he's put into curating his collection. You might find better bargains at a garage sale or a thrift store, but it's a gamble. You're guaranteed to find interesting and valuable collectibles when you go see him in Rockford.
The same is true for Heartwood Home in Owen Sound where owner Joanna Bottrell sells vintage, antique, and upcycled furniture. She's done the work to ensure you'll find great, quality stuff in one place. Many auctions have moved online where everyone and their uncle can now bid and drive prices up, but she enjoys sourcing in person when she can to either purchase or sell on consignment.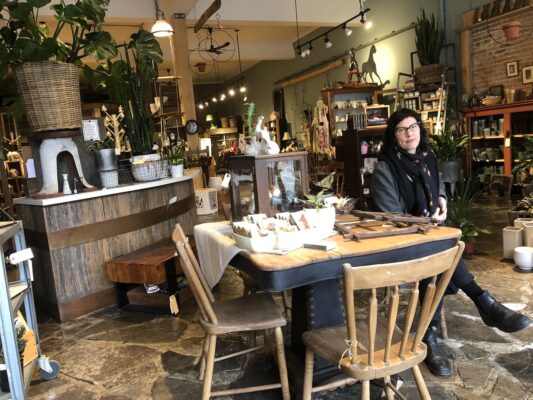 "I have strong preferences when seeking items, for primitive and antique Canadian made furniture," she explains. "That being said, I cannot be too choosy! If I want to please many and… have a full store, I have to be flexible."
That is the art of the antiquer – staying true to one's taste, while offering something to a diverse clientele. Both Bottrell and Scarrow have defined their tastes over many years in the business and stand out because of their reputation.
Scarrow began his passion for antiquing at the Keady Market when he had items to sell from his parents' farm. He made more money in one day at Keady than he did in one week working as a display technician. His career officially began when he rented a space at the Rockford Flea Market and quit his day job. That was 22 years ago, and he's accumulated a wealth of knowledge over that time. He knows what his clientele wants and works hard to bring them pieces they'll love.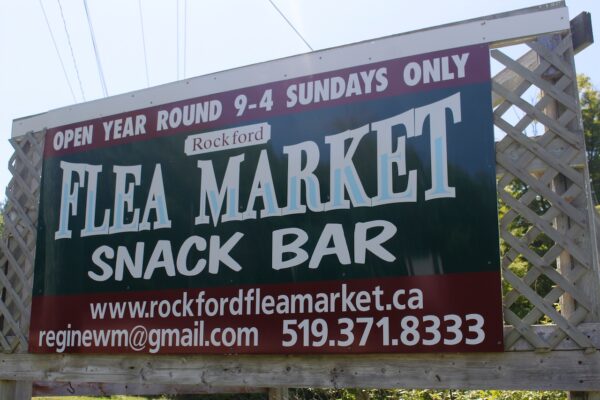 Bottrell on the other hand, came by it honestly. The daughter of a thrift store manager, her passion for antiques was instilled in her at an early age. She has memories of attending auctions regularly as a family. "All my life, my parents would take found furniture, strip and refinish it; to this day, we have those pieces in our homes," she says.
That these items are still around and in good shape speaks to the quality of their craftsmanship, a refreshing contrast to the built-in obsolescence of many products today that adds to our massive landfills. There is certainly something to be said for things that are made well. They connect us to the past and spark our curiosity. I try to picture who wore this smoking jacket before me, drank whisky from this old bottle, or listened to these records before me?
These are some reasons people gravitate towards thrifting, and some just like paying less for items they'll need. In fact, the way younger people thrift is different than previous generations, James notices.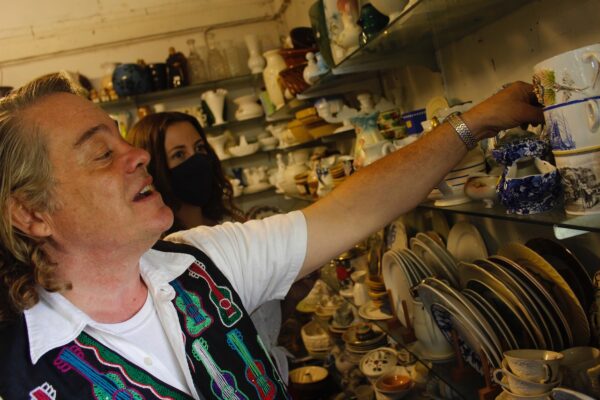 "Young people are far more interested in practical things, and that makes sense to me," he says. "Just look at what they're paying for homes. They don't have the disposable income that previous generations had."
And what are young people looking for these days? Mid Century modern design, for sure. And Pyrex is huge, he says. I ask what that is and recognize the dinnerware instantly when he points it out. It takes me back to the kitchen of my youth. This is the power of antiques; they let us recapture the past.
As far as trends go, Bottrell says that the upcycling of furniture is huge. "I have multiple consignors who give new life to old pieces of furniture with milk paint etc…. and people love it. So much so that I have decided to sell Fusion Mineral paint!"
I don't know what milk paint is, but I'm fascinated. I've become fascinated with all things vintage to be honest, and I'm clearly not the only one. This passion is growing amongst people who are not only wanting something that's unique, tells a story, and is built to last, but also involves a little excitement.
"It's the thrill of the hunt," says Scarrow. "It's an adventure."
Words and photos by Jesse Wilkinson