" Trans- a word-forming element meaning "across, beyond, through, on the other side of , to go beyond" from the Latin trans, perhaps originally the present participle of a verb trare "to cross." – etymonline.com
---
At the beginning of the pandemic, two things buoyed me up. A first hand account of plague ridden Florence in the 13th century to remind me of how much worse things could be, and the music of Canadian black transgender artist Beverly Glenn Copeland. It is a body of work so transcendent that listening induces a state of near serenity leading to overall feelings of rejuvenation, empathy and hope. The world has only just woken up to this incredible artist. Owen Sound, it turns out, has been in the know for over 50 years.
Glenn was born into a musical family in Philadelphia in 1944. His mother bought a grand piano for their living room so that she would see her husband. Otherwise his 5 hours of practicing Brahms, Chopin and Bach would have been spent at the basement piano. By 1961, Glenn, scholarship in hand, was the first black student accepted into McGill's music program. 6 years later, after representing his adopted nation at Expo 67, Glenn decided to settle in Canada for good.
The early 70's saw Glenn release two albums and an EP and sing backup vocals for a number of folk artists. Album sales went nowhere but Glenn had the support of Bernie Finklestein, the founder of True North Records and manager for one of the artists Glenn sang with in the studio: Bruce Cockburn.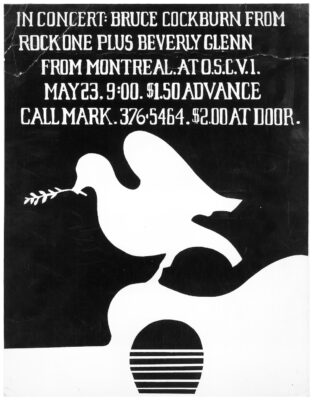 This connection meant that when Owen Sound's Doug Dandeno, a local teen who handled the school dances at Owen Sound Collegiate Vocational Institute and West Hill, booked Ottawa's preeminent folksinger for a Saturday night at OSCVI in 1970, Glenn was a condition of Bruce's appearance. The evening was sponsored by the Anglican Young People's Association whose president at the time, despite not being Anglican, was Summerfolk founder Tim Harrison.
Tim became such a fan of Glenn's that, when it came time to book the first and second Summerfolk lineups, Glenn got the call. He played these stages in '76 and '77 and Owen Sound has never forgotten it. Bob Menzies, local spoken word musician and front man in SEA, was my introduction to Glenn's music by way of a story of seeing and hearing Glenn sing in two voices at once.
Sadly, at that time, Glenn did not encounter as much success, in terms of a career as a recording and touring artist, elsewhere as he did in Owen Sound.
He became a regular cast member and writer on Sesame Street and Mr. Dressup (he played Valerie, for those who remember). Being a children's entertainer was a great way to combine his music training with his first love, comedy. However, these shows' entirely heteronormative approaches to casting and performance left him feeling limited.
From his home in Huntsville in 1986, Glenn, using an Atari, a keyboard and a drum machine, recorded Keyboard Fantasies, his first output in 15 years. Almost none of the cassettes ever sold. By 2015, one cassette that did made it into the hands of Ryota Masuka, a music collector in Japan. In short order Ryota had bought, and sold, the rest of Glenn's Keyboard Fantasies cassettes and record labels worldwide were lining up to reissue this hidden gem on vinyl.
Owen Sound aside, Glenn is convinced the music he was channeling (he feels it comes from the universe itself on an unconscious level across what he calls the "Universal Broadcasting System") in the 70's and 80's was intended for an, as yet, unborn audience.
That audience has caught up with him now. They are young, diverse and citizens of the world. All summer long, visitors to New York's Guggenheim were greeted by the sound of Glenn's song Deep River along with performance footage projected onto an 84′ tall curtain that turned that gallery's famous rotunda into, in the words of Wu Tsang the artist behind the piece, a "sonic sculptural space."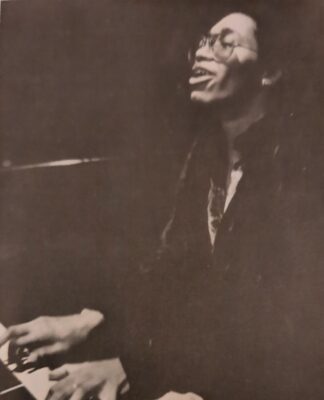 Glenn's return to touring in 2018 at the age of 74 with a band of much younger musicians (among them bass player Carlie Howell, also heard on recordings by local artist Culture Reject) was captured in a documentary shown at festivals around the world and Hotdocs.
Swedish pop icon Robyn wrote the liner notes for the latest reissue of Keyboard Fantasies. Caribou's Dan Snaith credits Glenn's seminal recording from the 80's as a defining influence on his latest album, Suddenly. Fourtet started spinning Glenn's music into his DJ sets and Devendra Benhart categorized Keyboard Fantasies as "medicinal".
Some combination of this quality in his music and Glenn's lifelong buddhist practice begins to explain the way he's come to be revered. When things fell through on a house deal at the height of the pandemic, his fans quickly crowdfunded over $90,000 to aid in re-homing Glenn and his wife Elizabeth.
Before COVID the world was just starting to open up to what Owen Sound already knew in the 70's: Glenn's music is a gift to be leaned into, celebrated and shared. While I had the privilege of MCing the Summerfolk stage at the Harrison Park Cairn, I took the opportunity to put out the call, from the northern terminus of the Underground Railroad across the Universal Broadcasting System, that it's time we welcome Beverly Glenn Copeland back to Summerfolk for a transitory and transformational performance. Transmission sent, anyone receiving?
---
Words by Tom Thwaits
Photos/scans provided