Pizza. It's portable, foldable and forgiving. Leftovers can endure 12-hour bus rides across the molten desert and survive a 25km slog stuffed in a backpack across the Pyrenees. My wife, Kim, and I have experienced all sorts of international twists on the standard pepperoni and cheese pie. The standouts were true hybrids that married toppings like duck and wontons with hoisin sauce in Shanghai. In the Congo, sliced dimes of banana! To this day, our in-house go-to is a riff on the "Thanksgiving pizza" we had in Halifax. It's the iconic turkey dinner, deconstructed and pizza-fied with cranberry dip on the side.
The creative takes on generic pizza have blown away the uninventive '80s norm dominated by olives, mushrooms and (ugh) green peppers. Pizzas are being topped with mac n' cheese, Donair fixings, onion rings, nacho chips, and cracked eggs. Thanks to the Food Network and celeb chefs, pizza is becoming a hobby in its own right.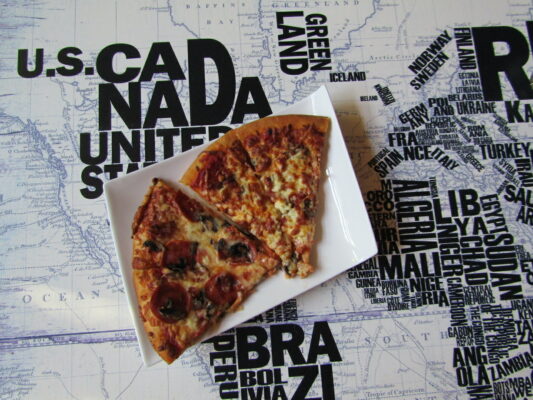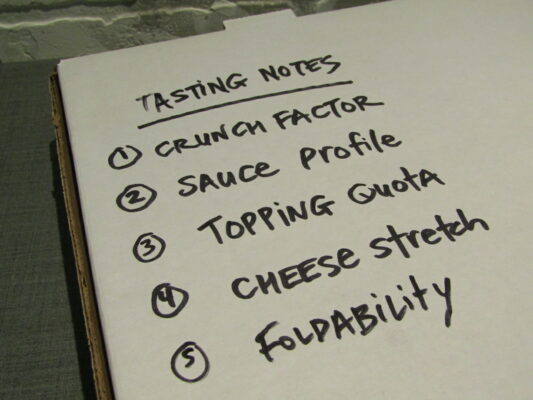 When not in Zanzibar or Shanghai, we support the local pizza scene as one should. There are two joints in our immediate radius, conveniently located side by side on Highway 6: Mom's Pizza and Bear Tracks Inn. How do the slices stack up? If you're camping on the peninsula, hiking a chunk of the Bruce Trail or just in the mood and wondering what slice suits you, here's how it all panned out.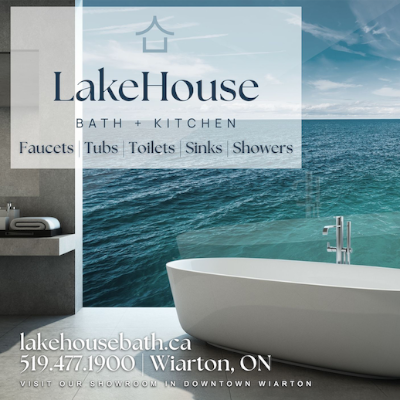 Mom's Pizza vs. Bear Tracks Inn
We tasked our cottage neighbours with the ultimate taste test. They'd like to remain anonymous, but their tasting notes, appetite and stoked solo bonfire were invaluable. And that's the distinct beauty of pizza right there. It's casual, it's formal, it's ideal when lazy and/or exhausted. You can feed a crowd with an edible thank-you for yard work or moving day muscles. Pizza marries well with champagne or root beer. It's road trip ready and fills the gap for breakfast on the fly.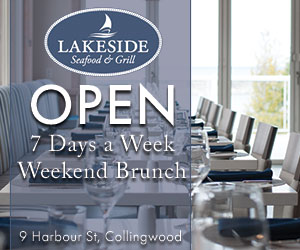 Scene: Fireside, West Little Lake
Cast: Four volunteer pizza taste testers
Cooler contents: Spearhead Brewing Company Hawaiian Style Pale Ale, Tobermory Bruce Trail Blonde Ale, Oyster Bay Sauvignon Blanc
Disclaimer: In keeping with that age-old expression of comparing apples to apples, we did the same. We compared Hawaiian to Hawaiian and Canadian to Canadian. Both pizza makers agreed that the Hawaiian (ham, pineapple, bacon) is an all-time regional fav with the Canadian (pepperoni, mushroom, bacon) close on its grass-skirted heels.
---
The Hawaiian Lūʻau
Mom's Pizza: Pressed into a pan that leaves a distinct fish-scale pattern on the bottom of the crust, Mom's Hawaiian offered confident hand-held stiffness. You could tell a story, wave your slice about in exaggerated ways and not lose the toppings. The cheese level was tremendous—like a mozzarella duvet. It's hearty and designed for carb-lovers. Handfuls of real, not-simulated bacon and equally liberal amounts of ham are embedded in the cheese. This would be a hangover-friendly choice. If you're not huge on sauce but crazy about the crust, Mom's is made with you in mind.
Bear Tracks Inn: Their Hawaiian is laced with notably sweeter pineapple chunks. The sauce is tangy, textured and generous—have a serviette on your lap! You can see tomato pieces versus the typical pizza sauce puree, and this makes for a zestier bite. Slices are lighter in weight as the crust is less dense. If you love sauce and something a little sweeter, this one's for you.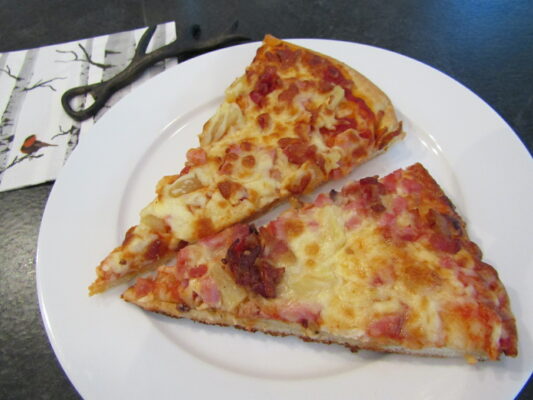 ---



Go Canada! The Canadiana
Mom's Pizza: The patriotic version came with large, uniformly sliced visible mushrooms and an impressive amount of crumbled bacon. Sliced not diced allowed the woodsy fungi flavour to triumph. Pepperoni slices dotted the surface like a checkers game and cheese lovers will rejoice. Mom's sees no geographical border between Hawaii and Canada when it comes to cheese. You get a lot of it and if it's your first date, prepare for the unexpected, unending cheese stretch! This pizza will see you through the Halfway Dump trail to the Grotto without a dip in energy. The crust is substantial, so it's a good moving day pizza as well.
Bear Tracks Inn: Good portability. You can grab a slice from the box and walk down to the lake to watch the sunset without wearing the pizza on your surf shorts halfway. The bacon is as real as Wiarton Willy and they don't scrimp. All ingredients are pre-measured to ensure every pizza is an identical experience. The tomato sauce shines again and the crust has a good chew with classic air pockets. The mushrooms are thicker and button-size and balance the crispy pepperoni wheels. This slice is thinner and easier to fold, if you like to make pizza sandwiches like me.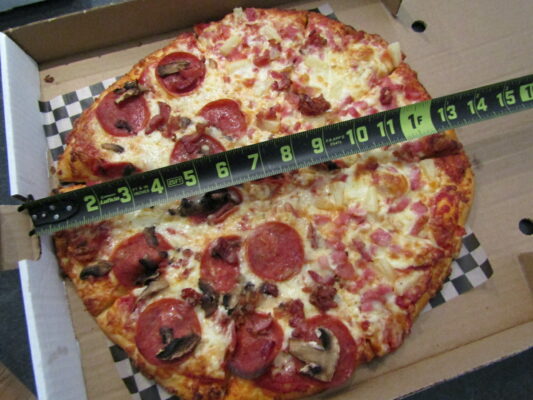 ---
So, should you grin and Bear it or is Mom's the word? Here are some additional pizza perk considerations:
Mom's Pizza: You can grab pizza by the slice, request spelt or thin crust. Customers can order half and halfs, to keep all palates satisfied. Mom's is take-away and cash-only. A large 13" pizza is $22 flat. For Hawaiian fanatics, they also offer a Hawaiian BBQ option with chicken, pineapple, red onion, bacon, BBQ sauce for good measure and red pepper flakes to take it to the next fiery level. The business assumed new enthusiastic ownership as of May 1, 2021 and updated blackboard offerings include Chicken Pesto, Buffalo Chicken pizza and the option to sub in alfredo sauce. For a sweet ending, Mom's homemade cookies (also available at the Ferndale UPI) are irresistible and should be part of your takeaway (we're talking macadamia white chocolate! $2.25 for two.).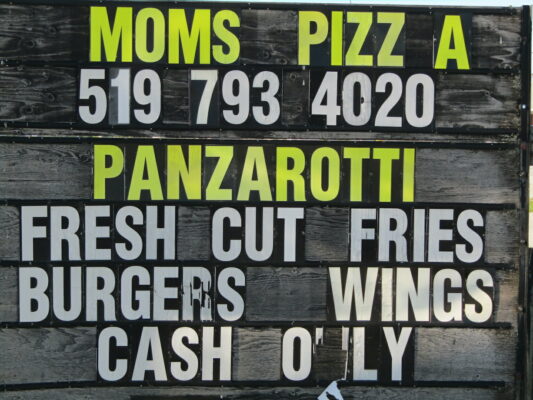 Bear Tracks Inn: Pizzas are sized 'true' and measure 16" for a large ($22.66, cash or card). They're not lying, we did the measure! The restaurant is licensed and has dine-in and takeout menus available. Thin crust is not an option and pizza toppings cannot be split in half as everything is pre-measured. Bear Tracks also offers baked in-house, never-frozen desserts. They have introduced several earth-conscious initiatives to reduce their carbon footprint. Takeout products are made from recycled materials and they are embracing the Skip the Straw challenge by offering a paper straw alternative. You can also snag free wi-fi here.
The Grand Conclusion: 
Any way you slice it, it's a win-win situation. Mom's Pizza takes the stretchy cheese and stick-to-your-ribs prize, while Bear Tracks has an equal number of fans in the savoury sauce and size category.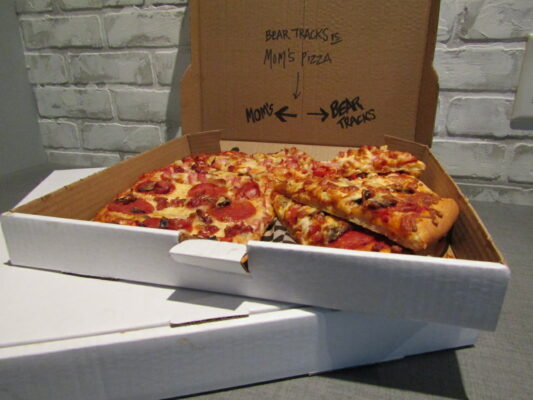 Both locations offer medium or large pizzas only. You can find Bear Tracks on the usual social platforms while Mom keeps it real and old-school with just a phone number
Words and photos by Jules Torti