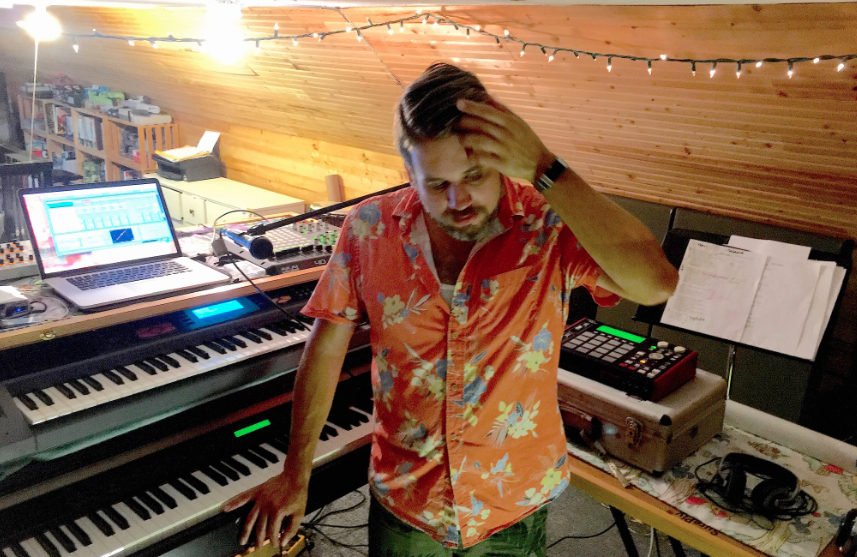 Nathan Seaman is a happy man. Go ahead and ask him; he'll confirm it. I did this myself recently. Well, to be precise, I asked him if he's a "happy motherf*cker all the time". He forgave my shameful display of unprofessionalism and responded: "Ya, I think I'm the happiest I've ever been in my life". Nathan was happy, honest, and engaging when we got together to chat about his visual art and the musical art of Urban Waters – his musical alter ego.
Viewing Nathan's art gives you a glimpse of the elevated plane of happiness on which he operates. His pieces are extremely vibrant with heavy use of bright fluorescent colours. They arrest you with their childlike enthusiasm, and blast positive vibes directly into your squishily receptive amygdala (your eyeball). Try to stay glum; it won't work. It didn't for me anyway and I am young, glum, and full of dumb comments.
Current pieces often incorporate hard angular swathes of black, which provide a visual anchor to keep the viewer from being swept away on a rising tide of giddy fluorescence. His technique is about as childish and wholesome as it gets. He finger paints. Almost exclusively. This is a very intimate, fundamental approach, one that anyone who ever attended kindergarten can identify with.
Advertisement
Where did he learn these techniques? Art school? A gruelling-ly ascetic spiritual retreat? Nothing so dramatic. While leading a summer camp art class, one of his campers discarded the brush she'd been wielding and started smearing paints about with her fingers. She invited Nathan to join her and he did so, in the process rekindling a love for this most tactile, primal form of art.
Art is only one side of the Nathan Seaman coin, the other side being music. It's actually worth mentioning that our chat revealed about twenty different sides to Nathan, each worthy of examination, but those extra sides shatter my brilliant coin analogy, so I've reduced him to just the two.
In the musical realm, Nathan goes by Urban Waters. Since his childhood in rural Annan, Nathan has been drawn to water, fascinated by its essence and obsessed with its purity. This interest carried on through his time as a student at Laurier, where he started to view himself as a sort of social water. He moved between disparate communities always maintaining fluidity, flowing through his new urban home like water.
Over the course of 15 years and 5 albums, Urban Waters has been honing its unique style and collecting a diverse set of talented collaborators. The powerful vocals of Alicia Ryan are featured prominently on Nathan's two most recent releases, South Fateful and Stay Rad Bang Life, and Nathan promises "a ton of collaboration" on his upcoming album, Absolute Zero. Oops. I may have buried the lead. Nathan is hard at work on an ambitious new album. Like Stay Rad, he plans to release Absolute Zero on vinyl and he has a specific vision for the album: 3 piece grunge rock on side A and dirty intense rap on side B. Disparate styles perhaps, but browse through Urban Waters' back catalogue and you'll quickly see he is more than capable of pulling off such a fusion.
The lyrical content of Absolute Zero is no less ambitious than its musical styles – it's shaping up to be a deeply personal look at duality, mental health, and self awareness. The little bit I've heard from Absolute Zero has me extremely stoked for the as yet unannounced release show. Be sure to check Rrampt for updates, and in the meantime, Nathan would ask that you stay rad and bang life.
And listen to the first track off the album here titled Dopamine:
Written by Zak Erb
Photos provided by artist