We humans have a deep-rooted penchant for adorning ourselves, transforming these blank-canvas bodies into movable art and living galleries. From natural trinkets to ornate and glittering heirlooms, the jewellery we choose can reflect our aesthetic tastes or hint at moods and sentiments. Yet, as personal as the statements can be, each piece also holds elements of the artist behind it – and this is what makes hand-made jewellery in particular so compelling. It allows a wordless dialogue to unfold between maker and wearer, simply by one creating and the other being drawn to the creation.
Given the expanse of our local arts community, it's no surprise that jewellery artists are plentiful around here, offering an impressive array of designs. Makers at all stages of their careers, working in nearly every medium you can think of, find a place to grow and bring a touch of beauty to our lives.
Fierce Deer, Evolve Creations, and Lunamoon are three businesses that have been expanding steadily since their beginnings. I had the privilege of speaking with the inspiring women behind them about their artistic journeys – from the roots and finding the creative spark to the evolution of their businesses and distinct styles. Here's a glimpse of some of the amazing talent right in our own backyard.
Fierce Deer
Artist: Alanna Schwan
Vibe: Minimalist and sleek, with a hint of whimsy.
Style: Delicate charms in sterling silver, yellow gold, and rose gold feature geometric and nature motifs and custom hand-stamped designs.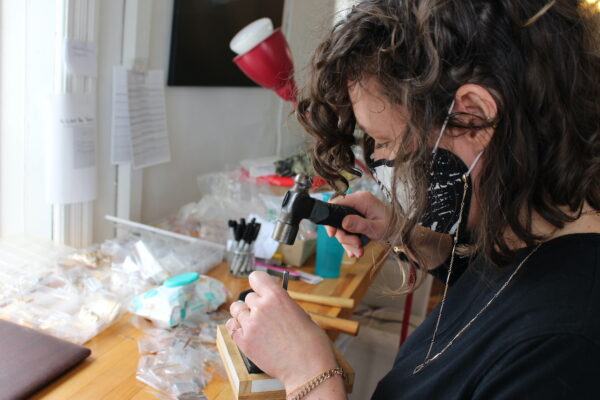 Ten years ago, the notion of making jewellery for a living wasn't even a blip on Alanna Schwan's radar. In fact, with an undergrad degree in zoology, she'd been planning a career centred around turtle conservation. Her sister, Kate, initially established Fierce Deer in Toronto, and Schwan began to lend a hand on the music festival circuit. It wasn't long, though, before she realized her own flair for design and making. So, when suddenly facing one of life's crossroads, she took the leap and threw herself into the business full time.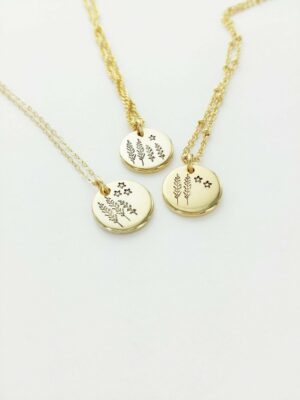 Now, with her sister having moved on to new ventures, Schwan has taken over as the owner of Fierce Deer and returned to Owen Sound, where she employs a small group of creative women to help fill the ever-growing number of wholesale and custom orders. The business has grown a little more each year, with Schwan adding to the growing list of materials and styles she offers, and this past year has been no exception. An unexpected boon of the pandemic, the "new normal" of virtual business has customers accessing Fierce Deer's Etsy shop not only from across Canada and the U.S., but even as far off as the U.K. and Australia. "You feel like the world is your community in such a big way," marvels Schwan at the global connection.
While she does miss the face-to-face aspect of makers markets and shows, concentrating on online sales has allowed Fierce Deer to thrive and Schwan to put even more energy into new designs and custom pieces. This is an aspect of making that she really loves, collaborating with clients and translating their stories and memories into hand-stamped keepsakes. "Bringing people strength or empowerment through the jewellery is where I feel inspired," she explains. And although she has plans to keep her business's momentum going by continuing to expand the design line and her team, there's no doubt that Fierce Deer will always reflect the intrinsic spark within Schwan's own heart: forging connections through creativity.
Where to shop: https://www.etsy.com/ca/shop/FierceDeer
---
Evolve Creations
Artist: Ali Strutt
Vibe: Earthy, soulful, and hiding a bit of magic.
Style: Semi-precious stones, sterling silver wire, brass and silver charms, and aromatic wood beads showcase the intrigue of natural beauty.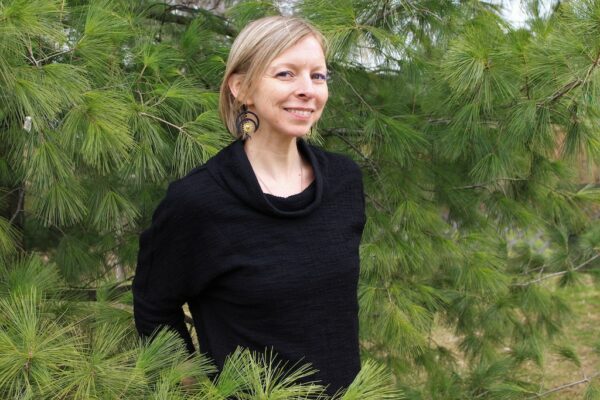 Just as the name would suggest, Evolve Creations has been in constant motion for the past five years. Initially, Strutt got into making jewellery for herself, but the response to her pieces was so positive that she shifted her focus to selling as well. "It literally evolved from what I enjoy doing for myself… to other people also liking it. So, why wouldn't I share it?" she points out. Strutt attributes much of her success to word-of-mouth promotion and local shops carrying her items. You might even remember her eye-catching display at The Rocking Horse in downtown Owen Sound, pre-COVID, a brilliant example of the kind of support that's unique to small towns; where else would your boss allow you to set up a side-hustle at your day job?
EC's staple materials have always been luscious semi-precious stone beads – reflections of Strutt's strong connection to nature, as well as the colour palettes of inspiring places and moments. But her designs also follow the evolution of her own tastes and artistic process and the EC collection has grown alongside Strutt. Each piece she makes echoes the emotions and mindfulness that are integral to her craft. As she reflects, "If you're wearing my jewellery, you know me a little bit… you know what was in my heart and in my mind when I was creating it… it's a part of me."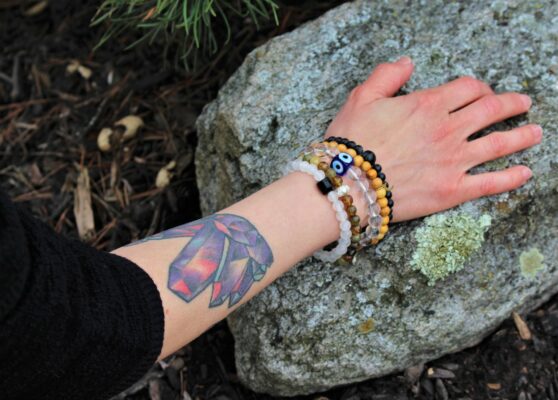 Reaching that sweet spot for creating, however, isn't always easy. In fact, it's only been since the pandemic hit that Strutt has learned to release the self-imposed pressure to constantly produce. Despite its chaos, the past year has actually allowed her to take time to reflect and work within the ebb and flow of creativity. Now, since re-framing her approach to making, she's found a natural rhythm for inspiration and has been dreaming up new mediums to explore. Always one to embrace change, Strutt can't wait to tap into new talents and share some fresh styles.
Where to shop: https://www.etsy.com/shop/evolvecreationsEC, Kokoro Wellness & Spiritual Hub, Great Canadian Boutique Outlet
---
Lunamoon
Artist: Kim Gates
Vibe: Edgy and fierce, but with a dream-like softness.
Style: Fluid chains compliment an eclectic array of found objects, recycled materials, and antique elements, creating one-of-a-kind statements.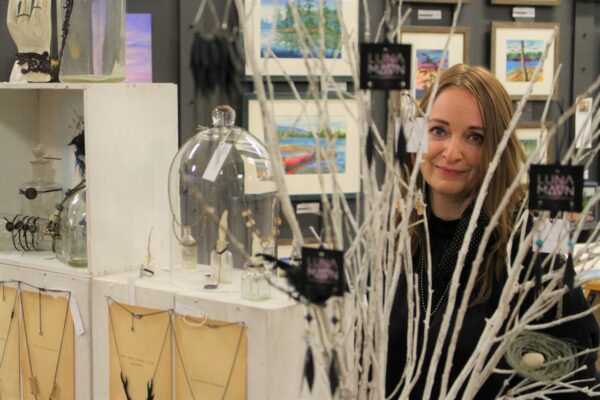 Aesthetics have always been front and centre for Kim Gates, whose early attraction to art, fashion, and photography initially led her into graphic design. But it's jewellery that really lights her fire. Her business began by the light of the moon, with Gates stealing quiet hours after kids were in bed to create her pieces. As she puts it, "You work by day at something else and then you do the thing you love at night, until you can do it all the time." Bit by bit, she whittled away her day jobs and hit the ground running with Lunamoon.
After years of living in and around larger cities, Gates settled into the farmhouse near Sauble Beach that had belonged to her grandparents. The immense support for the local arts community stood out to Gates right away and it's only become more apparent over the past five years. A member of the Owen Sound Artists' Co-Op, she's thankful that the Co-Op has provided an accessible place for artists to sell their work – particularly with most markets and festivals on hiatus – and that the public have such a strong love for locally-made art.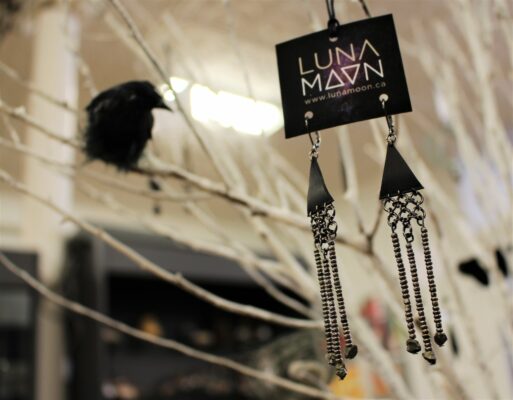 Lunamoon's designs are as varied as they are intriguing – a reflection of Gates's dynamic artistic process. "I'm always trying to do something that people haven't seen before," she explains. While she draws inspiration from visuals such as films, fashion magazines, and natural imagery, the real magic comes from allowing the materials themselves to guide her. Gates's affinity for antique and vintage finds and beach-combed treasures lends to the uniqueness of her creations; in the moment of making, no matter how much she might have planned beforehand, intuition takes hold as she sees new possibilities for items.
One of the most rewarding aspects of making jewellery, though, lies in that intrinsic, unspoken connection after the fact, "when I get to see who ends up buying a certain necklace or pair of earrings," says Gates. "Since many of my designs are one-of-a-kind or limited edition, it ends up speaking to a very specific person and it's like that piece is just waiting to be perfectly matched to them."
Where to shop: http://www.lunamoon.ca/, Owen Sound Artists' Co-Op
---
Written by Sarah Goldman
Photos by Sarah Goldman and Candra Schank