Now that summer has arrived in Grey Bruce, all the usual sounds of summer are here with it – wind whistling, waves crashing, streams flowing, creeks…creaking…? Some might stay inside with Joni Mitchell's The Hissing Of Summer Lawns playing, while others might sit outside quite literally listening to the hissing of summer lawns. For Paul Clifford of The Jawshop Adventure Recording, these are all sounds that can be utilized and manipulated.
To clarify, Paul is quite literally a man in motion, who spends the better part of his days travelling around Grey Bruce collecting field recordings. He tells me about his most recent experiment: "I placed my battery powered amp in a garbage bag, submerged it in the creek and attached a contact microphone to a cedar tree and used a heavily rosined bow to get a sound. I managed to get something in the neighborhood of "E" and because the amp is underwater it made a bubbling warbling sound! Unfortunately, the bag ripped so I'll need to go back and try it again, but I know what I'm doing this time."
It's clear that for Paul it's more about the adventure.
Having cut his teeth as a drummer/percussionist, it was in his early teens Paul discovered his calling to experiment. "We were basically having an old school kitchen party, and there I was drumming away on a yogurt container and other guys and girls were smacking countertops and appliances…you name it, but we all sort of got in this trance like we were a little tribe or something. The other revelation was hearing Tom Waits with Shelly Manne on drums."
Advertisement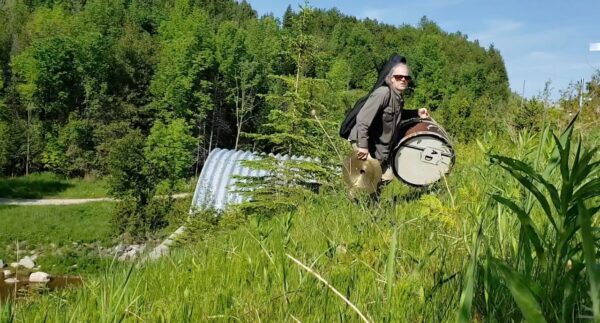 These examples are just firsts in Paul's musical awakening, which eventually led him to Canada's West Coast playing the festival scene with "all sorts of hippy types." This is where he first recalled seeing someone gathering field recordings. "I saw this dude with a 4-track, battery, and a Shure SM58 microphone and immediately needed to know what he was about," he says. He also landed in Cuba for awhile where he biked to Havana "in search of the groove", eventually learning the bata drum in a back alley where some Santeria/Voodoo happenings may or may not have taken place (Robert Johnson who?!).
After feeling "emotionally ejected" from Canada, Paul wound up in Zurich, Switzerland, with nothing but some essentials and a busking kit, living in a squat with a friend. "You should have seen some of the music that came through that place," he says. "I was usually left in awe."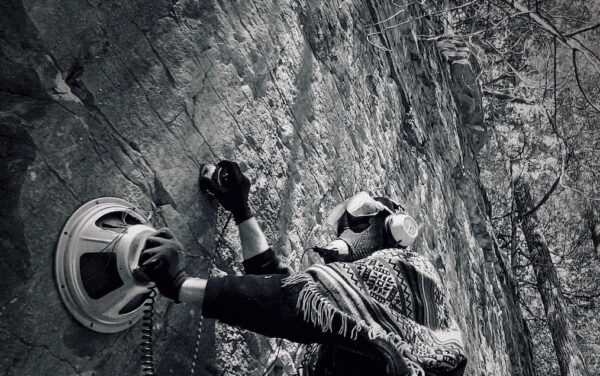 His inspirations would later take him to England, where he'd play in experimental roots trio Groanbox, harvesting some of that kitchen party vibe that would see him play calabash drums and various other types of percussion, including the 'freedom boot', a broomstick with hundreds of bottle caps screwed into a boot with a ghungroo (Indian dancing bells) attached for maximum thump!
Having released a few albums, done several tours around the UK and Europe, and eventually collaborated with British composer David Bruce, Paul returned to Canada and started The Jawshop Adventure Recording, which involved a repurposed 1959 Airstream camper and a barn from the 1850's that now houses a recording studio. "I was watching a Sylvia Massy (producer/engineer extraordinaire) video and she said something like 'recording can be your own adventure', and I was really inspired by that. I found an old Airstream for a decent price, bought it on a whim and spent the winter converting it," he says. Having a mobile studio allowed Paul to take his experiments to the next level, "I find myself having a relationship with my environment…it's like having a free passport".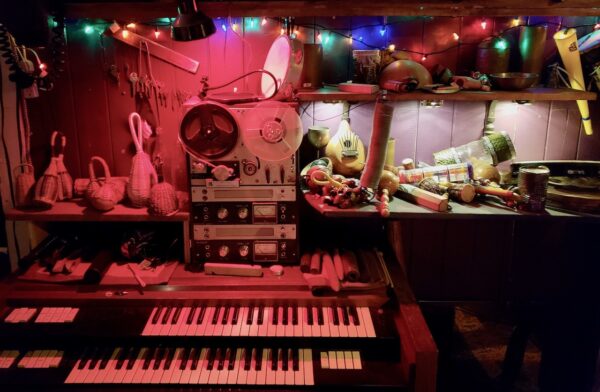 This 'passport' has allowed him to traverse Grey Bruce seeking out Swamp Horlick, who is a sort of alter-ego of Paul Clifford. "Man, Swamp is a dystopian loner, a monk, a hobo, an ever-evolving hermit musician," he says of the character. "I feel like we're kind of entering Swamp's world a little bit. He's a survivor and he's been doing it for a while… I think what I'm trying to do is maybe unlock what Swamp is doing."
To get a better understanding, one can check out The Jawshop's YouTube page to catch Paul in action. Whether it be sampling ice, recording in silos, harvesting the sounds of a puffball mushroom, or recording the reverb of a forest, there's almost no limits to what he can conceive.
He's also trying to inspire others by creating a library of MIDI samples, "it's going to be kind of pure, but fucked nature recordings. So the idea is that maybe you can use the sound of a creek as a kick drum or something from the trees as a snare sound…I'm still trying to get it all planned out."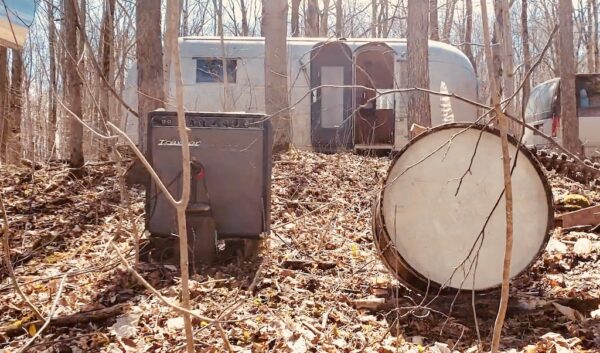 Much like the man himself, Paul Clifford's stories leave you wanting to know more. We haven't gotten to touch on his time playing with The Be Good Tanyas or the Owen Sound based My Sweet Patootie, his time collaborating with Smuggler's Records, or doing the radio show Private Little Social Club.
Unfortunately, we only have a limited amount of pages. Maybe Paul will find time to write a book, but for now you can keep up with him and all his adventure recording on The Jawshop YouTube channel…you may even catch a glimpse of the elusive Swamp Horlick!
Written by Russ Walsh
Photos Paul Clifford