I took an unconventional brewery tour this spring. During the April lockdown, I hopped in the car, put on a playlist of my favourite albums (Remain in Light, Graceland, Hounds of Love, and Music for Airports for anyone curious), and drove down the Lake Huron coastline. I stopped at Grey Matter in Kincardine, Three Sheets in Port Elgin, and Outlaw in Southampton in something we're calling The Freshcoast Brewery Tour. While I normally would have loved to take my time with each brewery, I was more than happy to have beer passed out to me through a take-out window to enjoy at home!
Covid's done some strange things to the way we live, but each of these breweries has adapted incredibly well to our new restrictions. They all do things a little differently — as one would expect from craft breweries — but they're all thriving. It's evident that these breweries have established themselves as cornerstones in their respective communities.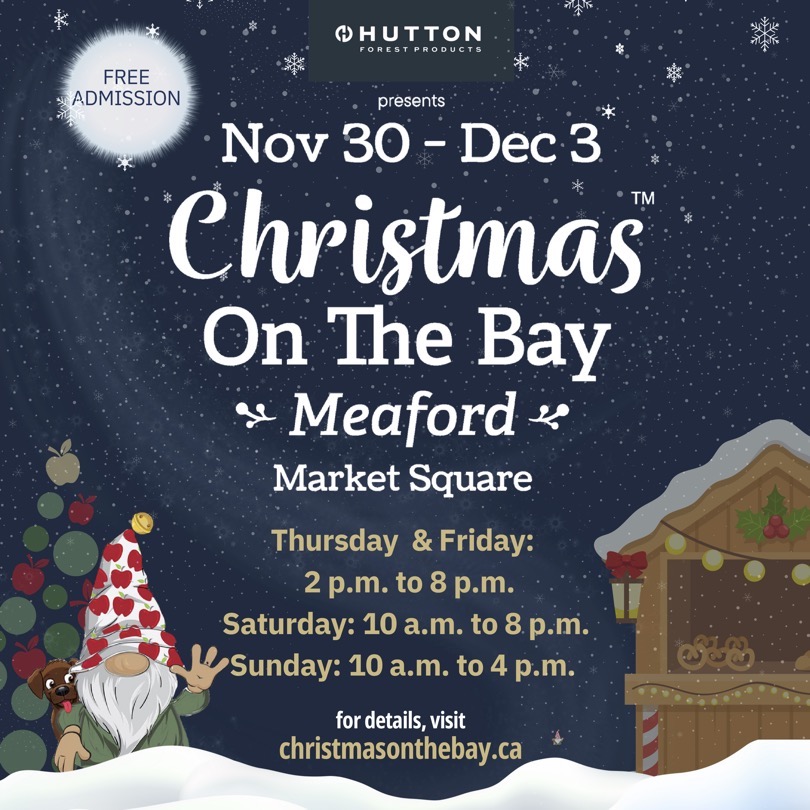 Before I continue, I'd like to say that I'm writing this article with the information that is current in late April of 2021. Knowing how quickly things happen these days, government regulations and safety precautions will likely have changed by the time you read these words. The best way to stay up to date is to follow Grey Matter, Three Sheets, and Outlaw on social media, or call to place an order. You can also contact Driverseat to book this tour with them, but more on that later. Back to my Freshcoast adventure.
Grey Matter is a really hip brewery.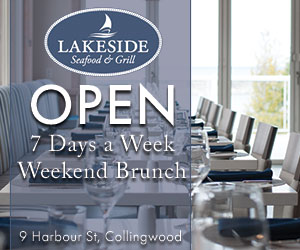 First of all, they brew one of the finest lagers I've ever tasted. Secondly, the amount of care they've taken in designing their brand is incredible! The labels have all been done in the same art style, usually depicting a scene from history, myth, or vintage-inspired sci-fi. Lastly, they've worked with Ren from Beer Diversity to look at the way they market themselves to a more diverse crowd of beer lovers.
Currently, you can buy their beer online with local contactless delivery. My order from them included three terrific, summery beers.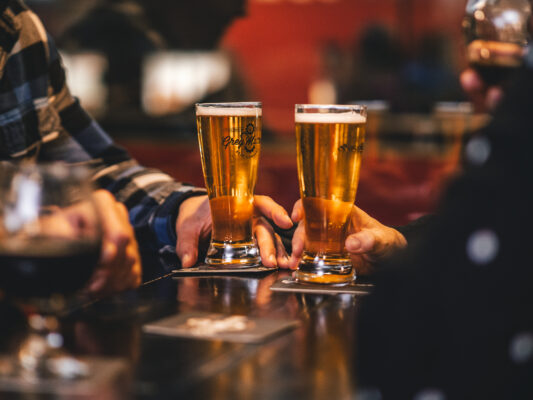 Checkmate Lager – An excellent beer! This is a super crisp, well-balanced beer. It's ideal for a summer day under the sun, be it a lazy day or an active day!
Dawn of Civilization – A nice wheat beer with a slight whiff of citrus and just enough hops to give it an edge. Try it with a slice of orange! You should drink this just as the bottom edge of the sun touches the horizon.
Drowned Crown Black Lager – Black as midnight on a moonless night… But don't let the colour fool you! This is a bright, light drinking beer with a roasty finish. This one will go down well on a cool August night just before Labour Day.
Their website is greymatterbeer.com, and I'd strongly encourage you to place an order with them if you can!
My next stop was at Three Sheets Brewing in Port Elgin. While the brewery has only been operating for a little over a year, they're well-established as part of the Wismer House, one of the area's more well-attended pubs.
In the short time they've been brewing, Three Sheets has already got a solid lineup of core beers and some amazing rotating seasonals to choose from – one of which caught me totally off guard: the white stout. It tasted really strongly of coffee with just a hint of chocolate. If I hadn't known any better, I may have mistaken it for a Starbuck's drink!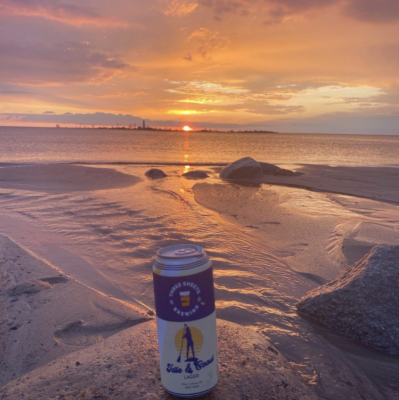 The brewery has a separate entrance on the side of the building, which they have converted to a take out window, through which they can pass you your beer. Of course, the Wismer House is still serving up all your favourite dishes as takeout!
Slo Pitch Pilsner – It's everything you want a pilsner to be: grassy, crisp, and refreshing! It's the kind of beer you should have after getting out of the water at the beach.
Road Closure Red – A beer that feels like home. I drank half the beer before noticing it was gone. It just felt right.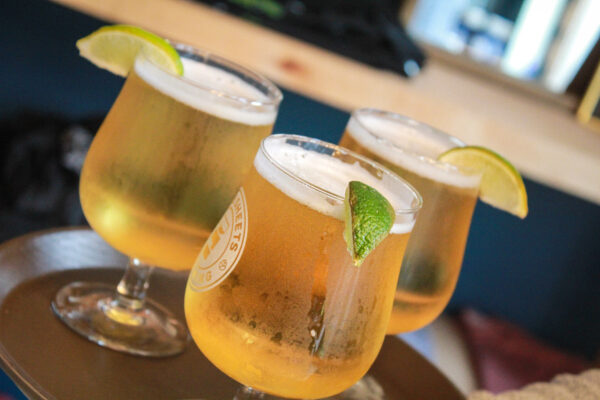 New Wave – Fairly sweet, with a relaxed hoppiness. It's got hints of citrus and pine. Bring this one camping. Just remember to clean up! Take only photos; leave only footprints.
Lastly, I finished my tour at Outlaw Brewing in Southampton.
Outlaw transitioned to a takeout-only model as soon as the first lockdown happened. Truly, the only thing better than receiving beer through a takeout window is receiving beer and a hot meal through a takeout window.
As with any brewery, it's really important to keep an eye on their social media. They announce the availability of each new batch of their core beers and seasonal favourites, too. Boy, are their seasonals worth keeping an eye out for. Be sure not to miss their maple beer when it comes around again as it's the best maple beer I've ever had. Nor should you miss the beet beer if you get the opportunity to have it!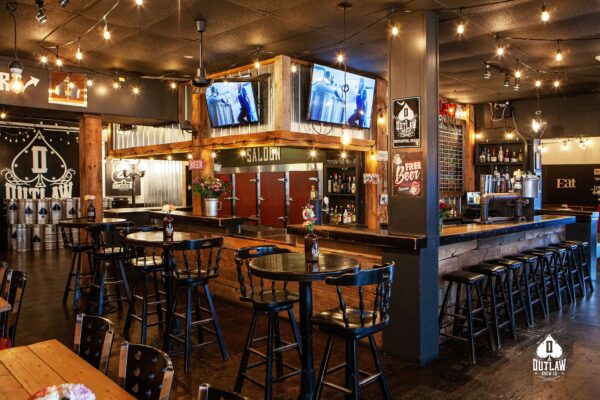 Canned Sunset – One of their signature beers, named for Southampton's famous vista! It's a light, easy-drinking beer with a lot of flavour. It's the perfect drink to have while somebody else attends to the fire.
Sheriff IPA – A fruity beer with a satisfyingly bitter finish. This is the kind of beer to have while your neighbour mows their lawn. You get bonus points for asking "Do you want to do mine next?"
21 Lagered Ale – Crisp, light drinking, with a mild malty flavour. This is a good multi-purpose beer. It goes well with food and friends at a safe distance.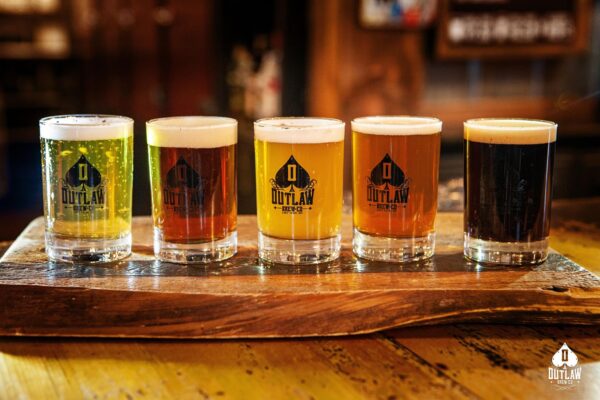 I don't need to tell you that it's more important than ever to support local. I've been looking forward to sharing a drink with my friends at my favourite spots for well over a year now. But we've got to make sure our favourite spots will be there when we're ready to get back to "normal."
In the before times, these three places offered so much more than just food and drink. A lot of people – myself included – have memories tied to these places. So, place an order of beer to enjoy on your own. Grab some takeout and watch the sun go down over Lake Huron, or visit these places for dining if it's safe to do so.
If you want to take the Freshcoast Brewery Tour this summer or fall, then Driverseat has the perfect package for you. They've bottled this tour into a sweet concoction of their own – a great one-day adventure that can take groups of up to twelve for a celebration or just a party of two who want to turn date-night into a date-day. Driverseat will also be adding brewery and winery tours to more destinations, so follow them on Instagram and Facebook, or find their packages at rrampt.com.
—
Written by Andy Elliott
Photos provided.