Once in a while, we have the privilege of witnessing the onset of something powerful. It's an intrinsic recognition that stirs our cores, widens our eyes in anticipation of what's to come. Last Sunday brought one of those beginnings in a concert from Raven Meets Lion, a new, local band. I say "new" for lack of a better word, but the recently assembled quartet is actually a gold mine of talented musicians whom you have no doubt heard and seen over the years.
Co-lead vocalist, Tara Mhic Coinnigh, began with a vision of using music to express the importance of maintaining a connection to this land and tapping into the heritage of ancient ancestors. Her partner, Trevor MacKenzie, and long-time friends, Tyler Wagler and Summer Martin, all came together to help that seed grow, as Tara put it. While Raven Meets Lion may yet be in the sapling stage, the members' deep musical roots and fierce talent lit up the room and drew everyone in to that sweet place of magic that's spun from voice and string.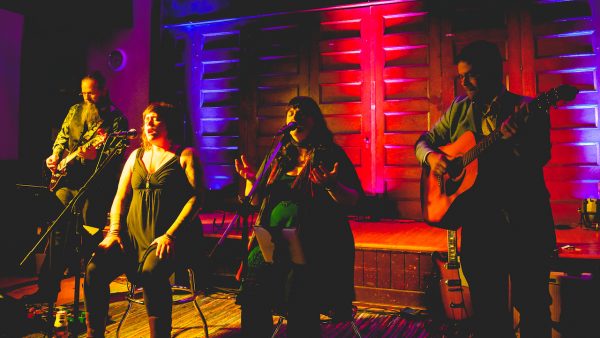 Originally planned as a backyard concert, the threat of an impending storm moved the show to St. George's hall. Nothing was lost, though; the entire evening carried that intimate familiarity that's felt at house concerts. The band's joy of sharing their music was tangible and brought to life the simple truth of "home is where the heart is." Raven Meets Lion has the kind of presence that forges kinship through song and storytelling.
While Trevor and Tyler layer their unique and expert guitar skills, Tara and Summer weave soul-sunk vocal harmonies to create a sound that conjures dreams of long ago and far away. Their poetic lyrics draw on cross-cultural roots, and as Tara pointed out while introducing the song, "Standing on the Shoulders," they urge us to tap into the strength of our histories, remember where we've come from, and use that knowledge to continue forward.
Advertisement
Mixing subtleties of folk, blues, and traditional Irish music, Raven Meets Lion has come up with a sound that is all their own. It's the kind of music you can melt into, but rather than losing yourself, you find deep connections and resonance. And the most exciting part is that this is just the beginning.
They've just released their first single, "The Forest is a Temple," which was written by Tara in response to the burning of Notre Dame and the subsequent push to destroy endangered woodlands in order to rebuild what was lost. Close your eyes, have a listen, and let yourself be swept away. It's good for the soul.
When you've come back around, those of you who are social media-savvy can hop on over to Facebook and Instagram and show them a little love. They'll be putting together another concert soon, this time with a video shoot, and their first LP is starting production, so make sure you don't get left out of the loop. There's a lot of power brewing in this band, and I, for one, can't wait to watch them rise.
---
Written by Sarah Goldman
Photos by Amber Vee