Steve Kenny isn't much of a runner. I mean, he did run a bit of cross country in high school, but that was more than 20 years ago. Now it's 2018, and Steve thinks he'd like to go for a 10 km run. He's easing comfortably out of his 30s and hasn't exactly been keeping up with his calisthenics, but whatever, he goes for it, just like that. Steve's never been short on determination, so he goes hard. Good on him he goes real hard. Hard enough that he flares up an old torn meniscus in his knee. It's pretty bad. He's laid up for some time. And while he's laid up Steve does some Thinking. Specifically, he thinks: "Well, that was fun. I believe I'd like to run marathons."
So, Steve kicks the booze, smokes the last dart of his life, and swaps kobe for kale. He listens to the wisdom of his better half and takes up yoga. He starts cycling. In a few months he's feeling pretty good.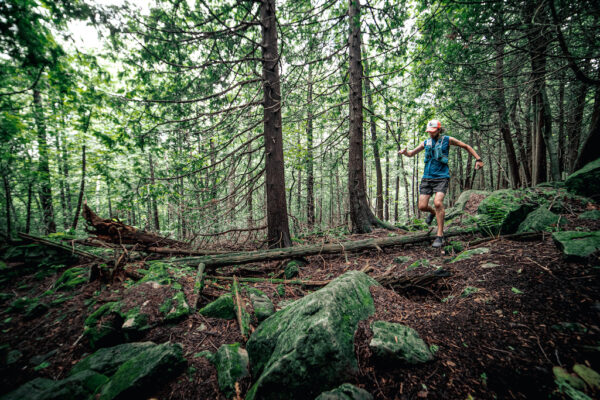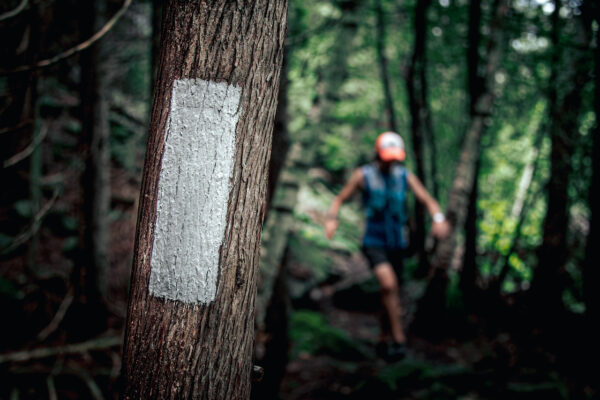 It's now February 2019 in Owen Sound Ontario. There's a nasty blizzard outside. Snow's whipping around all over when Steve starts to Think again. This time he's thinking: "What lovely weather. This is the perfect day to get back into running." So he gets back into it. The lifestyle changes have paid off, and blizzard or not, the knee holds up nicely. Two weeks after that he's out for another run, 10 km again. He wraps the 10, and keeps going for another 11, casually knocking off a surprise half-marathon. By April he's run his first marathon and is looking for the next big thing. Not bad, for a guy who isn't much of a runner.
So what is the next big thing for a guy that casually cranks out unplanned half marathons? For Steve, it was Big Run 1.0. There he is, doggedly running the same 1 km stretch of the CP Rail Trail, back and forth, over and over, a sweaty human metronome, when he has another Thought. He thinks: "These thousand metres of trail are pretty nice. I wonder what the other hundred and thirteen thousand look like."
Advertisement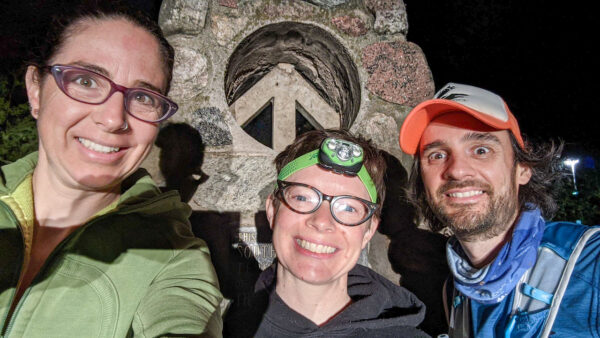 In November of 2019 he sets out on his Big Run. 114 km on the old Canadian Pacific rail line from Owen Sound to Orangeville. In keeping with tradition, he makes sure to get started right after a snowstorm, while the trail's wearing a few inches of powder. So, Steve gets to running in Owen Sound in the pitch dark, sliding along the snowy trail, and sometime later he finds himself in scenic Orangeville. Asked why he put himself through this, Steve says: "There were no races left, and I wanted to do a hundred k." Completely reasonable.
By 2020 Steve feels like going for another Big Run. Maybe realizing that rail trails are better suited for beer swilling ATVers and pram pushing parents, he's gunning for the Peninsula section of the Bruce Trail. Big Run 2.0 is 160 km of the toughest, ankle twistingest trail the massive Bruce has to offer. Steve gets to work on an uncharacteristically snow free day in September.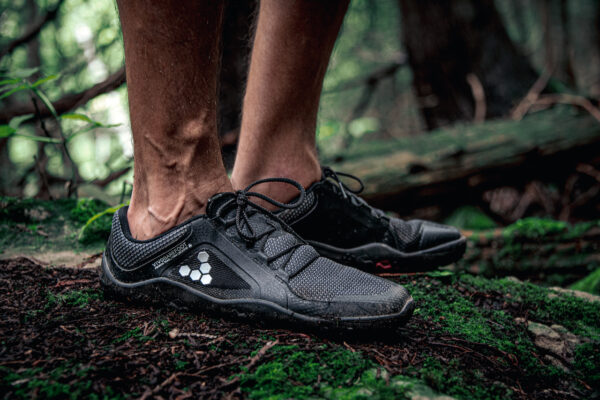 By 10 PM he's near Lion's Head, 80 km in. He's alone, insane, and making good progress northbound toward Tobermory and glory. Then, shuffling out of the gloom ahead, comes a southbound runner. John Pockler, equally alone and insane, has just put in 80 km starting in Tobermory. The two madmen have a conversation about their shared passion for self-punishment, during which John confesses that he's only 9% through his run, 'cause he's on his way to Niagara Falls. You see, his plan is to run the entire 900km of the Bruce Trail. He achieved this goal some 9 days later, setting a new Fastest Known Time, or FKT, for traversing the Bruce in 9 days, 17 hours, and 2 minutes. Perfectly reasonable.
This chance meeting? Well it got our Steve Thinking again. His thought was: "900 kilometres, eh? I'd sure like to give that a spin!"
This takes us to June of 2021. By this time Steve is fucking shredded (for a skinny fella) and he's gearing up to tackle the Big Bad Bruce, his sights set on the FKT. "You can fight the idea, ignore it, or go for it." said Steve of Big Run 3.0. "It's so far beyond everything and there's no way to test for it. You don't run 600 k to train for 900." Many would say you just don't run the 900 at all, but that'd make for a dull RRAMPT article.
Most of those who run the Bruce Trail begin at the northern terminus in Tobermory and finish (if they finish at all) in Niagara. The wisdom being that you smash out the tough Peninsula section first, before enjoying an easy cakewalk for the next 740 km. Steve went about it the other way, running northbound. He'll tell you he did so because the official Bruce Trail signs say "Niagara to Tobermory", but don't be fooled. He was just bummed there wasn't a snowstorm in June, so he chose to up the difficulty.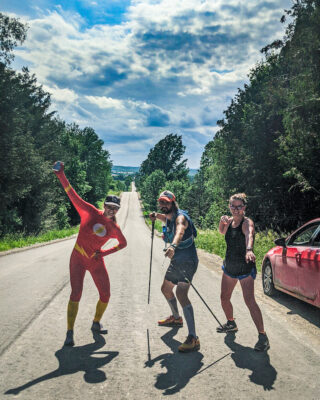 Steve started out on June 11th. Around 80 hours and 300 km in he knew the FKT wasn't happening. He was a man in ruins. Running 100 km in 18 hours, struggling to sleep for 4 hours, then doing it again and again will do that to you. Despite the agony, the swollen battered feet, and the FKT sliding out of reach, Steve kept at it. His unreasonable determination helped here, but so too did a large group of supporters, including his pals in the ultra running world, old friends from home, and new friends from the trail.
But even with this support in his corner, Steve would have thrown in the bloodstained, sweaty towel without the unreal efforts made by his support team of Jennifer Smith, and Jade McMeekin, Jade being the better half from earlier. These ladies were everywhere, all the time, doing everything. Resolving logistical disasters, performing emergency roadside massage, mixing smoothies, literally keeping Steve alive.
Steve completed Big Run 3.0 on June 23rd at 5:17 PM. 12 days 13 hours and 16 minutes to run 900 km ain't bad for a guy who wasn't much of a runner 3 years back. Since June, he's had lots of time to Think. And what does a guy who ran across Southern Ontario in a week and a half think about? Well, he thinks: "Ontario sure is pretty, I wonder what the rest of the country looks like…"
Written by Zak Erb