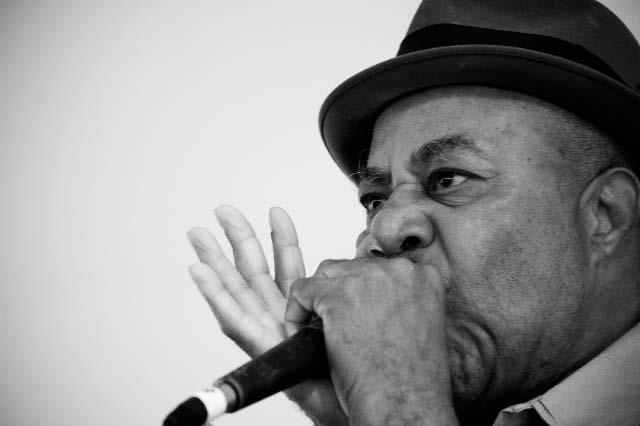 I've had my heart broken a few times, and every time I've been left wondering what the hell I'm doing trying to figure out this thing called love. It'll rip your insides out and kick the hell out of you and yet, you still come back begging for more.
And every time it's happened, I've turned to music. It's not always the blues, but damn does it feel good to hear BB King sing Thrill is Gone Or Muddy Waters croon This Pain.
But next time I get my heart broken (bring it on ladies), I'm turning to Harrison Kennedy. When he sings "I got an empty feeling baby, oh so deep inside" on I Can Feel You Leaving, I know that's the kind of thing I'll need when the pain is raw.
Advertisement
But the blues isn't always about heartbreak. In fact, when I got the chance to chat with Juno Award winning Harrison Kennedy, about it, he answers pretty emphatically that "there's a hell of a lot more to it." And this is clear on Heavy Load, one from his most recent effort, Who U Tellin'?, when he sings: "It's not the blues I'm feeling/ it's just my heavy heart that's breaking" and "People that's not the blues you're feeling/ You're just numb."
He's careful to note that blues isn't just one thing, but it's often positive and instructive. "I sing the blues for love not for hate" he sings on 2017's Takin' It Back. Maybe that's why people turn to it when they've gone through a hard time, not because it's sad, but because it helps them heal. "We get through it. It's being able to talk about it is what sets you free. That's what the music was always meant to be," he says.
If anyone knows what the music is meant to be, it's Harrison. Not only is he an International Blues Award recipient, and recent Maple Blues winner, but he grew up around it. It's in his blood. "I was always encouraged to sing and write music from a very young age," he says. "My house had a lot of music because I had people like Billie Holiday showing up. I didn't know who they were but I really liked the way they'd sing. Of course, my uncle Jack (Washington) was a mentor of mine. And he would tell stories…and he would always encourage me to sing."
Many people have influences at a young age. Not many people have these influences showing up at their front door with instruments in hand. "Well, let's put it nicely – we had a drink house. Back in those days, you couldn't drink anywhere in a pub or anywhere on Sundays, so my parents would load up and sell shots for a buck. So the entertainers that were in town would always end up at my place or my uncle Jack's place. They'd play music; they'd play darts. It was more like a family affair but they were also selling booze. There was always music in the house and I just gravitated towards it."
"I didn't realize how good I had it. It's changed now, man"
While this all took place in Hamilton, Harrison has connections that stretch down south. "A lot of my relatives came from Tennessee…Detroit…and the deep south," he says. "When I was a kid I didn't know I was crossing a border. I didn't know it was another country, I just knew I was sitting a long time in a car, and then people talked funny [laughs]. That's what it was. I didn't realize how good I had it. It's changed now, man."
I offer to talk to politics at this point, but warn him that we could go on for hours. He concedes, but makes it clear that it's not something he shies away from in his music. "Well I always put into my music and I try to do it in such a way that it's a relief rather than just whining. That's what the blues is all about. The tradition that I was brought up in was that…you talk about things that are going on. That's why the last album Who U Tellin'? is basically along those lines."
As we chat, I realize that Harrison Kennedy isn't the type to sugar coat anything. He tells it like it is. He's been through a lot in his life and his songs are a way for him to tell the stories in a way he's learned how. He tells me about his union days down in Windsor and the strikes he's been through. He even tells me about union members shooting at the helicopters bringing in the scabs. But that story is also told in Doctors in Hard Hats for all to hear. And he tells me about life in the hills down south when he visited his relatives, but you can hear that story in Mountain Stomp if you're listening. And of course, we chat about his time with international sensation Chairmen of the Board, something you'll get from Soulscape, specifically his subtly named Chairman of the Board.
He offers his life through his albums, and there is one hell of life to tell. But the thing that seems to connect it all is the music.
"The next time I see that guy, I'm going to shoot him."
"The blues is in me. I got the influences of jazz on the one side and the storytelling on the other with my uncle Jack. And then there was the church. That's where the gospel happened. All of that went to help me."
And when discussing Kennedy's background, I find that it's not just down south to New Orleans that his heritage stretches, it's also back to Ireland. This may be, in fact, part of the reason he signed on for our Whisky and Blues event that Rrampt is hosting with OSC Media House. He's a scotch man, and one who regularly visits the Damn Pub in Thornbury when he and his partner, Diana [Panton – jazz vocalist], are in the area. He may have been introduced to bourbon down south, but he's well versed in his single malts.
"I was into the Islays; I like the peat. My great grandfather was Irish and he was a peat farmer, so I think that's kind of in my blood a little bit."
Forget politics, now I want to talk scotch for an hour. I don't, but just offer some of my favourites instead. What I'd really like to know is the songs he loves to perform live. I want to know what to expect. I haven't seen someone of this calibre play the blues before. I'm excited, and trying to act cool. But I'm failing miserably.
"Everything on the album, I play acoustically solo. That's where it starts. The Blues Solution is strong, Leave Your Coat On, I usually have a lot of fun with that. Can You Feel Me Now, Who You Tellin."
And I can't help but ask what he wants the Owen Sound audience to take away from his show. What does he hope they'll say after they leave. It's a question I like to ask all performers because, to be honest, it gives me a good quote to end on.
So what does Kennedy say to this. He pauses. Thinks. And says: "The next time I see that guy, I'm going to shoot him."
Perfect, I thought.
But of course he laughs, and says he wants everyone to walk away with a smile on their face. He wants them to feel satisfied. "You just don't want anyone to feel like they've been cheated," he says.
With one of the greatest blues musicians in Canada performing on January 27th, and Collingwood Whisky in the house to offer tastings of their new Double Barrelled, the hope is that everyone walks out of Heartwood Hall with a smile on their face.
Written by Jesse Wilkinson
Cover photo by Harmonica Shah