2022 Festival season in Grey Bruce Simcoe is coming to an end as the weather gets cooler, but it's not over yet! The Sweetwater Music Festival is approaching quickly, and each year is bigger and better than before! Harbouring a lineup of talent, emerging and experienced, the variety in musical styles and artists anticipates an incredible show. Festival goers will be enticed by classical, contemporary, jazz, as well as folk tunes over the course of this 4-day event.
Edwin Huizinga, Sweetwater's Artistic Director, calls this festival his baby. Just shy of its 20th anniversary next year, Edwin and his team feel like each festival is brand-new. 2020 was his first year as artistic director, with little festival experience and a pandemic to plan through, he still made the event a success. 2021 felt as though it was an entirely new strategy with slightly less pandemic related restrictions. Now in 2022, he finds himself feeling again as though this festival will be very different with new parameters.
Huizinga is also known as the "Wandering Minstrel" he says, as he travels a lot performing with baroque, folk, rock, contemporary, classical, improvising, jazz and Celtic musicians. The dedication to his art is seeping from every pore of this talented musician, and his legacy shows a lifetime of indulging in his passions. He says his favourite part of Sweetwater is when the musicians come together a week before to practice, making an unreal classical repertoire. They refer to this as "Jewel Week", and it is a unique time for musicians to create some of the most fun jammer music, and intricately beautiful classical tunes.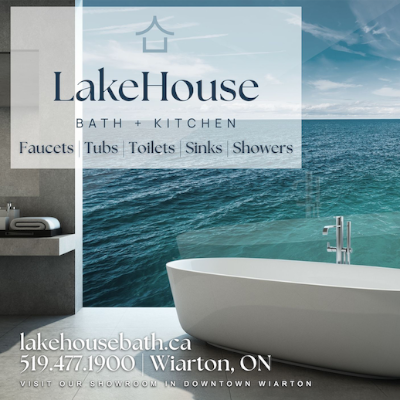 Sweetwater's General Manager, Natasha Bood, shares Huizinga's intense passion for this event and hopes to share that with our community. Bood, with a BA in Music from the University of Regina and post graduate Diploma in Arts admin and cultural management from Humber College, offers a rich set of skills and experience as the GM of Sweetwater, as she also directed the Toronto Summer music festival for 7 consecutive years.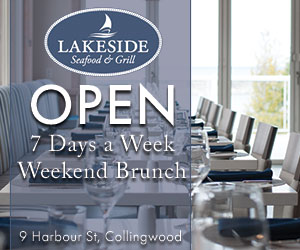 Okay, let's break down some details for you. This is the 19th annual Sweetwater festival in Grey Bruce, featuring talented musicians from across the country, and around the world. The diverse musical culture is what makes this festival thrive, allowing performers and composers to share their original pieces, and perform in various venues. We're talking the Historic Leith Church in Leith, which produces beautiful acoustics, and for this reason is the home of Sweetwater's opening night concert. But there are many concerts happening throughout the weekend, including four opportunities for the public to come out free of charge to experience and appreciate this music.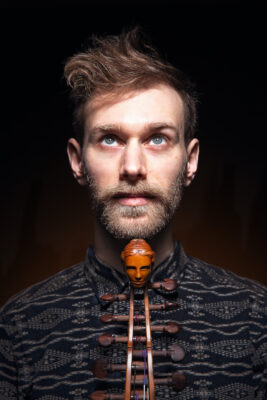 The first Sweetwater experience open to the public will be hosted at Georgian Shores United Church, which is the largest church in the area, and the intention is to use this space to bring comfort with socializing after the pandemic. The Sweetwater team desires to make the doors wide open for live music again by providing a safe space and easing anxieties for musicians and listeners.
Additionally, there will be three live shows, free of charge, happening outdoors at noon hour: Friday at Grey Gardens, Saturday at the Grey Sauble Conservation Authority, and Sunday at the Owen Sound Farmers Market. Sunday's event features the New Wave Showcase, which is a group of young musicians who have auditioned for the chance to perform at Sweetwater. This showcase gives the next generation a place for their musical passions to thrive and grow, with mentoring opportunities and a world of talented artist's willing to provide all the support they can. Ticket holders will have the chance to see concerts in several of Owen Sound's best venues; 7pm Friday at the Leith Church, 7pm Saturday at the Harmony centre, 10pm Saturday at Heartwood Concert Hall, and 2:30pm on Sunday at the Roxy.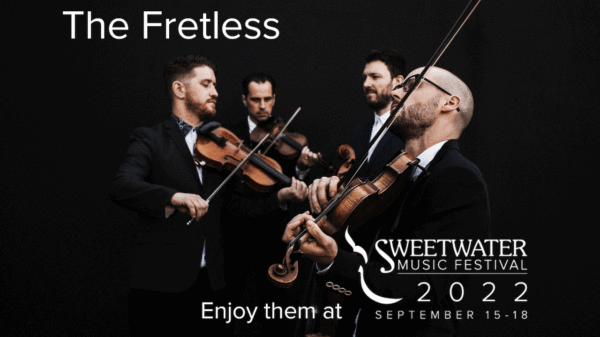 Sweetwater 2022 is expecting 21 incredible musicians, who are all very excited to share what they love most about music. Everyone performing is amazing, but Carissa Klopoushak-violinist, Sacha Rattle- clarinet soloist, and Ahmed Moneka-performing artist are just a few mentions of the phenomenal artists visitors will see at Sweetwater.
Edwin's message to our community is, "Come to Sweetwater with open ears, and you may experience a connection with this creative music you won't find anywhere else." We hope to see you there!
Written by Ashley Winters