When I ask someone about their most memorable concert, I generally get one of two types of stories: the one about a favourite artist they waited years to see, or the one about an unexpected show that blew their mind. The latter always sounds like someone who stumbled on a musical treasure. Even if you went to a festival to hear a specific artist – the draw, the headliner – the acts you didn't expect can become your most enduring memory.
My most vivid musical memories all fall into that second category. They range from genre-bending mashups like a bluegrass/hip hop group or a Mongolian band that mixed traditional Buryat songs with heavy metal instrumentation, to moments when I watched a single performer enthrall a thousand people with the precision of their playing or the depth of their lyrics and delivery.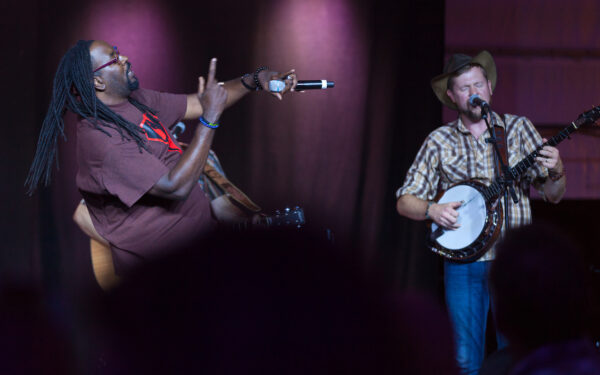 Most of the stories I could share have something else in common too: they happened in Owen Sound at a folk festival that's almost five decades old.
If you're surprised to see hip hop and folk in the same place, that's okay. When I say '47 year old folk festival in a small town Ontario,' variety is probably not the first thing that you imagine. If you've never been, your immediate assumptions are probably about aging hippies and tie-dye. Maybe you're thinking of Bob Dylan, or Peter, Paul, and Mary and people singing kumbaya in black and white.
That's the problem with assumptions: they're built on stereotypes and hide complexity. They get in the way of trying new things and make it harder to find those moments of surprise and discovery that vivid musical memories are made of.
So how can I explain that the Summerfolk Music and Crafts Festival in Owen Sound is not just aging hippies and Bob Dylan cover bands?
First, you should know that it has something for every generation. There's a crafts area and splash pad for children but the music is for them too. I could show you a photo of a toddler so enthralled by a performance that she waddled up to the stage, stretched her arms up to the singer and spent the rest of the song in her arms. I could tell you about the children's parade where I saw stilt walkers, jugglers, and a brass band follow a banjo player and dozens of kids through the park.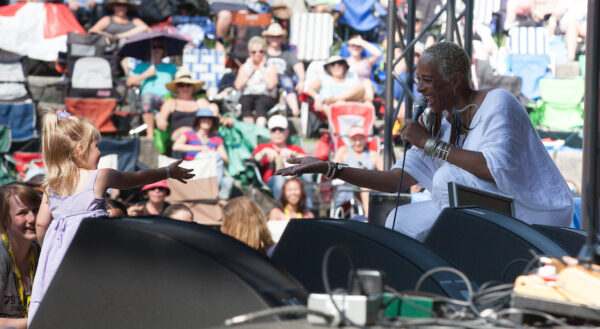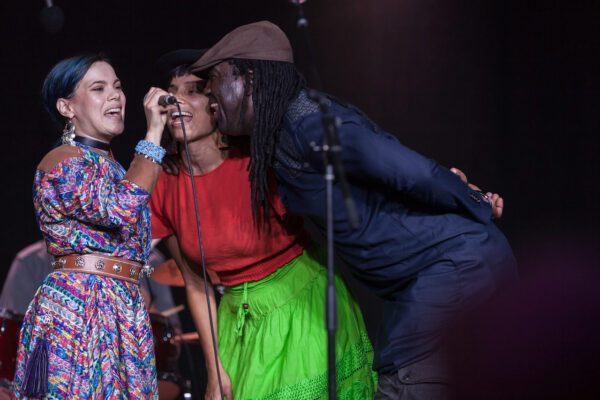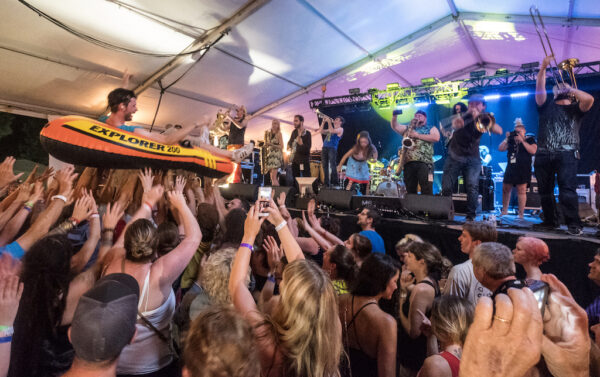 There are one-of-a-kind craft vendors, amazing food, and it all happens beside Georgian Bay so you can cool your feet off when you're sweaty and tired from dancing.
Summerfolk not only mixes acts of different genres and generations on the line up, they get mixed together on stage in workshops. Not instructional workshops but moments of musical alchemy. If you've only ever been to corporate festivals or solo concerts, you've probably never seen three bands on stage at once, taking turns sharing stories and songs, one act at a time in the round. Strangers start to harmonize or a cello jumps in for a solo behind a singer-songwriter who they just met backstage at the bar. It's kind of like a song session at a pub and it makes for moments that are literally one of a kind.
You won't know all the acts on the Summerfolk line-up but surprise is a key ingredient for amazing musical memories. If you've never been then it's not what you think; it's better. To quote the immortal words of Levar Burton "you don't have to take my word for it". You can see for yourself live and in person this August 19-21 at Kelso Beach at Nawash Park in Owen Sound.
It's never too late to discover a great thing.
Words by Jon Farmer
Photos by John Fearnall