Driving down a snow-cloaked, pitch-black road on the last evening of January, I had no idea what I was in for. The destination: Good Family Farms in Meaford. The reason: a seven-course dinner prepared by Sumac + Salt, a new creator of hyper-local culinary experiences in Grey-Bruce.
We parked the car and walked towards the farmhouse, the glowing windows beckoning to us. Inside, Hannah Harradine and Joel Gray bustled in the open-concept kitchen, seeming relaxed as they greeted guests and prepared an elaborate meal for a table of diners – something they now do a few times every week. 
Not knowing exactly what local ingredients to expect in the deep of an Ontario winter, I was curious what the pair would serve us.
"self-doubt was, and still is, our biggest challenge. Initially, it was the worry that people wouldn't want to come out to a farm in Meaford to eat.
We were shown to a large farmhouse table and made introductions with our fellow guests. Shortly after, our feast began. As each dish came to the table, Gray and Harradine explained how they made or obtained nearly every ingredient.
Advertisement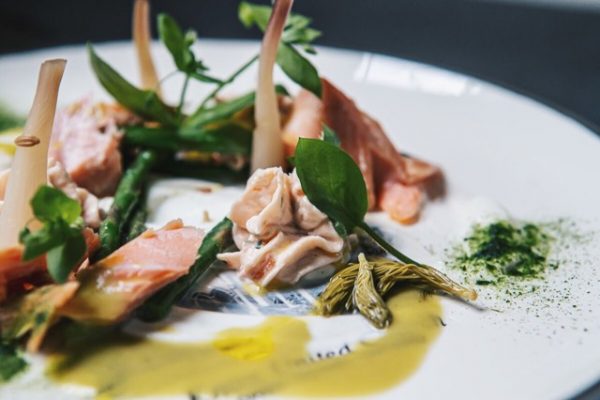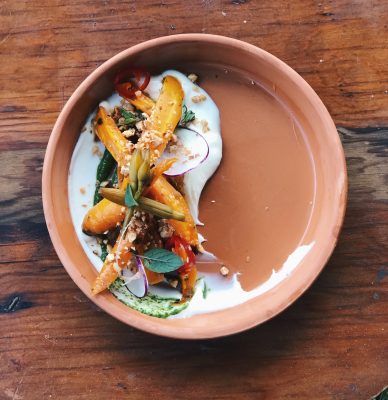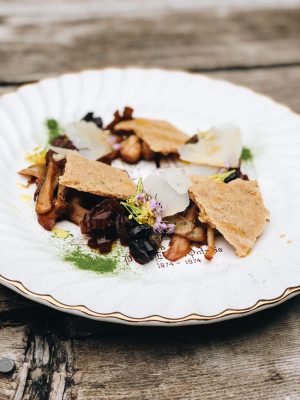 We started with a beautifully plated dish of Sideroad Farms' overwintered carrots – which were incredibly sweet and earthy – alongside crème fraiche and topped with crunchy Ontario peanuts. Later on, an unexpectedly refreshing beet sorbet with preserved watermelon rind was served to cleanse our palates. A favourite dish of the night was the fresh ricotta, oxtail and winter roots ragù served with an impossibly tender fresh spinach pasta.
Lastly, the dessert was one of the most imaginative parts of the meal from a texture perspective, featuring a cold-pressed canola oil yogurt cake with a sweet potato semi-fredo, preserved pears, apple jelly and pine oil. While we finished the last course, our hosts passed around a crunchy meringue, pleasingly tart with a dusting of sumac. Sitting comfortably around the communal table with the dark woods outside, the feeling was one of coziness, contentment and connection among strangers.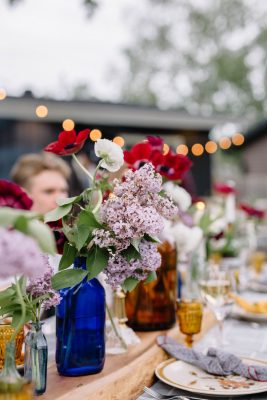 Harradine and Gray originally met working at a local restaurant in Collingwood. "After foraging a relationship of our own," says Harradine, "we started dreaming a bit bigger. Seeking to break out of the traditional restaurant model, we wanted to work more closely with our products, knowing where the food is coming from and telling a story of our local farmers and producers through food. Both sharing a passion for local, seasonal and Ontario-based cuisine, we wanted to create something that showcased the best of what Grey, Bruce and Simcoe has to offer." And, in August 2019, Sumac + Salt was born.
Grey and Harradine prioritize working with local farmers and producers, not only to source the best quality product but to also share their stories. They regularly host dinners at Good Family Farms, but also offer catering and private events services, including pop-ups at local restaurants, cafes and breweries. "What we love about this adventure is our flexibility," explains Harradine, "because we are a team of two, we have the ability to make our own schedules and bring our food wherever it may take us."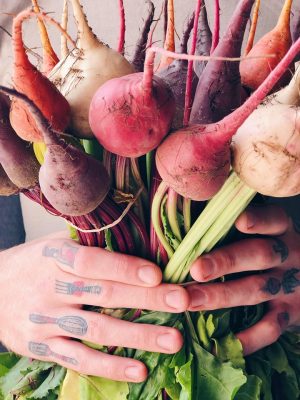 Both founders bring a wealth of experience to the enterprise. Grey has worked in kitchens almost his entire adult life, based in Grey County and the GTA with a stint on the East Coast. He's continued to hone his craft and style throughout his career as a chef working in every kind of restaurant, from corporate giants to small family-run joints. And, after discovering a love for foraging, he's always researching new things to discover.
Harradine, on the other hand, went to school for viticulture and oenology in Niagara and has worked in the food and beverage industry for years. Now, she likes to consider herself Joel's sous chef with future plans of creating an Ontario-based beverage program to complement Sumac + Salt's culinary services.
The pair carefully select the producers they work with. They love Good Family Farms, not only for the hosting dinners in the cozy farmhouse, but also for the high quality pork and beef produced on the land. "Since we work so closely with the farmer, we truly can see the care and love taken on the farm, which translates to their meat. We also love Sideroad Farms, where you can taste the care that goes into their product. The consistency in quality of Sideroad's organic vegetables is incredible, not to mention that their Farm Store in Walters Falls has been a life saver this winter. We also use a lot of honey and our go-to producer is hands-down Donald's Honey – it's super flavourful," explains Harradine.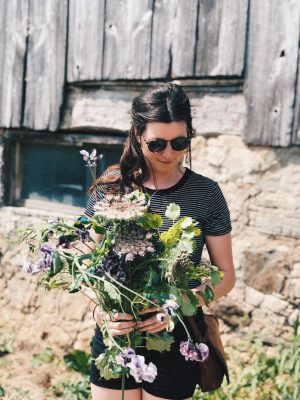 Despite the quick success of their new venture, the pair has met a number of hurdles. "It may sound silly but I truly think self-doubt was, and still is, our biggest challenge," says Harradine. "Initially, it was the worry that people wouldn't want to come out to a farm in Meaford to eat. Also, we wanted to push the envelope using offcuts or offal, but had doubts if it would be 'too far' for people. However, we are lucky to have each other and where one has reservations the counter gives the push needed. So far, we are lucky to have a steady flow of people wanting to come eat with us."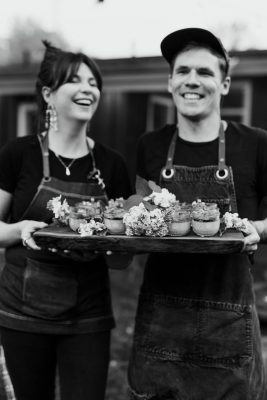 When asked about future plans for Sumac + Salt, Gray and Harradine say this is a topic they think about often. While they aren't exactly sure where the future will take them, small expansions are on the horizon. They may bring on a few part time staff to help with preparation and service, and perhaps find a bigger space for their dinner series down the road.
What's certain is that the journey of creating Sumac + Salt has been rewarding for the founders. "We are constantly trying new techniques, foraging, preserving and exploring eliminating waste where possible," says Harradine. "It's very fulfilling serving the food that we have foraged ourselves or preserved for months, and then sharing that story with the people at our table. The longer we do this, the more we try, and things we never thought we could achieve become possible."
Words by Emma Bell
Photos by Alyssa Joline & Hannah Harradine