As I listen to the ring that filters through my phone speaker, I anticipate the oncoming conversation. The nerves that arise when speaking to someone new seem to vanish the second I hear a voice greeting me from the other end of the line. It hasn't been more than a few seconds since Steve Dickinson has answered the phone, and I already feel as if I'm speaking to an old friend.
He describes a view of the water from his backyard in Kemble, ON, his proximity to a local army base where he can hear tanks firing sporadically, but most importantly, the unbridled inspiration he gets from both locals and the landscape to do one thing: make music.
Within a few minutes of chatting, we've touched on how the pockets of talent in southern Ontario have helped to shape us as artists. He tells me about how he credits Rick Hutt, a producer in Kitchener, ON, with the salvation of his voice and his ability to actively listen to others.
Between mentions of limousine rides with Jamie Oldaker (Eric Clapton, The Tractors) and performances in Detroit, Michigan, with Dave Mason (Fleetwood Mac, Traffic), it's evident that Steve has brushed shoulders with some of the biggest names in the industry.
Advertisement
He has shared lineups with The Guess Who, Nazareth, and Jeff Healey and has recorded alongside heavy-hitters like Willie Nelson, Elton John, and Joe Walsh. His devotion to his craft is what drew artists like the late Alto Reed (Bob Seger's Silver Bullet Band) to join Steve on his cross-country tours of the USA.
Alto's passing in 2020 sparked something in Steve, and as he reminisces about their time together, he explains to me that he felt a responsibility to pay tribute to the late Saxophonist. He tells me that with all of the tour footage he has, he wanted to create a documentary in Reed's honour.
Enthused by the tribute, Steve began listening to old songs and found himself revisiting a track he'd recorded in 2009. Moments of Grace is a song he co-wrote with Rick Hutt and Carrie Lynn Demaeyer that Reed co-produced. In 2023, Steve returned to the studio, working with Ian Holm at Wallsdown Studios in Owen Sound, ON, to breathe new life into the song. Rewriting, re-tracking, and remixing certain elements allowed him to modernize the song while maintaining its original integrity.
Listening to Moments of Grace, I'm overcome by the unfolding of my own life. As Steve sings "Accumulation, validation, success at any cost…" I reflect on the details of a story that only I could know the intricacies of. This is the magic of Steve Dickinson's song writing: its intrinsic ability to tailor an individual story for each listener.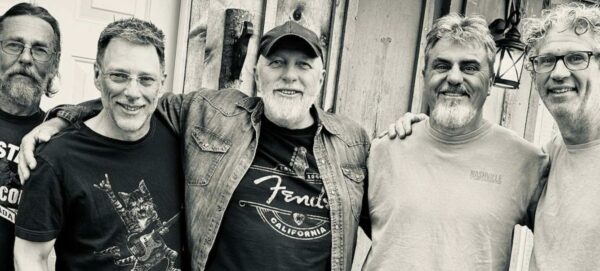 "Once the bug bites, you're hooked. You're addicted." says Steve, as he unpacks his rediscovered love of performing and songwriting. He's someone who believes wholeheartedly in living in the present, tending to the garden in front of you, and "moving forward with new songs". He's assembled some of the area's best, including Rob Ritchie on keys, Paul Farrow on bass, Jeff Mayne on drums, and Fred Ruegg on guitar, to bring his music back to the live stage.
When the documentary production came to an unexpected halt, it didn't matter because Steve's creative process didn't. Together, Steve and Adam Ferri of Big Bay Sound have created a tribute that combines elements of Steve's live performance skills, the Alto Reed tour footage, and Adam's eye for video production. Listen to Moments of Grace and watch the tribute video here.
You can catch Steve Dickinson and Skinners Bluff performing live this summer on August 22nd in Sauble Beach, with more dates to come. Listen to Moments of Grace by Steve Dickinson on your streaming service of choice.
Written by Marshall Veroni
Photos supplied by artist