I met Jonathan Craig a couple of years ago on the set of Cult Hero, a Collingwood Film Co. production. The Meaford-based artist came armed with silicone body parts, buckets of fake blood, and unbeatable passion for his work. Clearly, it was not his first rodeo. I was stuck between awe and intimidation for about five minutes, until he handed me a prosthetic tongue he'd made and we compared surgical instruments (his were vintage and way cooler). After that, it was all laughs and silly gore. As it turns out, not only is Craig a multi-talented creative force, he's one of the nicest and most supportive dudes you could meet.
Born in Newfoundland and raised in Ottawa, Craig grew up in a family where art was the norm. His mother owned an animation studio and his father, a painter, was a production designer for the CBC. Craig spent much of his youth on set, where classic shows like Under the Umbrella Tree and Today's Special first sparked an interest in design and puppet building. It was a high school co-op that got him started in the industry, though, as he learned about camera operation and fell in love with the art of shooting. He kick-started a 25-year career as a camera operator, taking on whatever work was available and shooting all sorts of sports and music events.
Craig moved to Toronto in 2002 and filmed home design and lifestyle shows for a number of years, but when he began to realize the physical toll wielding a heavy camera will take, he started searching for other options. Like many creative people, Craig had struggled in school. "You can be a smart guy, but the system doesn't work… I couldn't concentrate and I was more in my own head." Because of this, he had learned from a young age to follow his intuition and take risks – skills that became less reckless and more productive as he matured. Listening to his gut, Craig enrolled in a makeup FX course, and it turned out to be exactly what he needed.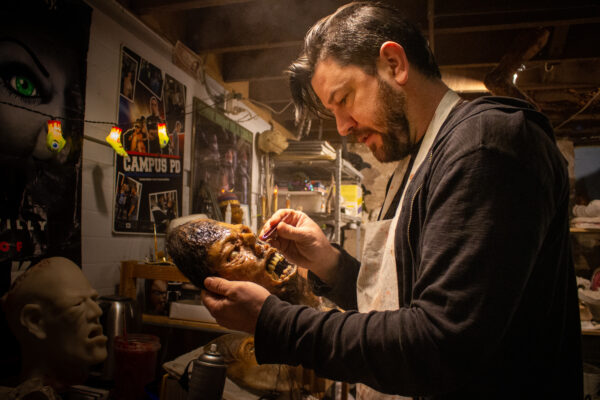 As soon as the sculpting, mould-making, and prosthetics classes came around, the excitement he'd felt as a kid on set at the CBC was rekindled. It wasn't long before his instructors recognized his potential and began bringing him along to work on production, while at the same time he continued to hone his craft, playing around with techniques in a makeshift shop in his Parkdale loft. He still loved shooting, but getting into special FX makeup and prosthetics opened a whole new side of the industry for him.
Advertisement
Working in film and television, it made sense for Craig to be based in Toronto. But while hunting for houses, his wife, Bridget, came across a photo of an old church-turned-house that was for sale just outside of Meaford. Their initial thought was, "Oh my god, that's great!" but felt that Meaford was too far from the city. The two kept feeling pulled to the rural property, though, and after a visit to check out the place (which even comes with its own adjacent graveyard), they knew they were home. This was back in 2016, and at that point Craig had no idea that moving away from the GTA would actually be a boon for his career.
"[With] certain things, especially in our business of being artists, you just have to… take chances. Sometimes it works, sometimes it doesn't," Craig muses. We're sipping craft beer (for which he has excellent taste) as we wander through his home. The open space is teeming with an eclectic curation of artwork, records and music swag, and paraphernalia from countless film and television projects. A small studio at the back of the house displays all sorts of sculpted figures and faces, ranging from whimsical to gruesome. Also a musician, Craig even has a full band set-up beside the hearth, instruments at the ready for impromptu jams. But the real playground is in the basement.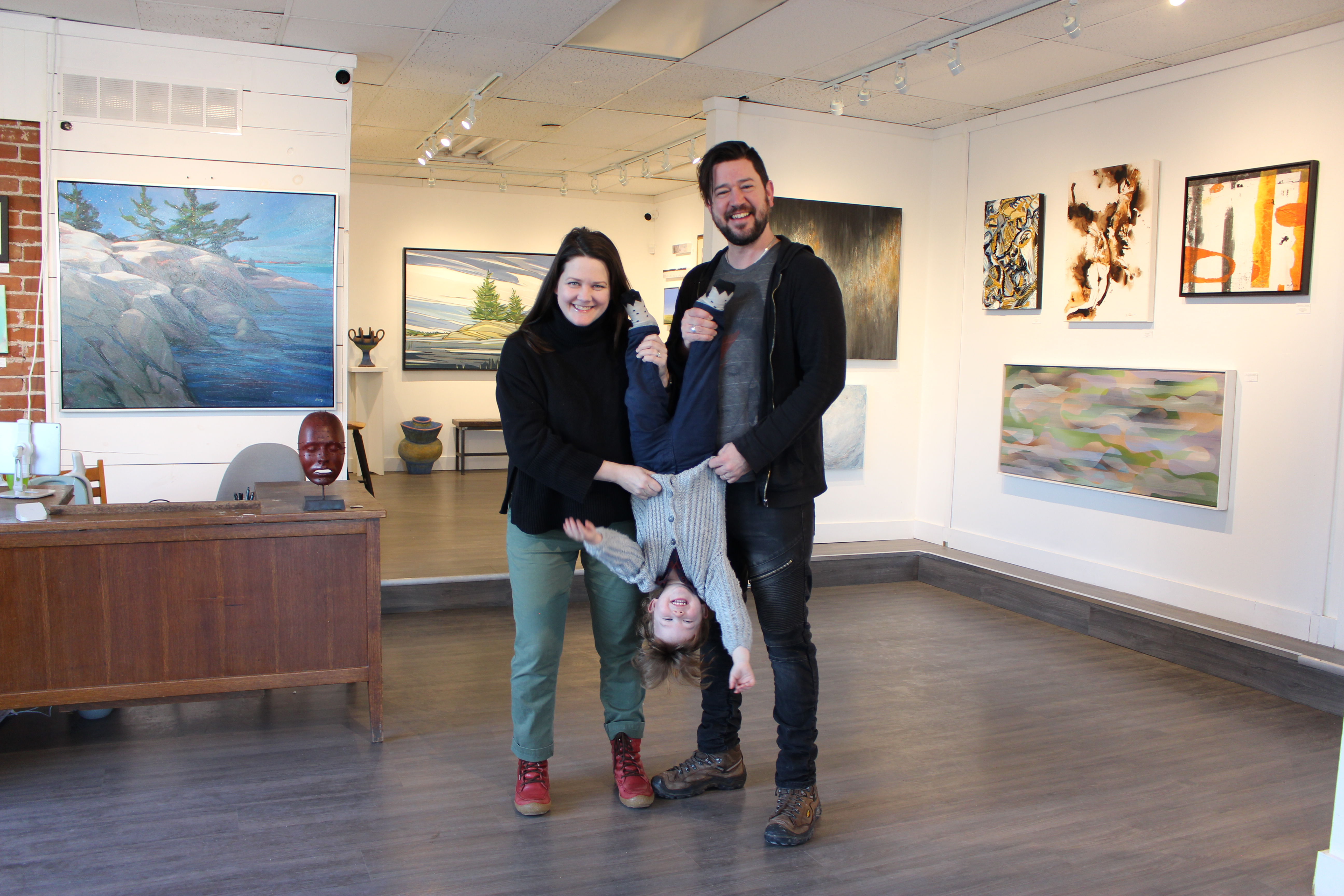 Craig leads us down the stone steps to land in a sprawling special FX workshop, outfitted with everything he could need to let creativity run wild. Silicone limbs and organs lounge on a work bench while disembodied heads gaze down from crevices in the walls. Craig sets about pouring gelatin into a mask mould for an upcoming film shoot, all the while explaining the process and brainstorming aloud. The fact that he's always happy to share his craft with others is something that makes him stand out in the film and television world, which can be ruthless and filled with rivalry, especially in large cities.
"I'm not made for this industry," Craig insists. "It's a competitive world out there and I'm not a competitive person." Since relocating north, he continues to work on city-based productions, but is thrilled to have also found local opportunities. He offered up his and Bridget's home as the filming location for the 2019 horror feature, Making Monsters, for which he did all the special FX and took on a lead role. Naturally, it was only a matter of time before he crossed paths with local horror aficionados, Jesse Thomas Cook and Liv Collins of Collingwood Film Co. When Cook was in need of an FX person to pull off a serious heist on Cult Hero, the three finally met and Craig came aboard, mid-production.
"You don't know that there's this hidden, massive amount of talent that's here. Underneath these trees, over that hill, there's another crazy artist; a great director, musician; there is an art director talented at everything; they can collaborate. And again, it's weaving itself away from Toronto and the metropolis."
On set, he was surprised by how well everyone worked together and supported one another. It reinforced the decision to leave metropolitan life behind. In contrast to the work environments he was used to, the arts communities in smaller towns seem to put more focus on creating and collaborating, rather than competing. "It's not even like [being] a big fish in a small pond. It's a nice fish in a nice pond!" he chuckles.
Likewise, he and Bridget, who is a painter, came across the Walter's Falls Group of Artists soon after moving up here. They quickly connected with the members of the group, which of course led to artistic connections all over the area. At the suggestion of Craig's mother, Diane, the couple ended up opening Craig Gallery in downtown Meaford, where they display works by artists from this area and across Ontario, as well as by Craig's father, Philip Craig, and sister, Shannon Craig Morphew.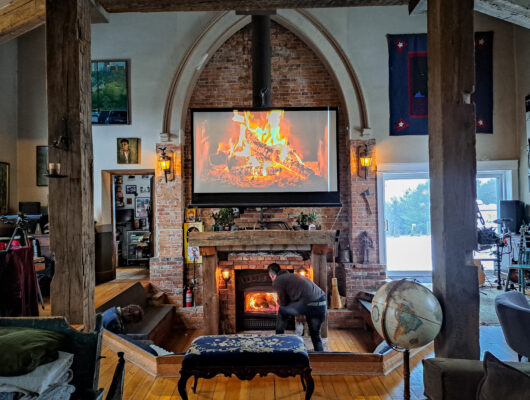 "Everything is a roll of the dice," says Craig of the ups and downs of owning a gallery. "But I don't think I'd want it any other way." Challenges aside, the gallery allows him and Bridget some flexibility for their young son, Oscar ("Ozzy"), and Craig uses slower business days to sit in the quiet space and work on his own sculpting. Plus, he and Bridget love being able to support the local arts community and help artists to find one another.
"You don't know that there's this hidden, massive amount of talent that's here," Craig explains. "Underneath these trees, over that hill, there's another crazy artist; a great director, musician; there is an art director talented at everything; they can collaborate. And again, it's weaving itself away from Toronto and the metropolis."
For Craig, he ties much of his own success back to the concept of trusting your intuition and taking measured risks. "Coming up here was a leap of faith, not knowing that I was going to have a better horror movie career than I did in Toronto. Didn't know that I was going to open an art gallery, even though it's ingrained in me from going to art shows my entire life. Didn't know any of this until I said, 'Hey, I'll take the chance.'"
Craig Gallery website: https://craiggallery.ca/
Jonathan Craig's professional website: https://jonathancraig.ca/
—
Words by Sarah Goldman
Photos by Christopher McGruer