Frank Deresti and Craig Smith are, individually, prolific songwriters. They've been doing this for years, they have their own styles, and their own sounds. So what happens when you put two distinct songwriters together in a new, co-operative space?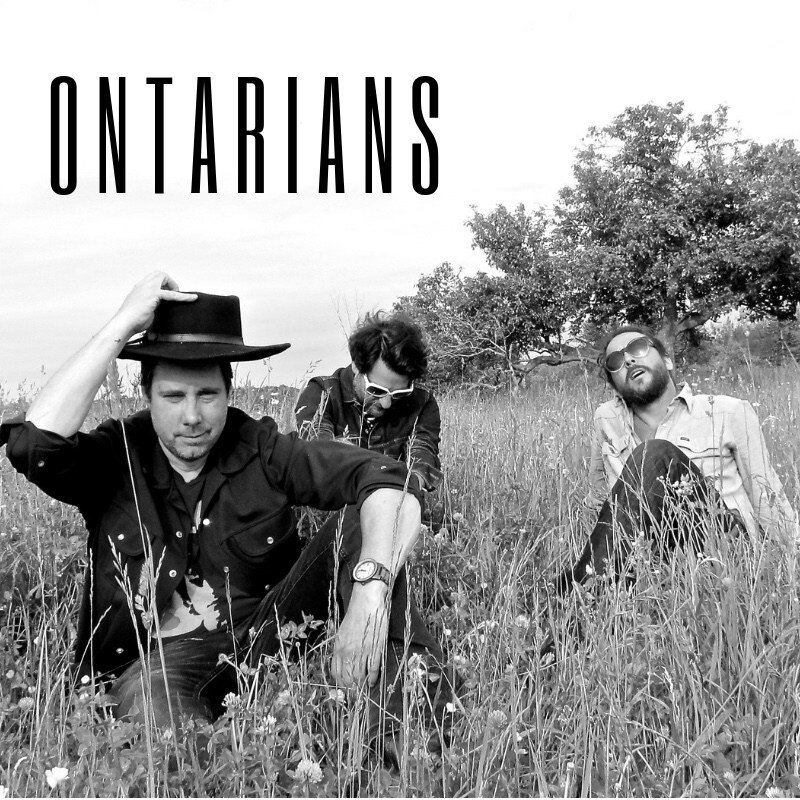 Ontarians. A new project from Frank Deresti (vocals/guitar/various instruments), Craig Smith (vocals/guitar/various instruments), Jay Stiles (keys), and Chris Johns (drums). Through the awesome local music community, Frank and Craig became closer buddies a few years ago, and started songwriting together out of curiosity. In fact, 6 of the songs off the debut Ontarians album were written by the pair back in February 2018. Over the past couple of years, they have gotten together for a few days, or a week at a time, when restrictions allowed, and worked on tunes. This progressed into developing a sound together, and forming a band. "That's what I love most about music," Frank tells me, "what happens when you put people together." As a singer/songwriter, you're focused on your own sound and what you want to do as an individual. When you're cowriting in a band setting, it's more about, as Frank describes, "What can I bring to this?"
The music of Ontarians shifts from Craig being lead vocals on some tracks to Frank being lead vocals on other tracks. Typically, they take the lead on songs of which they were the primary writers. On the first single, 'Time', you can hear Frank's vocals, which are lyric-focused and intimate. On the second single, 'No Regrets' (to be released on February 26th, 2021), you hear Craig's effortless, alt. rock vocals, which can oscillate between a softness and a driving force.
The whole album, The Greatest Short Story Never Told, is a masterclass in concise, get-to-the-point, pop songwriting. It's full of well-crafted songs, about 3 minutes, with clarity and precision. Frank credits his and Craig's instincts towards the 'subtraction method'. "How can you say this in less words," is something the pair might question their songs. Thoughtful lyricism is one thing. Another is Craig Smith's mixing style; the entire album was recorded and mixed at Craig's studio in Duntroon, Ontario. Frank tells me how all of the musicians in the band would add more and more to each track, and then they would go in and strip it back to the essentials.
Advertisement
Naturally, I have my favourites. 'Photographs & Epitaphs', a Frank-present song, and 'Born to Love You', a Craig-present song, are probably the two that have been most played around my house. All the songs on the album are unique in their styles and what they bring to the table, some being a little softer and folkier, some being more like a 90s alt rock song, but because it's the same group of musicians, the dynamics gel so well together.
I would be remiss to not talk about the name. Ontarians. The band is a product of their environment, which, during the age of covid, is really interesting. You see, although a lot of this album was put together in person, the members of the band live pretty far apart. Craig Smith is based in Collingwood, ON, Frank Deresti and Chris Johns are in Sault Ste. Marie, and Jay Stiles—an Ontario boy originally—is currently based in Austin, Texas. There's a concept that I keep coming back to of physical space, and time. Ontarians, as in, people who live in Ontario, as well as Ontarians, the band, are each familiar with driving long distances. Physical space. Room. And the time it takes to bridge that distance. Look at the album cover for The Greatest Short Story Never Told: the dashboard in the foreground of a long, cold, winter's road. (Sidenote: I'm pretty sure those are Jay Stiles' famous glitter sunglasses hanging out on the dash.)
I once heard somewhere that music coming out of Canada has more 'space' in it. Now, take that at with whatever conceptual grain of salt you wish, but I think there's some truth to it. We're used to having room to breathe here in Canada. And specifically right here, in South Georgian Bay. Pair that with the bizarre concept of time that has been a product of Covid 19, and you get some interesting nuances in music. There's something to be said for pacing, the balance of tension and release in music, and our physical environments in which we create music. There is "time to digest" the music, as Frank describes during our conversation.
Frank tells me that he keeps coming back to a feeling of "gratitude" during this pandemic. He teaches music full time at Algoma College, and has two young daughters at home. He and his wife have been able to find more time together as a family during all of this, and he recognizes the privilege of being in a relatively safe space in Ontario, and being able to work from home. I think that optimism, kindness, and gratitude, resonates in the songs of The Greatest Short Story Never Told. Listen to their debut single, 'Time', whose chorus advises, "Care a lot. Do what you do. Give what you've got." A good message for us all this year.
The rest of you will have to wait until March 12th to hear the full album. For now, check out the music video for 'Time', and stay tuned for the 'No Regrets' single release on February 26th.https://www.youtube.com/embed/sC19ODhXFZM?wmode=opaque&enablejsapi=1
What's in the foreseeable future for Ontarians? Obviously, covid leaves us with some unknowns. However, the band is optimistic for some summertime live, in-person performances and seeing where things go from there. "We're gonna need to practice," Frank jokes, as social restrictions have kept the band separated.
You can keep up with Ontarians on instagram, bandcamp, or their website.
Written by Laura Conning