Ever lay eyes on someone who makes you stop and think, 'man, that guy's probably seen some shit?'
Without knowing a single thing about these people, we automatically ponder: 'whoa – what are they up to?' They just have that look about them. They intrigue, inspire, and make us look inward at our own life, wondering why we don't command such bewitching omnipotence. Oliver Solaro is one such gentleman. Likely found riding an old KLR 650 in the middle of winter, or donning a cloak and a kilt traversing the French River aboard a homemade barge powered by said KLR, Oliver, or Brokentooth as he's known in the wild, holds a certain power over the rest of us. He's curious, talented with a welder, and fearless as all hell – that makes him dangerous, in a very charming sort of way.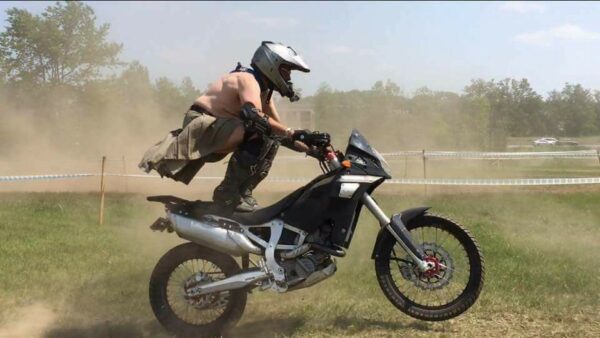 We got together for a chat to discuss why he's able to do the things that he does, and how his infatuation with tackling seemingly insane motorcycle expeditions came about.
"In a nutshell, I had made a failed attempt in 2013 at getting down the world's longest ice road, which is the Wapusk Trail, it runs between Shamattawa, Manitoba and Peawanuck, Ontario. It runs along the southern shore of Hudson's Bay and it's almost always in the middle of a Polar Vortex… I decided, unconsciously, to become a lifelong contrarian. If you tell me I can't do it, shouldn't do it, or better not do it, then I'm gonna go move hell or high water to do it…"
Advertisement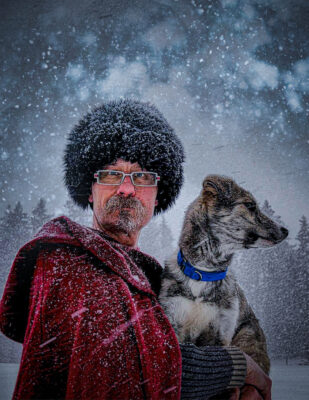 In the process, Oliver ended up freezing a cornea and dealing with temporary blindness, almost losing a couple toes to prolonged frostbite, and even had to stitch up a big wound he suffered with a spare fish hook on the side of a trail in the bush. "Aside from freezing my eyes, at one point I ended up jumping off the bike to take a whizz at -38 or -40 degrees, something like that. I stepped a few yards away from the bike and when I came back to the bike not two minutes later there were Polar Bear tracks all around it. A mother with two cubs… Now I know how to travel in the north on a motorcycle."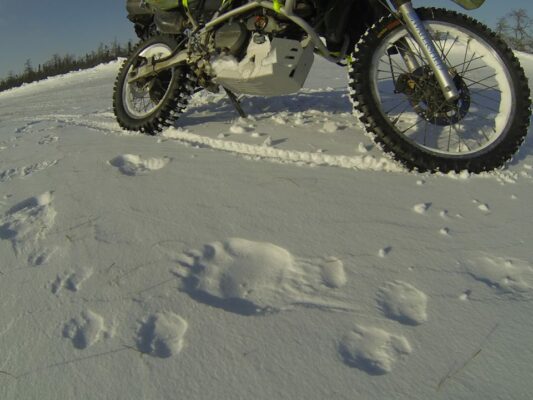 So in Brokentooth fashion, while on a "romantic" road-trip to Quebec with his wife, he ended up coming home with another ratty old dirt bike he outfitted with carbide picks and "decided to take another stab at it." At the time, the Discovery Channel was broadcasting Ice Road Truckers, and Oliver recounts saying to himself, ringing true with palpable contrarian zest,
"if you can put a transport truck on these things, why can't you do it with a motorcycle?"
Rewind a sec. One just doesn't hop on a bike and traverse the Canadian north on a whim, so I asked Oliver a bit more about his story riding and working on bikes.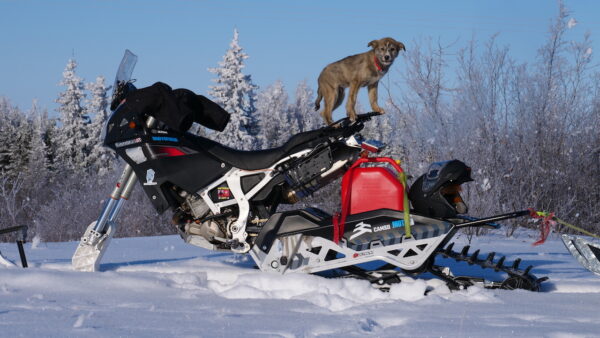 "I've probably had about 60 bikes in my life… My first dirt bike was a little Kawasaki 75cc 2-stroke that I rode home in the back of the trunk when my Dad and I picked it up from a gas station and from there the die was cast. I didn't have that bike for more than a week before I figured out how to jump it over a 1972 Datsun B-210. I set up a couple of oil barrels and some plywood sheets and I could get that mini-bike over that car," he laughs.
Then in 2015, Oliver mentioned to Owen Sound raised filmmaker, Jory Lyons, he was going to take another crack at the trail, and the idea for a film was born. Oliver lent Jory and co-driver Tim Ashley (who had never been north of Barrie prior to the shoot) his old Jeep Cherokee to use as a chase vehicle on the 5-day road-trip from Williamsford to Attawapiskat. The best they could do thanks to unusually cold temperatures and living ice (ice that heaves and moves as the temperatures fluctuate) preventing them from driving the ice road, was to follow Oliver to the jump-off point. At -35 degrees celcius Tim would drive the truck and Jory would hang out the open tailgate filming action shots.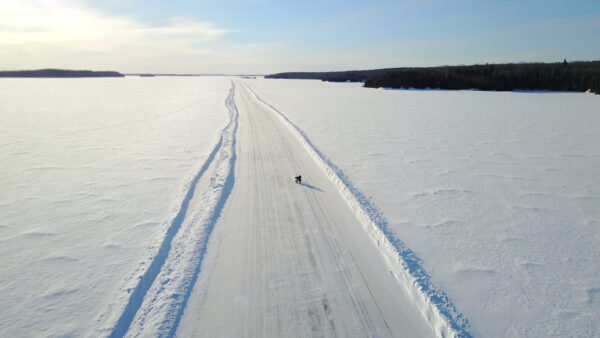 A.K.A Brokentooth: Canada's Ice Road Biker was released to widespread acclaim in 2016, appearing at over a dozen film festivals all over North America – notably the Toronto Motorcycle Film Festival, Portland International Motorcycle Film Festival, Los Angeles Cinefest, and the Scenic City Film Festival in Owen Sound, where it won the People's Choice Award.
Sometimes riding your bike in sub-zero temperatures is about more than a week or two off work enjoying the landscape of the north – sometimes, it's about something bigger than yourself. Ever a dog-lover, Oliver began plans to take dog food to Churchill, Manitoba during the winter of 2016 and 2017 when the rail-line flooded out and the supply chain feeding the community was halted for nearly a year and a half.
The Polar Bear Capital of the World was having serious trouble feeding dogs, so Oliver got to work. Dubbed a 'canine-itarian' mission, Oliver found himself hauling 1000 pounds of dog food donated by the Corey Nutrition Company in February and March of 2018. Jumping on the bandwagon, CCM lent him a prototype bike to deliver the goods the roughly 1000km it took to make the trip twice.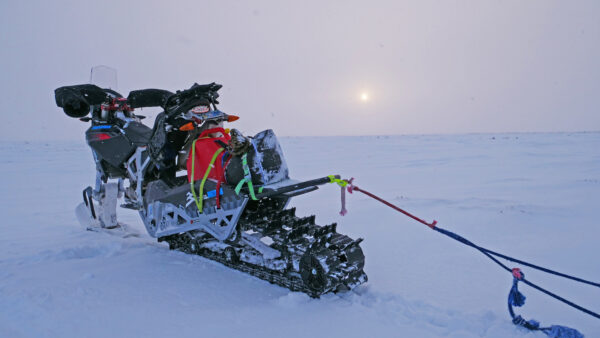 "I like to attach something positive to these things, I'm not necessarily looking for donations or monetary support… With the Run to Churchill, it was more 'let's just kinda let people know this is going on up there. Maybe this'll light a fire under the powers-that-be that are in charge of getting this rail-line running again.'"
At the end of the run, Oliver wound up taking a pup home himself.
It's been a minute since his last adventure. These days, he and his wife live in an old church in Williamsford built in 1882 where he's built a bike or two in the living room. His thoughts are constantly being pulled in a thousand different directions, he says. There's always an idea percolating.
"Imagine you're listening to a song you really like. The song ends and another one comes on. Then another. It's a different genre, but you still like it – one's metal, one's classical, whatever. They take turns. With me, there's 47 songs going on all the time," he says sitting on the Mudtown Station patio in mid September. The patio has music playing in the background, people socially-distanced chatting and laughing, the dog park next door is full of pups playing and barking. "Right now, I'm fighting to prevent my head from focusing on things other people are saying, hand-gestures, movements, the reflection in the glass here – all of these things, I'm literally fighting to concentrate on this conversation – that's my whole life. You'll fail miserably at a thousand things in your life, but every once in a while, you won't. It's those once or twice's that become the Wapusk Trail or the Churchill Run."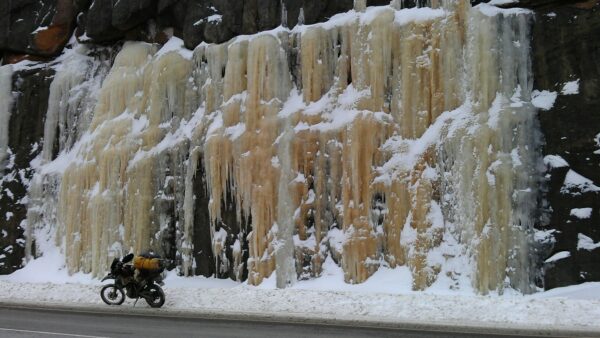 There's a beautiful sense of optimism and an intense desire to learn in the mantra of Oliver 'Brokentooth' Solaro. He's shaping his life into a unique, prolonged story of inquisitive what-if moments that are all about bettering yourself, following your passion, and, when the time calls for it, throwing caution to the wind and going for broke.
"We failed miserably at our attempt to complete Cain's Quest [the longest and most grueling snowmobile endurance race on the planet at 3100km in Labrador] but that planted the seed for the Wapusk Trail. When you're out there, I'm not going to say it's peace, it's focus. Everything falls off, the static, the noise, the droning – all that stuff I have to live with just disappears when it's just me and the bike and the horizon."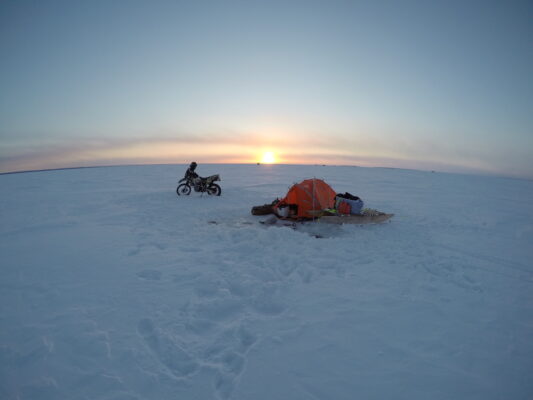 So what's next for Brokentooth?
"I actually have a ridiculous looking chopper frame sitting in a shed somewhere with a 55 degree neck cut way down low, and a 360mm single-sided swing-arm rear tire – I think if I had my way I might look at the possibility of jamming a Ski-doo Rotax 1000cc V-twin motor in there with the snowmobile drive and building a chopper with a snowmobile engine to run every single mile of every single ice road on the continent. I'm going to try at some point… I actually just bought a welder to do that."
Not that he needs the motivation, but when you see him cruising the region, be sure to tell him that's impossible. Just to encourage the contrarian in him.
Written by Nelson Phillips
Photos provided by Solaro