We've all seen the movie – Whoopi Goldberg at the top of her game playing a nun incognito. She joins the convent, revives the choir…hilarity ensues. If you're like me, you're not planning on watching that movie again anytime soon. But the play? Yes, the play's the thing (sorry, wrong theatre reference). What I'm getting at is that the current production of Sister Act at the Roxy Theatre in Owen Sound is an excellent way to revisit this laugh-out-loud story.
And according to director Corry Lapointe, both the music and the story are better than the film. "I expected the same songs that the sisters sing [in the movie]. They're not in there at all," she says, and whispers "It's better." Way better in fact. "It takes place in the disco era in the 70s so the music is crazy and upbeat."
When the rights were given to amateur groups to produce this 5-time Tony Award nominated play, Lapointe and the Owen Sound Little Theatre jumped on it right away. She knew it would be a challenge, but knew that if she brought the right people together, it would be a success. "We keep wanting to raise the bar," Lapointe says, acknowledging that it raises the expectations for future shows, and that's a good thing.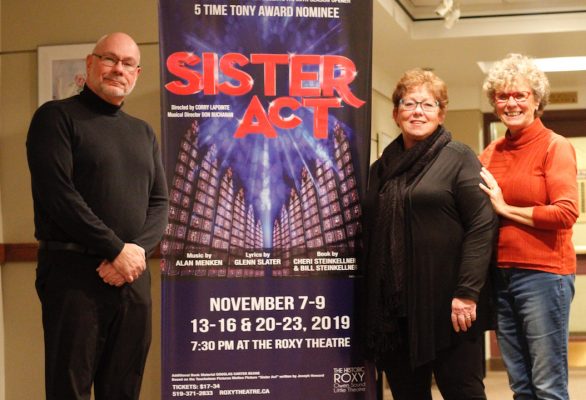 One person she knew she needed to bring on board was Don Buchanan, musical director, who began to prepare back in December with Lapointe. When I ask about his musical direction, Lapointe makes it very clear: "you don't get any better than that."
Advertisement
I know Don Buchanan as a revered jazz musician, but I didn't know he was so involved with the Owen Sound Little Theatre (where have I been?). "He can take that music written by the composer…and adapt it to the make up of our voices," Lapointe says, which makes him so sought after. He's directed the music on both Carousel and Les Miserable. But he's produced the original score for the productions of Miracle Worker, Children's Hour, and Calendar Girl – respect!
But Lapointe says it's not just the music that's better, it's also the story. "It's deeper," she says.
The enhanced story is served by the excellent casting, which includes Lacey Mooney as Deloris Van Cartier, and James Moyse, Dave Byers, and Colleen Martin in staring roles. You might remember Mooney from Carousel and Spamalot, and James Moyse from last year's 25th Annual Putnam County Spelling Bee; if you notice an authentic chemistry between the two of them on stage, it may be because their sweethearts in real life, but it's also due to Lapointe's brilliant casting choices.
"That's my best work – casting," Lapoint says and laughs. But when you consider the actors in this production, it is in fact some great work on her part. "We've got a good combination of veterans…and new people." I learn that's important because the veterans will mentor the newbies, and together they bring a cool energy to a production. "High, high energy," she says. "There will be a real surprise with the amount of humour. There will be even more surprise with the tears it'll invoke."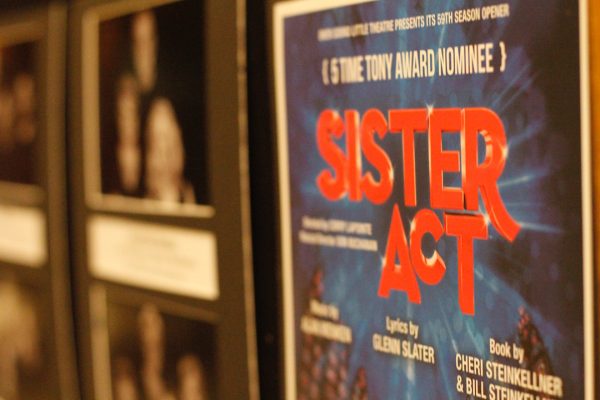 The full scale production of Owen Sound Little Theatre's Sister Act is set to begin Friday, November 7 and run for 11 nights. Could it (gasp) be better than the beloved film? You're darn right it could. Remember, it's a 5-time Tony Award nominee. And the music and story are both better. But the real reason you should go and see this production is that it's just plain fun. And Lapointe and I both agree that people need a feel-good escape from the world these days.
So, if you could use a couple hours of feel good entertainment, grab a ticket for the show. You can be the judge whether it's better than the movie or not.
---
Words and photos by Jesse Wilkinson