If you have a beer lover on your holiday list, you're golden! Whether you opt for an experiential or educational gift, thinking outside the beer box has never been easier. Check out Rrampt's top 5 ideas for spreading the cheer (and beer), designed for all budgets and palates. Beards not required
Fronterra is kind of like an adult summer camp—and the "crafts" come in a pint glass. Early to the agri-tourism and luxury camping scene, founders Jens and Inge Burgen have established a hands-on craft brew camp that explains the process from plough to pint. Guests will learn all about the beautiful alchemy of barley, malt, hops and water on their halycon 58-acre waterfront farm in Hillier. Fronterra's hopyard is focussed on aromatic wet-hopped beers and sustainable farming practices. Hobbyists and cicerones (beer sommeliers) alike will benefit from the economical curricula.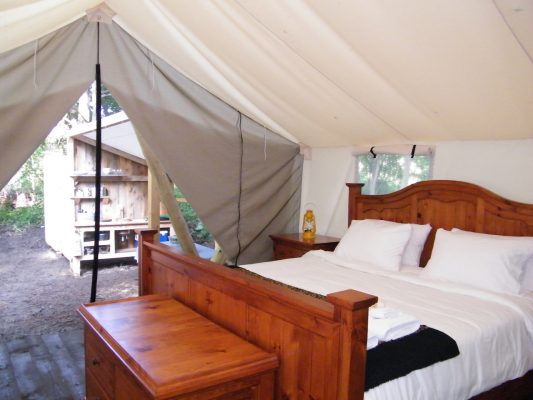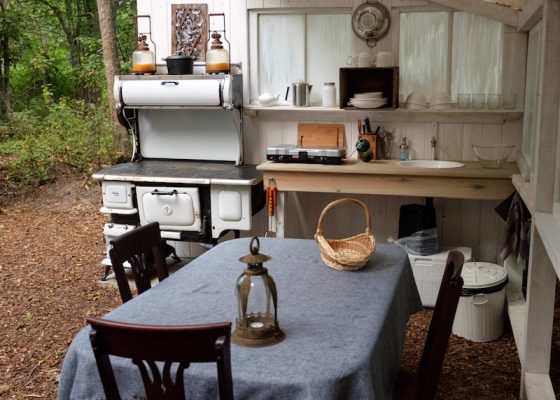 Inspired by the halcyon days when farmhands earned a daily beer quota, Jens and Inge have created a reasonable facsimile. Guests stay in canvas prospector tents kitted out with a summer kitchen, charcoal grill and private piping-hot shower. The pampering extends to a modern-take on prospector digs with a King-sized bed, hardwood floors and en suite. In the morning, grab eggs from the coop and forage for microgreens and veggies in Fronterra's extensive gardens. Back at the campsite, guests can forage for beers in a vintage ice box as homework.
---
Sign your loved one up for an exclusive insider's club of monthly curated beers. Beers are delivered to their doorstep, with a warning that friends may follow. Members can pull up a bar stool in the convenience of their own home and have a front row seat to a beer lab that can't be accessed from The Beer Store or LCBO shelf offerings. We're talking blueberry cranberry sours, blood orange Hefe and a saison blush with champagne yeast.
Advertisement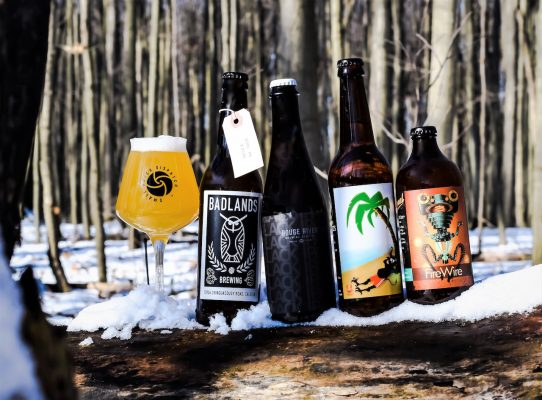 From Thunder Bay's Sleeping Giant Brewing Co. to Barncat Artisan Ales in Cambridge, your favourite beer pundit can enjoy a "Monthly Catch" of 8-9 beers (4L) or a half-size Catch of 4-5 (2L) different beers. Other options include a 'build-your-own' package for the discerning drinker or the Advent Beer Box—a 25-beer holiday special that sounds way more appealing than 25 days of crappy little foil-wrapped chocolates. If you're late on ordering the Advent calendar, your recipient will probably be okay with doubling down on a strawberry milkshake IPA and Marzen lager to catch up.
Small Batch Dispatch also organizes brewery tours with fuel stops in Elora, St. Jacobs and Guelph. If you're looking for a no-brainer group gift, treat the gang to a custom tour of Muskoka, Waterloo, Toronto and beyond!
---
#3 Brunch in Bed
If your budget is a little leaner, you can still cater to a loved one's champagne taste. Beer and bacon are synonymous, aren't they? Design a romantic brunch-in-bed with a pound of Sensations by Compliments naturally smoked thick centre-cut Craft Beer bacon flavoured with Indian Pale Ale. Serve up a craft beer bacon BLT on a pretzel bun with melted Guinness Cheddar and Cowbell Kitchen Absent Landlord mustard, made with their Country Kolsch. Or, how about a stack of Craft Beer bacon-inspired pancake fingers?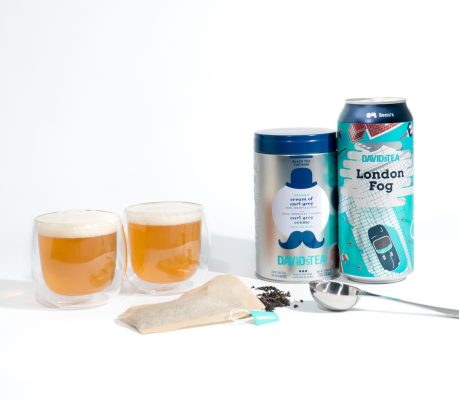 While you're occupied in the kitchen, ply your beau with a Beau's Davids Tea London Fog. This collaboration is a harmonious crossover of Davids Tea organic cream of Earl Grey tea blend, vanilla, organic lactose (milk sugars) and Beau's golden ale. It's a midday latte with a 5.3% punch for those days when you're not sure whether it's time for a tea or beer. Or, both!
---
#4 Feel a draft? How about a beer bath?
In Brantford, the Grand Wellness spa does the dirty work for you. Your recipient (and you) can indulge in a steamy beer infusion of aromatic hops and Ramblin' Road beer in the Bixel Beer Suite. Two pints of beer are added to each cedar bath (the private suite houses two tubs) and clients can choose from a pint of La Sallette's Ramblin' Road Country Ale or glass of St. Williams Burning Kiln wine while soaking. The Suite has two individual showers (outfitted with shampoo, conditioner, soap) and two in-room massage tables if you choose to up the relaxation ante. Later, visit Brantford's Bell City Brewing Co. Bistro and Taproom for charcuterie and a 6-pack take-home of their Eureka Cream Ale.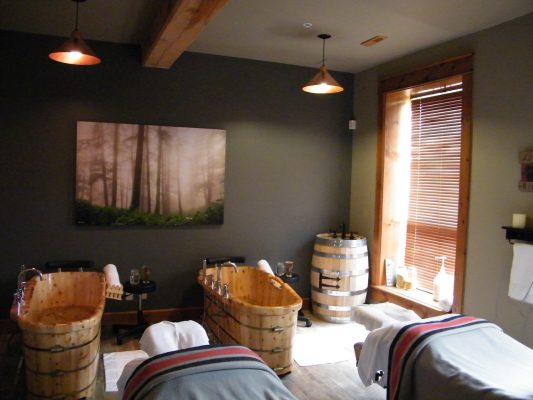 Beer lovers typically love suds head to toe—beer nuts, beer bacon and especially beer soap. Who says you have to drive to Brantford to have a beer bath? The Big Beer Soap Company (based in Toronto) creates small batch soaps using an old school cold process method and local craft beer. We're talking lemongrass and Mill St. Organic Lager and citrus pine soap with glugs of Danforth Brewery's Viaduct IPA. Their soaps and shaving pucks are cruelty-free and sulfate-free. The company also hosts workshops so, sign your beer fiend up for good clean fun. They can learn how to make shampoo bars for their dog too!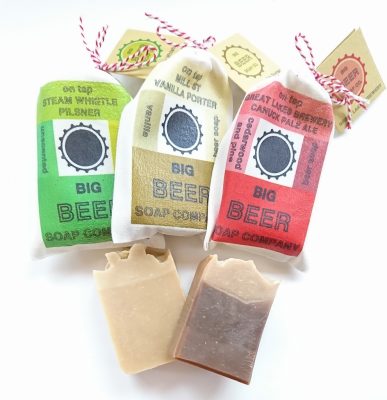 ---
Nothing says "I love you" and glacier cold beer better than a YETI. Their signature designs are indestructible and drop-dead gorgeous. Founded in 2006 by Texas bros Roy and Ryan Seiders, the YETI brand has flipped the generic cooler into a coveted item and the growing Yeti 'Nation' is a motley crew of die-hard fisherman (like the Seiders), tailgaters and tiny house dwellers.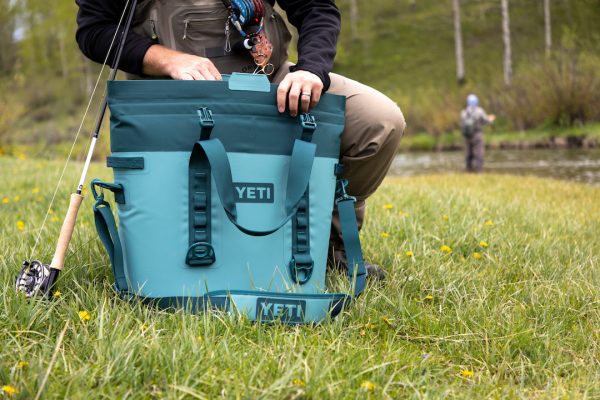 The Hopper M30 soft cooler is perfect for campers too as it's easy to stuff into a hatch jammed with gear. The Hopper holds 20 cans of beer and will definitely keep your wieners safe from floating around in soupy water. This cooler adds a whole new meaning to giving someone the cold shoulder! Legacy brands simply don't have the staying power of the YETI. Just like the abominable snowman, the YETI is invincible—with the sole exception of Bumble, the Yeti in the grainy 1964 version of Rudolph the Red-Nosed Reindeer who suffered greatly from a toothache.
---
Don't forget the stocking stuffers!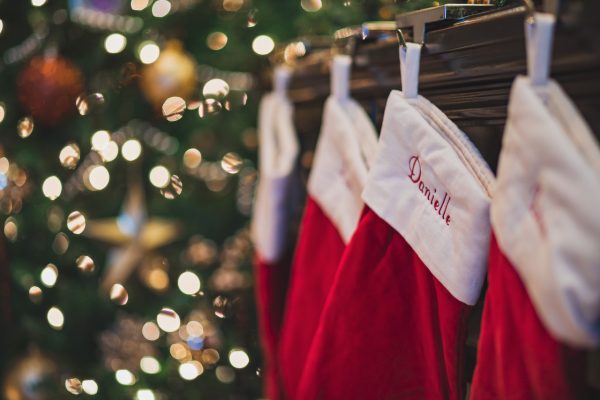 For studious types on your list, consider enrolment in an online Beer 101 class. For their beer-side table, J. Ryan Stradal's The Lager Queen of Minnesotais an engaging ale tale about two estranged sisters, bitter over beer and a misguided inheritance. How about airfare to Vancouver and a copy of Joe Wiebe's comprehensive Craft Beer Revolution: An Insider's Guide to B.C. Breweries?
While stuffing a growler into a stocking might be as tricky as "stuffing a porcupine into a pair of nylons" as Eric Wagner of Moth Lane Brewing (PEI) would suggest, it's guaranteed to make things merry and bright.
Wishing you all a pint-sized holiday season!
---
Written by Jules Torti
Jules Torti is the author of Free to a Good Home: With Room for Improvement. Torti and her wife looked at 88 houses in the span of one year after selling their 155-year-old stone cottage on Facebook. They now live on the 45th parallel in Lion's Head—halfway to the North Pole and (better yet), halfway to the equator. Jules Torti is also the editor-in-chief of Harrowsmith magazine and a regular contributor to realtor.ca's Living Room