Whenever we're presented with the opportunity to enjoy a new regional retreat in Grey Bruce, it's tough to not get excited. There's always the promise of diving into the ground floor of local hospitality and experiencing your own backyard looking through a new lens. Also, it's never me – I'm a bit of a homebody. I've got two wild kids, two energetic dogs – finding a sitter who can handle that combo of exuberance can be tough. So, when Elizabeth from Back Forty Glamping reached out to Rrampt to come enjoy a night at their brand new, ultra luxurious, backwoods chic, yurt retreat near Meaford – my wife and I jumped on it (shoutout to grandparents for holding down the fort).
"What would you like for your welcome beverage? We can offer local beer, cider, or kombucha," says Elizabeth a week or so out via text. Not a bad way to begin. Friday afternoon arrives. The colours on the leaves in the trees are piquing, the air is crisp and damp – the setting is quintessential Grey County. We pass idyllic farms, grazing livestock, the road narrows and rocks kick up at the side of the car.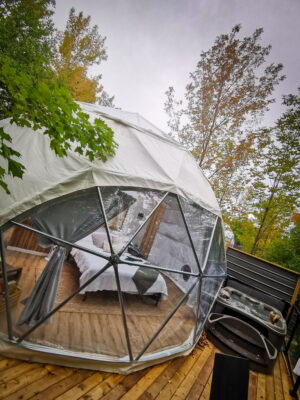 We pull up to the Back Forty compound and we're greeted with a gorgeous sign that mimics the polish I'd been admiring on their Instagram page. From what I've seen, we're in for a treat. Our cabin for the night will be the Bergamont, found down a dirt path nestled on top of a ridge overlooking a young maple bush.
Before we even open the door, I'm commenting about the amenities: a wicked little fire pit, the new porch, BBQ, Muskoka chairs, the hot tub nestled in the corner.
"As I saunter out to the hot tub in my robe, I feel like a Damn KEnnedy…"
Inside, we're nothing short of blown away. The dome is deceptively spacious, tall with a massive ceiling window looking to the heavens, and an even larger window facing the forest. The kitchen is minimal, but offers everything you need to brew a great pot of coffee courtesy of Good Grief, enjoy a charcuterie board, or prep a midnight snack. The queen sized bed is glorious and oozes comfort, the decor is tasteful, modern, and inviting.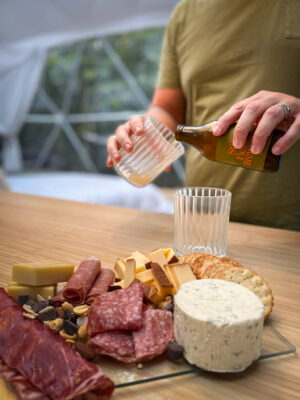 The bathroom features a glass-clad shower with a wooden walk-in platform so the steam is invigorated with the scent of fresh cedar – such details. I crack the complimentary Still Fields brew and we prep some artisanal cheeses and meat for a move-in snack. The beer is lovely and we enjoy our spoils before immediately jetting out on the trail outside of our yurt and follow it to a pond on the property. We traverse the freshly cut trails and enjoy a modest little hike in the drizzling rain before heading back to the yurt for a dip in the tub.
We settle in and cloak up in the house robes Back Forty has provided – full disclosure, up until this point I had never adorned a housecoat in my life. Let me tell you, I've been converted; the way that thing held me I felt like a newborn baby. As I saunter out to the hot tub in my robe, I feel like a damn Kennedy. My wife is laughing at my love for this newfound decadence as she awaits the kettle to boil. In the tub we sip coffee and chat away the rest of the afternoon. When night falls, we head off to Ted's Range Road Diner five minutes down the road. If you're in the area, you've gotta go – the iconic quonset hut establishment is home to wild culinary creations, game, and home cooked classics that are second to none. We sample the Seafood Bake and the Prime Rib. Superb.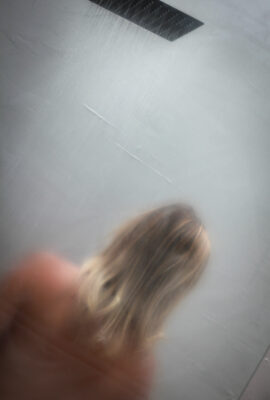 Back at the yurt, it's lightly raining and the water hits the top of the yurt whispering to us as we listen to some tunes, enjoy a drink and play Scrabble until it's late. The ambience is warm, cozy, and really accommodating.

In the morning, we're greeted to overcast skies and enjoy another coffee before departing and heading home. We're refreshed, well-rested, and appreciative of this new space so close to home.
For someone like me who loves his house and his own bed, Back Forty Glamping feels like a special little slice of home. When a place like this – and one as new as this – can have that kind of effect on you, you know they're doing something right. So often, new businesses can feel a bit rushed, a little rough around the edges, or even confused by trying to be seven things at once. Not this place. The care and attention to detail the Back Forty team has steeped into these yurts is nothing short of impressive. It feels like it belongs here, like it's an old friend. Enjoy this place. Embrace this place.
Two thumbs way, way up.
—
Words and photos by Nelson Phillips