When you sign up for one of Lauren Hambleton's baking workshops at Red Hen Artisanale, you'll receive the following directions from her in your email inbox: "Walk down the path to the left of the house, past the dogs barking hello to you in the windows. Go through the little gate, and follow the pea gravel path under the cedars, to the front doors of the studio. I will await you with fresh coffee!" It's hard to imagine a more idyllic setting to learn about baking.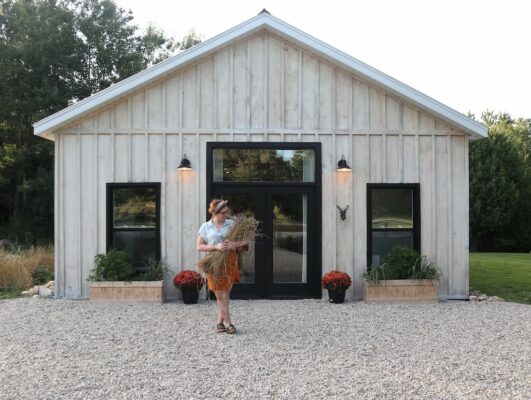 Red Hen Artisanale is named for the classic story of The Little Red Hen – a folktale about how we reap what we sow. In the book, a hen asks a duck, cat and dog for help planting some wheat, but she gets no takers. They won't help her cut, thresh, mill, or bake either – but are keen to help the little red hen eat the finished bread at the end. It's evident that Lauren shares the hen's strong sense of determination, work ethic, and passion. "But," she explains to our class during one of her workshops, "I'll still always share my bread with others, even if they didn't help me bake it."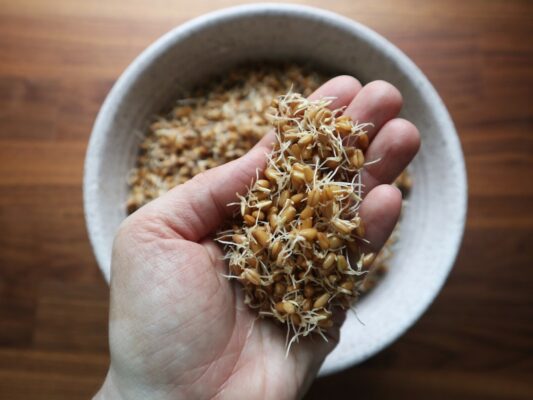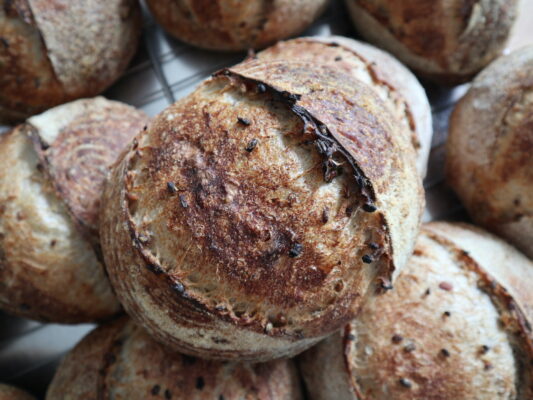 For Lauren, the heart of Red Hen Artisanale is fostering a sense of community, while sharing her love for sourdough. From her custom-built, sun-filled baking studio along the Saugeen River in Grey County, she brings bakers of all skill levels together through both in-person and virtual learning. Now, with dozens of workshops under her belt and hundreds of happy attendees, Lauren says she's fulfilling her dream: creating a baking and nature retreat with the opportunity to relax and reconnect. She intentionally keeps her group sizes small to allow for everyone to interact with each other, share baking experiences, and help with hands-on assistance.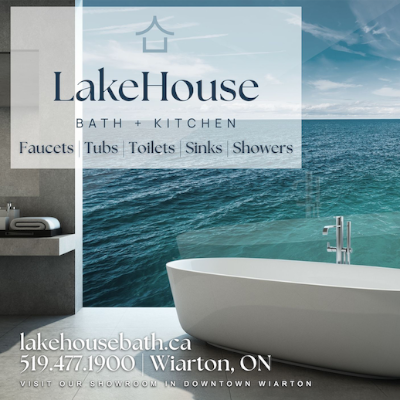 Born and raised in Guelph, Lauren always loved being in the kitchen and attended Humber College's two-year Culinary Management program. "At that point," she tells me, "I was sure I wanted to have a restaurant and be a chef." As part of her schooling, she completed a one-year co-op at the Hilton in Amsterdam and ended up running the pastry department. "Having that position made me realize that pastry was really where I wanted to be, as opposed to cooking," she explains. She spent a few more years travelling and gaining experience in kitchens throughout western Europe.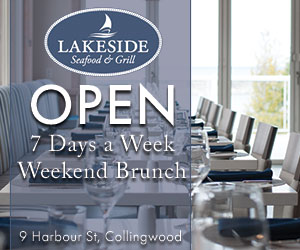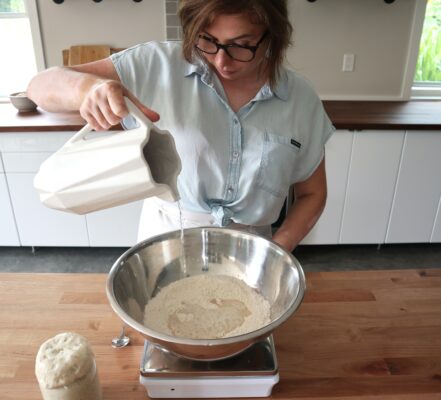 In May of 2013, Lauren enrolled in a bread program at the San Francisco Baking Institute, and her love of bread really began to bloom. Shortly after, she was hired as the pastry chef for Peller Estates Winery in Niagara-On-the-Lake, where she worked for three years and developed seasonal menus designed around making everything in house and sourcing ingredients locally wherever possible.
In 2017, craving something new, she reached out to a well-known baker named Tara Jensen in North Carolina, who was hosting baking workshops using a wood-fired oven out of the famed Smoke Signals Bakery. Lauren asked if she could come down to visit in North Carolina and help Tara instruct. When Tara said yes, Lauren headed south on a road trip, and it was there that she really opened her eyes to the idea of teaching baking workshops.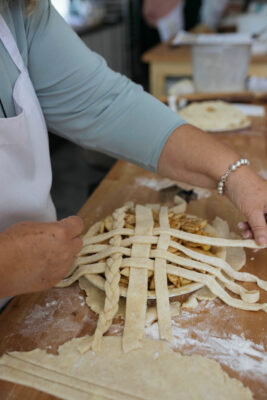 Five years ago, Lauren held her first sourdough class in her parents' house in Lions Head. It was a huge success, and she grew her workshop repertoire from there. Throughout the pandemic, she pivoted as many did, and began teaching workshops virtually, as well as in-person when mandates allowed. She reached a point where she needed her own space to host out of, in order to allow her business to keep growing. "I'd been looking to buy a place to teach workshops and I wanted it to be my own," Lauren explains. "I'd probably live out of as well. And then I met my partner, who lived here at the house in Grey County. One day last summer we were sitting out on the deck, and I thought, why do I need to buy my own place when this yard is big enough? Let's just build something here. So, we got busy and did all the paperwork. We found a builder who could build the workshop within three months, and I moved in."
The rest is history. The Red Hen Artisanale headquarters, located southwest of Markdale near Priceville, is becoming a bit of a focal point in the area. "It's quiet," says Lauren, "but it's still a central location, being two hours from Toronto, and an hour from Guelph or Owen Sound. It really feels like we're bringing back a sense of community in the area. We've got the big church across the road. And our house used to be the old general store, and now the workshop is a place that brings people in like the general store would have done. It's a low-key community hub."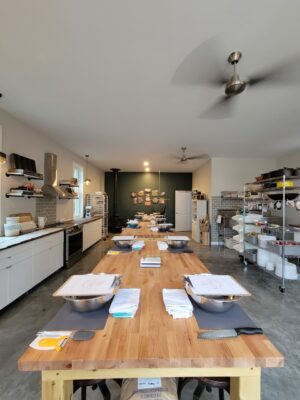 Lauren began doing her workshops out of the Grey County location in January 2022. "But," she explains, "One of difficulties is that not everyone accepts that I don't want to be an actual bakery. I much prefer the workshop aspect of baking and the idea of bringing people together for longer format experiences. I'd rather teach people." She built off her original one-day workshop and now offers a two-day sourdough class, as well as separate classes for pies, bagels, and even a sausage and puff pastry class coming up this fall, through a collaboration with a butcher friend. In the new year, she is also planning to launch a three-day sourdough workshop for bakers who really want to delve deep. From the outset, it was important to Lauren to offer an array of courses. "I want people to be able to come back and experience different things – it's not just a one-and-done thing," she says.
Her main focus for the workshops is sourdough (and yes, even in a pie crust). She is also passionate about teaching people how to use whole grains and gain a better understanding of where these grains come from. "It's really cool to have so many people come in and help them with difficulties they've had with sourdough, whether it's nailing down your temperature, your timing, or figuring out what you're looking for to improve your dough," she says. "Sourdough and whole grains are really what I enjoy delving into because it's such a huge world. In the two-day workshop, we go and check out the grains I have growing in the garden. We do a little exercise to see if anyone can identify what they are. Most often, people can't identify them because we don't see them until they're in our food. I want to change that."
In the spirit of bringing people together, Lauren's planning a multi-day event for autumn 2023 called The Great Lake Grain Gathering, focussed on local suppliers, producers, brewers, farmers, millers, and bakers, all centred around world of grain. "In the States, they have a really big network of people promoting farmers and bakers, but it doesn't feel like in Ontario we have that strong of a network. I'd love to change that and hopefully bring together a big community so that different people and resources in the world of grain can connect."
Written by Emma Sweeney
Photos provided by Laura Hambleton and Stef Richardson