Good grief, not a story about another coffee shop…
Don't worry, it's not. Stationed in Thornbury, ON, Good Grief is a café and a wholesale coffee supplier that aims to be much more than just another coffee shop.
And it's got some personality, too.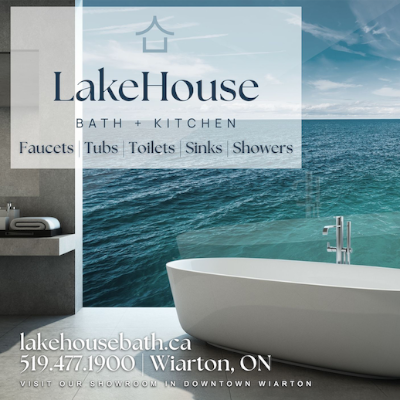 Founded by friends Alix Haddy and Jesse Keast, Good Grief sets the bar pretty high when it comes to coffee shops in South Georgian Bay. Their attention to detail extends not only to the beans they roast, but to their design-forward aesthetic — right down to their signature pink lids and funky apparel.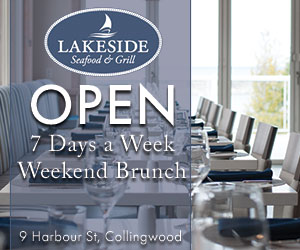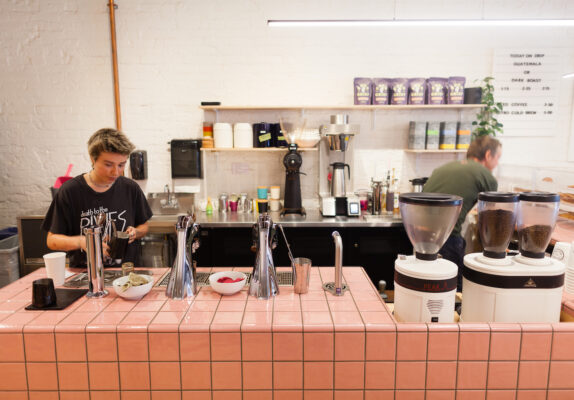 Since opening in 2019, Good Grief has made a big impression on the small town, serving house-roasted beans and a variety of danishes, donuts, croissants, scones, and cookies, all baked fresh daily. It all started because Keast thought it would be a good idea to get a boring, 9-5 job downtown Collingwood years ago.
"The best part of my day there was coffee break," he laughs. He became obsessed with trying to brew the perfect cup of coffee, and in the process, fell in love with the, well, process.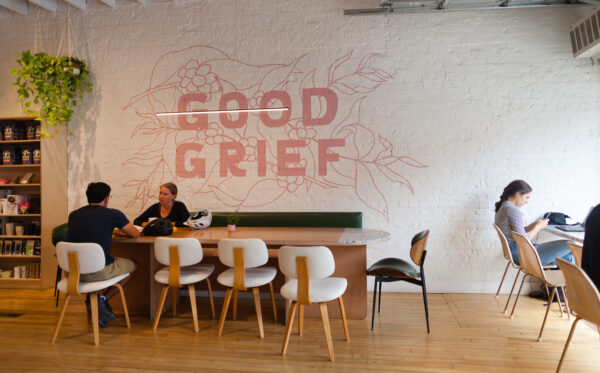 When he found out a new business was opening in Collingwood that planned to do coffee well, he saw it as an opportunity for him to look behind the scenes and see what operating a business was all about. So he got a job at Gibson & Company when it opened, which is where he was introduced to his new friend, now business partner. Haddy had recently moved up from Toronto to help open the coffee shop, and the two quickly became friends.
Keast learned that it was coffee roasting that really intrigued him, which he was doing for fun out of his apartment at the time, and realized nobody was doing it in the area. So he travelled to San Francisco to study the craft, and the obsession only grew.
Born and raised in South Georgian Bay, he wanted to bring something different to the area.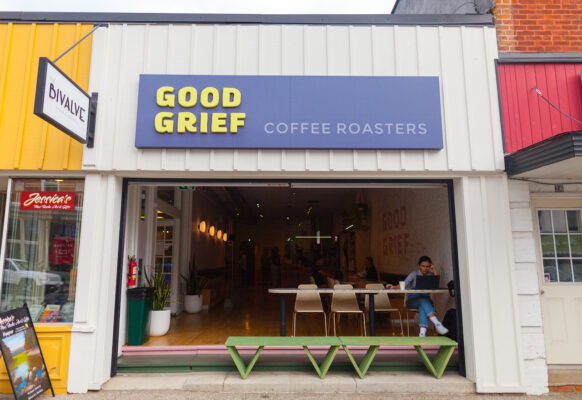 As it turns out, Haddy was the perfect person to help him do it.
"Jesse was the passion and drive, and I was the business," says Haddy. Although neither of them had any entrepreneurial experience, Haddy's most recent position in the city was coaching entrepreneurs, and when they started working at Gibson & Co., they both fell in love with the flexibility entrepreneurship could offer.
The initial plan was to open a coffee roaster and sell beans wholesale, but all that quickly changed when the perfect retail space became available on the mainstreet in Thornbury. Within two weeks, Haddy and Keast had to decide if this was something they wanted to do for the rest of their lives, so they shook hands, incorporated, and the road to opening Good Grief officially began.
The name came first, from fond memories of an expression Keast's grandma would say growing up in Thornbury. They also liked the fact that it was almost disarming in a way.
"It makes you laugh and think okay, this place doesn't take itself too seriously," says Keast.
Coffee culture has a stereotype of being somewhat pretentious and almost intimidating, and Keast and Haddy wanted to make sure Good Grief was anything but.
A fact that is clear the minute you walk into the space.
Enclosed by garage doors and bathed in pink and purple, the cafe and retail shop is anything but intimidating — right down to its logo, which features a smiling coffee picker. In an industry with branding that is often "brown and boring," Keast and Haddy wanted to stand out.
"It was important for our coffee to be able to pop out on the shelf, and then again make you laugh or investigate a little more," says Keast.
And while they are good at having fun with it — with colourful merchandise, branded air fresheners and a custom deck of cards — what they are really good at is roasting coffee.
Their approach to roasting is "middle ground," Keast says, offering familiar flavours like chocolate and caramel, while still roasting things that excite them. "We're trying to find a balance between what we want to do with roasting, and what people want as customers," says Keast.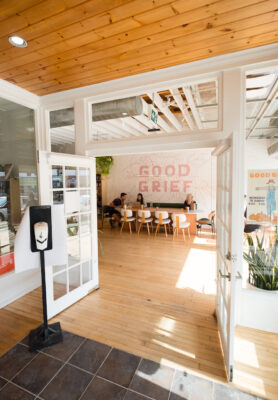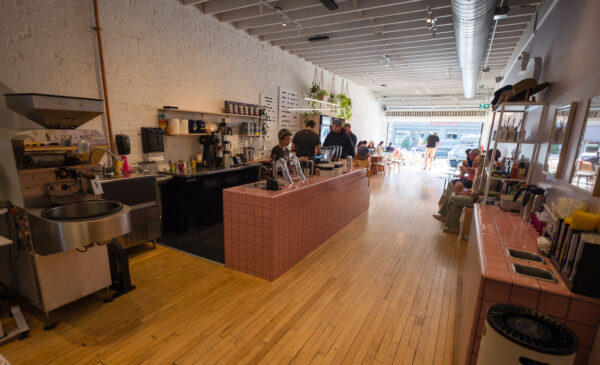 The backbone of their business is finding good coffee, paying an equitable price for it, and working with importers who are trying to bring equity to the coffee industry. A cup of their coffee can be found in notable local hot spots, such as The June Motel, Find Arcana, and Pom Pom Treat Hut, and their beans can be purchased at a number of retailers throughout Grey Bruce Simcoe.
And while the past two years have been a whirlwind for everyone, they've learned how to be patient and make the most of the present moment. They are really good at doing what they do, and they aren't apologetic about it.
"You don't have to take yourself too seriously," says Keast.
"It's been fun," Haddy agrees. "You have to enjoy what you're doing, and what you're drinking."
Words by Maddie Johnson
Photos by John Fearnall of Good Noise Photography