I love Meaford. I love its historic, early century two-storey brick storefronts and detailed window trims that line the picturesque main street; I love its sheltered little harbour, melodic with breezy sailboats nestled in on Georgian Bay; stone churches and quiet, tidy neighbourhoods of well-kept wartime houses with riverside paths under towering canopies of mature trees.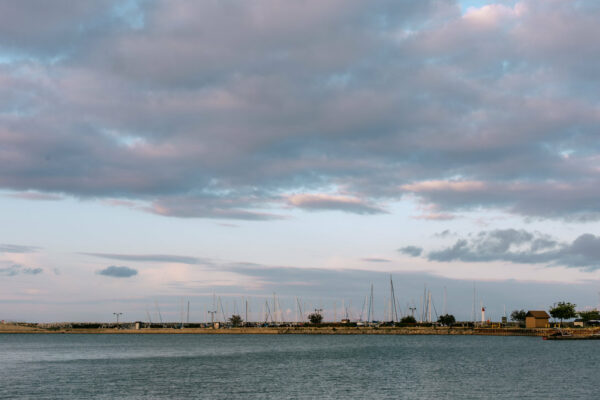 And today, a growing number of new and creative small businesses are loving it too, including the very exciting recent addition of Hills Air BnBike.
"I just absolutely fell in love with it," says Eric Baldwin, co-owner of Hills, when I ask him about his attachment to this town. "I've been coming up to this area for years but hadn't spent too much time in Meaford itself until recently. As soon as I did, it immediately felt like home."
His physical home for the last 30 years has been Toronto, where he and business partner Pete Lilly have successfully run a couple very popular bike shops, Sweet Pete's, since 1997. But before any of that urbane and central life, Eric was brought up with an East Coast lifestyle in Charlottetown, PEI and Wolfville, Nova Scotia.
Advertisement
"Meaford has that same feeling. A wharf town. Friendly. When you walk down the street, people say hello. This just feels like the way people are meant to live. I knew I needed to create something here and be a part of this community."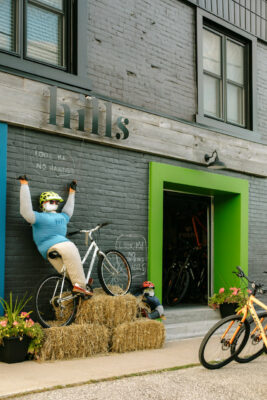 In 2019, a listing came up for the historic Hill's Dairy building, tucked just off the main drag downtown, beside the bridge, on Berry Street. Dating back to 1901, the river facing storefront was once home to an important and thriving family business that delivered milk to the people of Meaford and beyond. Though the building was sitting basically empty, Eric felt it was spilling with opportunity. After some consultations with engineers and the municipality, he jumped right into converting the space into something that can't quite be pigeonholed – Hills now exists somewhere between the realms of bike shop, community space, adventure headquarters, traveller's hostel, and boutique hotel.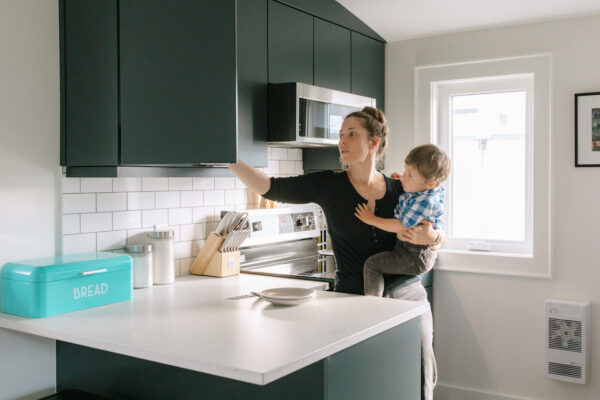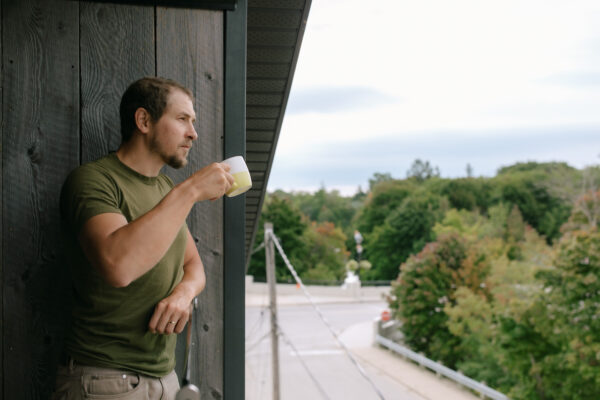 The ground floor opens with a big garage door onto the street, softening the line between the community, the outdoors, and the nicely stocked little bike shop inside. It's brimming with bright orange rental hybrid bicycles, ebikes, high quality bike accessories, and an accessible repair station. A blond maple countertop and cafe stools sit in front of an espresso machine and glass-front fridge holding a healthy variety of local Beaver Valley area hard ciders. Paul Bishop, who once ran Meaford's Ride On Bikes, can now be found in this space keeping the chains clean, gears tuned, and wheels true.
Above the shop, four suites have been completely renovated and modernised for short term accommodation. Each has its own adventurous theme – Hike, Bike, Paddle, and Ski –encouraging guests to get out and explore the Meaford area's incredible natural splendour in all its forms, no matter the season.
The rooms are gorgeous and inviting; bright and well-appointed with impressive amenities (a washer and dryer! A full kitchen! A salad spinner!), and tasteful minimalist design that doesn't at all feel stark. Bright, abstract canvases from neighbouring Craig Gallery splash vibrant colour on clean white walls. A chic and contemporary designer's eye has clearly been brought to every detail, but thoughtful nods to the space's historical significance are also incorporated into the milieu–touches of barnboard, live edge wood stairs, and little antique creamery tap handles painted red placed to create a coat rack. A rooftop patio walkout from the Paddle suite comes with barbecue, harvest table, outdoor sofa, swing seat, and plein air shower.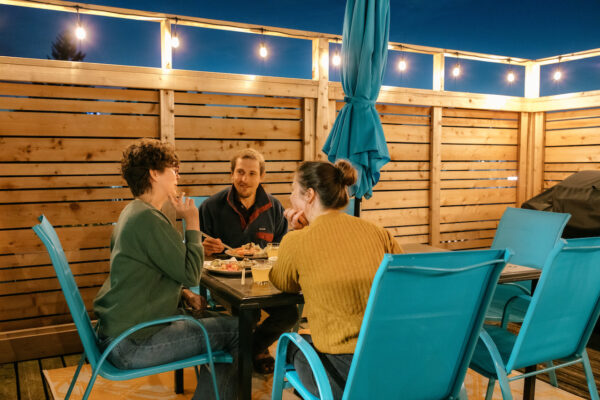 Opposite, a little balcony with two comfortable chairs and a coffee table overlooks the Bighead River. A gift package from Grandma Lambe's orchard and bakery (just down the road) sits on the counter, with butter tarts and a mason jar of raspberry jam. A tin of coffee grounds is supplied by local mainstay McGinty's Cafe. All the waste-free, handcrafted natural soaps, shampoos, and cleaning supplies come from The Keep Refillery, across the street. Need a massage for your aching muscles after a long day of exploration? Guests get a special rate at L'Apothicaire Botanique, just a short stroll away. When it comes to supporting local, Hills is committed.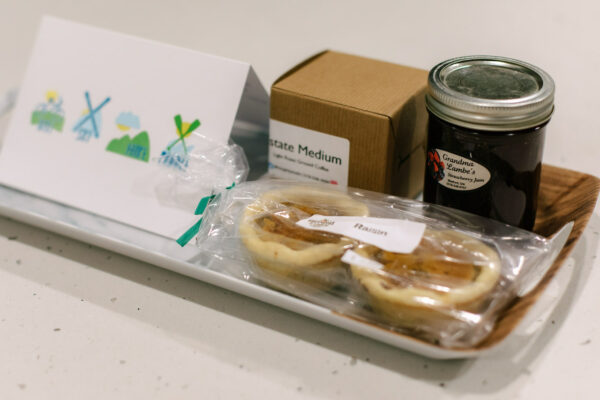 "I've spent a lot of time travelling around the world," Eric tells me, "and I love hostels." That feeling comes through–what he's created here feels unpretentious, welcoming, communal, and homelike. "There's a shower in the bike shop, so that bike tourers can have a place to get clean and warm up. This isn't really about the money…" he says, trailing off. "I want to contribute something to the community."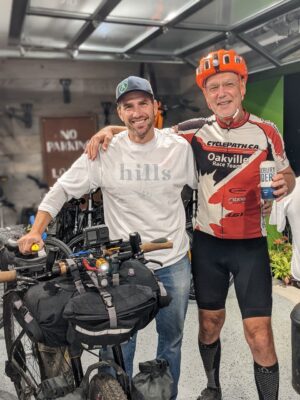 Eric and I are sitting at that wooden counter in the bike shop, drinking ciders at 9pm on a September evening as he tells me all about this passion project he's built here. The lights are on, and the garage door is open to the cool, dark early autumn air when we hear a voice from outside say "wait, are you telling me you're open?" An older gentleman on a fully loaded and very well-travelled touring bike is out front, exhausted looking, eyes wide, barely believing what he's seeing. "I'm just finishing 170km, and I was hoping I could find a place to stay in town tonight."
Eric looks at me, and then back to the traveller, and with a smile says "well, you've come to the right place."
And believe me when I tell you, he absolutely had.
Words by Joel Loughead
Photos by Frances Beatty