The first time I met Andrew, or AA as he signed his emails, he proudly told me, "I can't ever remember reading a book when I wasn't stoned."  Long before legalization, everyone knew that getting stoned was a big part of AA's life. It was a ritual we shared together. And it always ushered in great talks about books or movies or music or photography or whatever idea had captured his curiosity that day.
Andrew's curiosity drove him. Each week, when we arrived to play bocce, next to the pile of books he was ready to share was a smaller pile of books and DVD's he had ordered on a topic inspired by a book from the previous week. And, as everyone knows, books were also a huge part of his life. My guess is that on the morning he passed, he was getting up to read another book as he had done every morning for the last decade. That same first meeting he told me he read at least one book a day. He didn't finish every book, but he gave every one until page 100. And then he decided if it was worth continuing or not.
When I was lucky enough to be handed a book that AA thought I would like, I quickly accepted it as I knew it would be good. I also knew it would be full of little stickies at the top of pages with doctor-like prescription notes, most that I could not decipher. The books he saved for me were usually associated with photography. Andrew and Lorraine were always very supportive of my photography. They would sometimes use my photos in their museum exhibits or commission me to take photos. Andrew continued his support after Lorraine's passing, regularly buying prints to hang in his house or hiring me to take drone photos of his property. His love of my drone photos led to our first book together.
When I went to visit Andrew over the last few years, I never knew how long I would get with him. Sometimes we had quite lengthy visits (someone suggested that he liked talking to me as I have a loud, deep voice that he could hear after he refused to wear his hearing aids) and sometimes I couldn't even get in the door. Either way, when he was ready for me to leave, he made it clear. That's what I admired about him most – he did not conform to anyone's expectations of him. He was who he was.
Advertisement
I will miss him.
– John Fearnall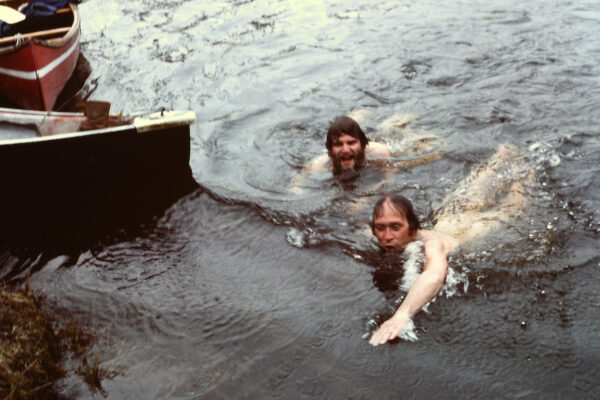 I have known Andrew for over 45 years starting with him hiring me to work in the film dept at the Owen Sound Public Library back in 1976. From that stemmed a lifelong friendship based partly on shared love for canoeing. Every spring starting in late seventies a group of Andrew's friends would gather for the annual early spring "Nuts in May" paddle down the Rankin River.
Well lubricated with rusty nails, some of us would go for the first swim of the season. This became an annual ritual after Andrew and I accidentally flipped a canoe on a submerged log.
From these early canoe trips we expanded our canoe tripping across Ontario including our wives, and as a result, decided to write a paddling guide to Grey Bruce. At that point our daughter Bella was a toddler who spent lots of time in the bow, as we explored local canoe routes. Andrew coined the phrase "Bella in the Bow" which has stuck to this day.
– Willy Waterton