Nestled in the rolling hills and wooded forests of Grey Highlands is ReLive Retreat, a one-of-a-kind nature experience set on a private 72-acre property. Located in Priceville, the off-grid and four seasons retreat was first opened in 2017 by hosts Johnny and Milena Parker.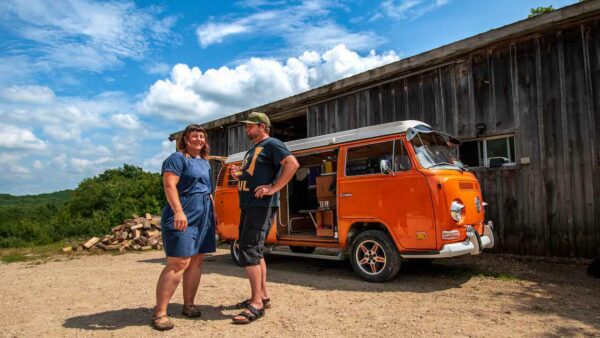 The property includes forested areas, a meandering meadow, hills, wetlands, apple trees, the Saugeen River, streams, and a natural spring to explore, along with lots of wildlife to sightsee. Featuring two custom-designed Mongolian yurts and a private chalet, as well as ample hiking trails, ReLive Retreat is a unique destination for wildlife lovers and relaxation seekers alike.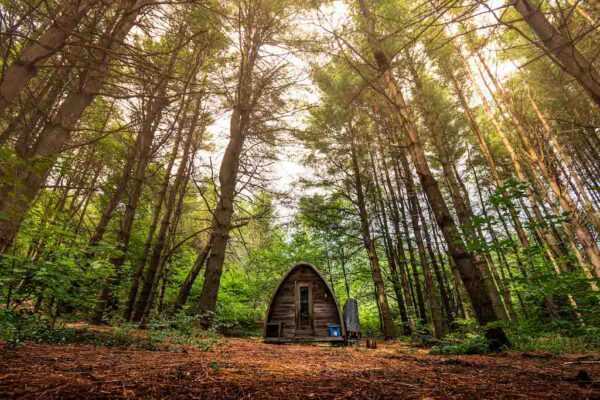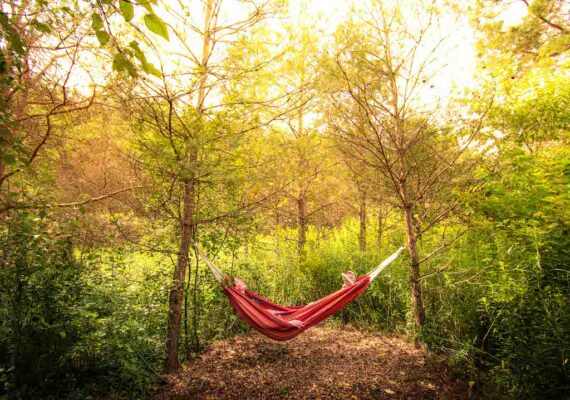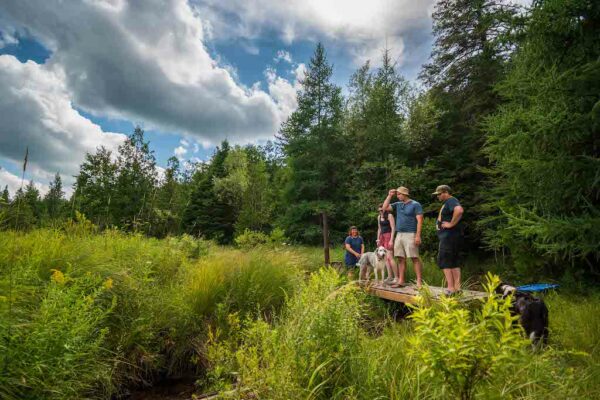 With more than 20 years of combined experience in design and architecture, Johnny and Milena were able to plan and build their vision of an ecological retreat from the ground up. They were inspired while visiting Vancouver Island and wanting to create something back home in Ontario. Unique architectural design was at the heart of their idea – an accommodation immersed in nature, respectfully integrated with the landscape, and with an emphasis on a low environmental impact.
"We have been creative since we were kids," Milena and Johnny tell me. "We never stop having ideas, literally." Several years ago, while travelling across Canada together, they were inspired by the sheer vastness of the country. "We opened our eyes to the fact that we could live and thrive anywhere, and we didn't need to be within commuting distance to the GTA," they explain. "And while travelling across our beautiful country, we stayed in so many different accommodations that were out in nature and it inspired us with many new ideas to try out ourselves – something merging architecture, nature and day-to-day life together in very authentic ways."
Advertisement
Then, one day, the property in Grey County came up on the market and Milena and Johnny knew that the piece of land was not only the perfect fit for them, but that it was also meant to be shared with others. "We sensed the multitude of life around us everyday on this land – the rainbows, wind, sunrises, sunsets, moonrises, starry nights, fresh water, wildlife, and fresh air. These are the gifts we are meant to experience everyday."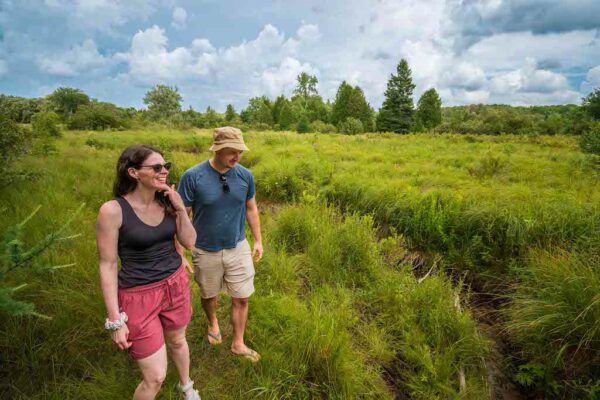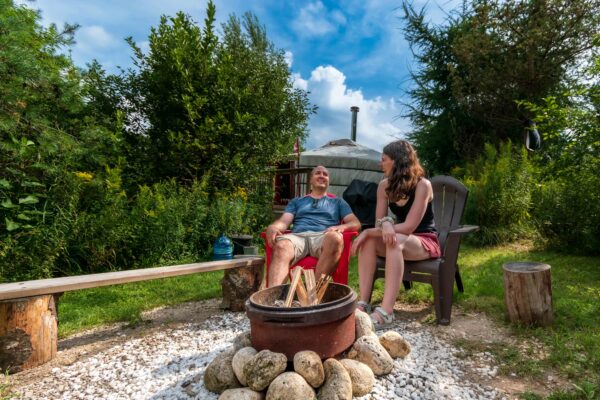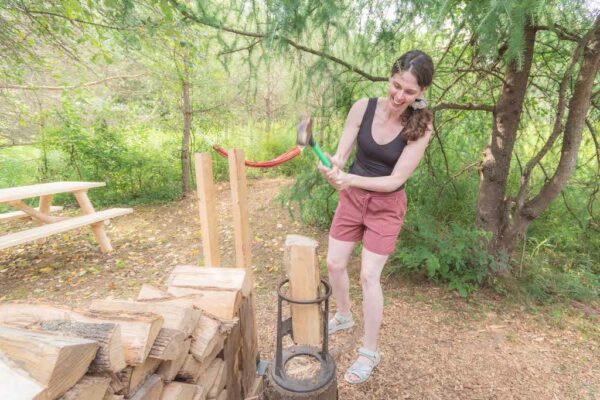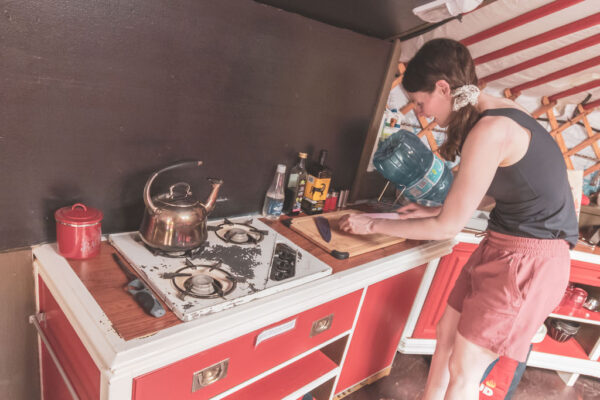 In designing the property and experience for guests, Milena and Johnny were certain that they wanted to create something distinct from a typical cabin/cottage experience. So, they asked themselves, what does a retreat mean to us? "For us, a retreat is a chance to pause and awaken your senses, without any stress or rush, by submerging yourself back into nature. We want to give our guests everything they need so they can take time, breathe at a slower pace, and truly relax." Their hope, they explain, is to inspire people to live connected with the natural world and to enjoy the peacefulness, with all the comforts, but at a smaller scale.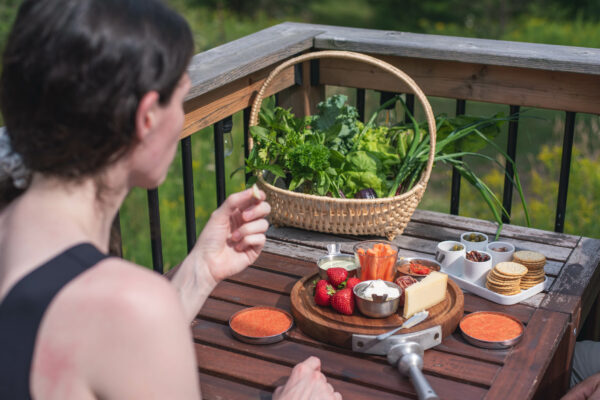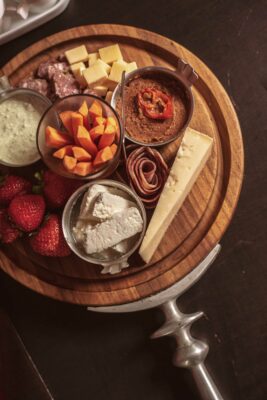 Upon arrival to the retreat, you'll be warmly greeted by the hosts' two energetic dogs, Boca and Happy. The entire resort is also dog-friendly for guests who would like to bring their furry friends along. After a short five minute "hike-in" to your accommodation, it's hard not feel an immediate sense of calm and quiet.
With that in mind, each yurt is thoughtfully equipped with everything one could need for a comfortable stay in the woods. ("The Scarlet" is 19' across and sleeps four guests, while "The Sunflower" is 16' across and sleeps three people.) Both yurts, compact yet unexpectedly spacious, give guests a taste of the "tiny living" experience. The two accommodations include a kitchenette complete with everything you could need to store, cook and prepare simple meals indoors, in addition to a bathroom outfitted with an eco-friendly compost toilet.
Each yurt also has a private deck, fire pit, woodstove, BBQ and outdoor eating area. Guests also have access to a communal Finnish sauna located along the trails, built by the local Mennonite community. The other accommodation option is the larger Hilltop Chalet, suitable for four guests, with lots of privacy and its own hot tub.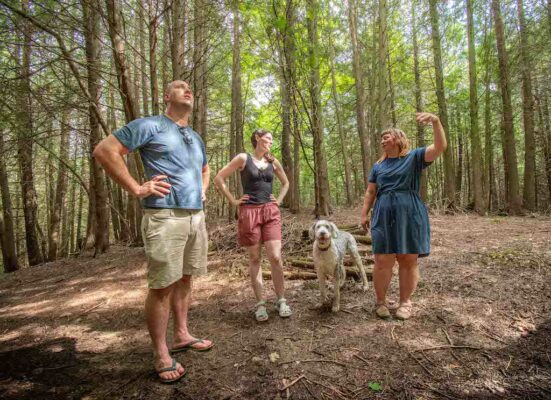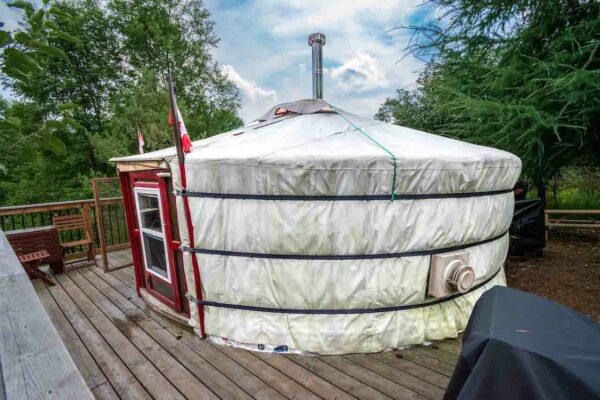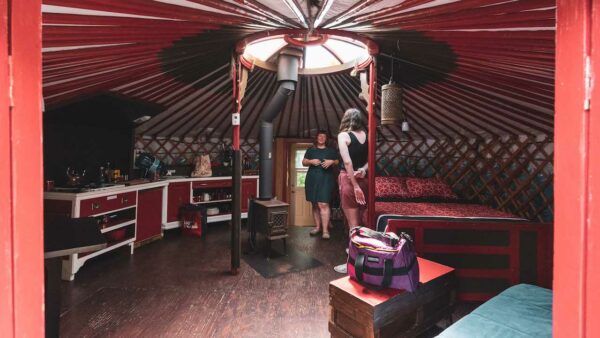 For Milena and Johnny, more creativity, planning, and growth is on the way. "Our first custom-designed cabins are being built this fall and will be ready for rental before the end of the year," they tell me. "There will be two exposed post and beam A-Frame cabins. The cabins, like the yurts, will also be a hike-in experience and will provide the same amenities with a few upgrades and increased space. "The cabins will provide what we feel is a northern Canadian experience, especially in the thick of winter," the pair explain. "In designing these, we were inspired by the simple triangle shape and how it resembles a tree, and how there is much life and nesting in a tree."
Every new cabin will be a unique design, which reflects the existing site within the landscape and will continue to push the boundaries of design, innovation, sustainability, and off-grid luxury living. "Meaning," they say, "you can be off-grid and still have the things you want most day-to-day. It's not about sacrificing, but about simplifying and being more free. From the diversity of the land to the dwellings we plan to build, ReLive strives to be a place like no other, always bringing new experiences to our guests."
Words by Emma Sweeney
Photos by Zak Erb