If you live in Grey-Bruce, chances are, you know how plentiful the local food and drink options are. With an abundance of well-established farmers' markets in the area, everyone can get their fill on regional and seasonal foods, from fresh produce to dairy products, and meats to artisan treats.
But, Eat Local Grey Bruce (ELGB) takes things a step further. The organization is a year-round online farmers' market that delivers local food and goods directly to residences and pick-up points all over Grey and Bruce counties, as well as Collingwood.
ELGB was envisioned by Kristine Hammel and Thorsten Arnold and was brought to fruition by a dedicated group of producers in 2016, Today, the non-profit cooperative is now made up of a staff of approximately 20 employees, a volunteer board of directors, producers who sell their goods and finally, consumers (also known as "eaters"). ELGB's mandate is to create a direct connection from producer to consumer, keeping markups minimized, and profits in the pockets of farmers and local food producers.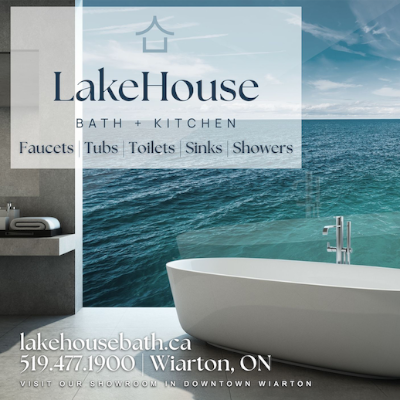 Since the early days, ELGB has gradually expanded, seeing unprecedented growth since the COVID-19 pandemic began.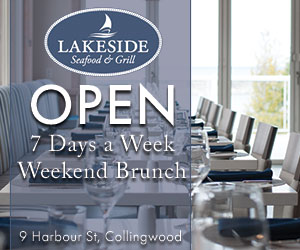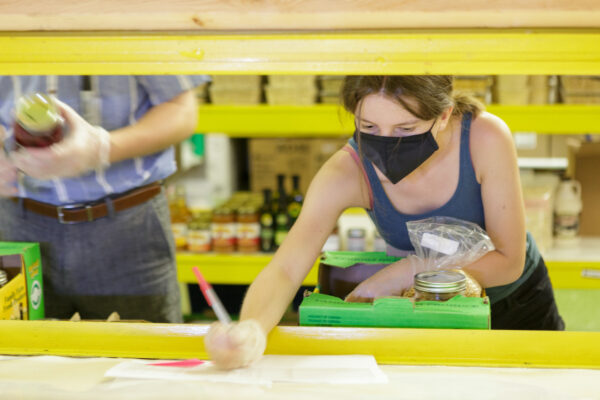 With more than 60 different producers selling over 500 unique products on the online store, ELGB is like a one-stop-shop for everything local. The region's freshest fruits and vegetables? Check. Local milk, eggs and frozen meats? Definitely. Customers can purchase anything from blended teas to baked goods, kombucha to maple syrup and everything in between. Eat Local caters to all types of eaters, and offers products for vegetarian, vegan and gluten-free eaters. In addition to prioritizing local goods, they also put an emphasis on certified organic as well as sustainable products wherever possible.
Michelle Watson, a resident of Tobermory, has been a member of the co-op since its early days in 2016. "I love that fresh, local, seasonal food gets delivered to me in my remote community of Tobermory. It makes me feel connected to the larger peninsula, and I'm so grateful for the access to quality, healthy food," she says.
Watson is also a recent addition to Eat Local Grey Bruce's volunteer board. "I'm very passionate about food, health, and food security issues, so getting involved with ELGB on a deeper level felt like a natural move," she explains. "It has been an incredible experience getting to know the organization and the passionate and extremely talented people behind it."
To join, individuals need to sign up to be a member ($35 + HST for the year, with seasonal memberships are also available). The online store opens every Friday through Sunday, and you can place your order to be delivered the following week between Wednesday and Saturday, depending on your location. Each week, ELGB's team of warehouse packers puts together about 200 different orders for households across Grey-Bruce. And, flexibility is baked right into ELGB's model – members can order as much or as little as they like, and there is no obligation to order every week.
With a vision to be accessible to all members of the Grey-Bruce community, the co-op also launched a Solidarity Membership program in 2021 to help lower-income individuals and families gain membership to ELGB and have access to local, healthy food. Memberships range in price from free for those who need it, up to over the $35 fee for those who are in a more comfortable financial situation and would like to support fellow members. The organization has also committed to donating one free Solidarity Membership for every 40 regular memberships sold. Additionally, members can purchase virtual solidarity "tokens" in any amount, which are used exclusively as credits for fellow members who need support buying food.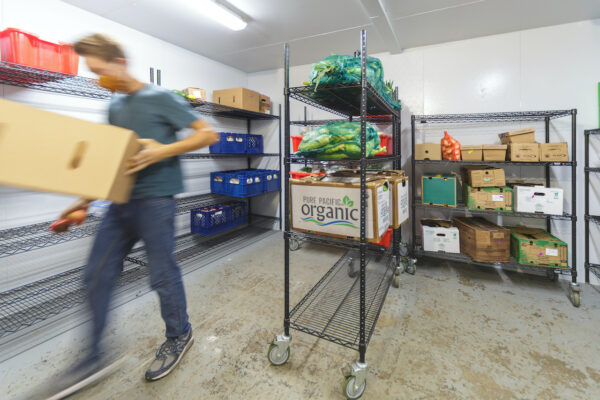 This idea of supporting the community has really established Eat Local as a hub within Grey-Bruce. "ELGB is a true cooperative, bringing together individuals who are committed to local agriculture, sustainable growing practices, and good food; grown with pride and harvested with dignity," says Michelle Watson. "ELGB does the incredible job of creating a fair and healthy local food system within the larger inequitable food economy. That is no easy task! Grey Bruce County is very lucky to have access to this service. By supporting a local food economy, you support food security…because the most secure food chains are the ones in your back yard!"
Because of Eat Local Grey Bruce, she continues, "the remote, far-flung communities on the Saugeen/Bruce Peninsula have access to healthy, fresh, sustainably raised or grown food year-round. These communities are better connected and better able to support each other and share the resources that come from the land. It means that during difficult times, or times of emergency, (like say during a pandemic), food chains are less volatile, and we can continue to feed ourselves and our neighbours."
To sign up as a member or find out more about ELGB, visit eatlocalgreybruce.ca. The organization also runs community events (open to members and non-members alike), such as an annual gala, online trivia nights complete with local chef-made meals, and even virtual film screenings.
Written by Emma Sweeney
*Disclaimer: Emma Sweeney is an Assistant Co-operative Manager at Eat Local Grey Bruce (currently on leave).