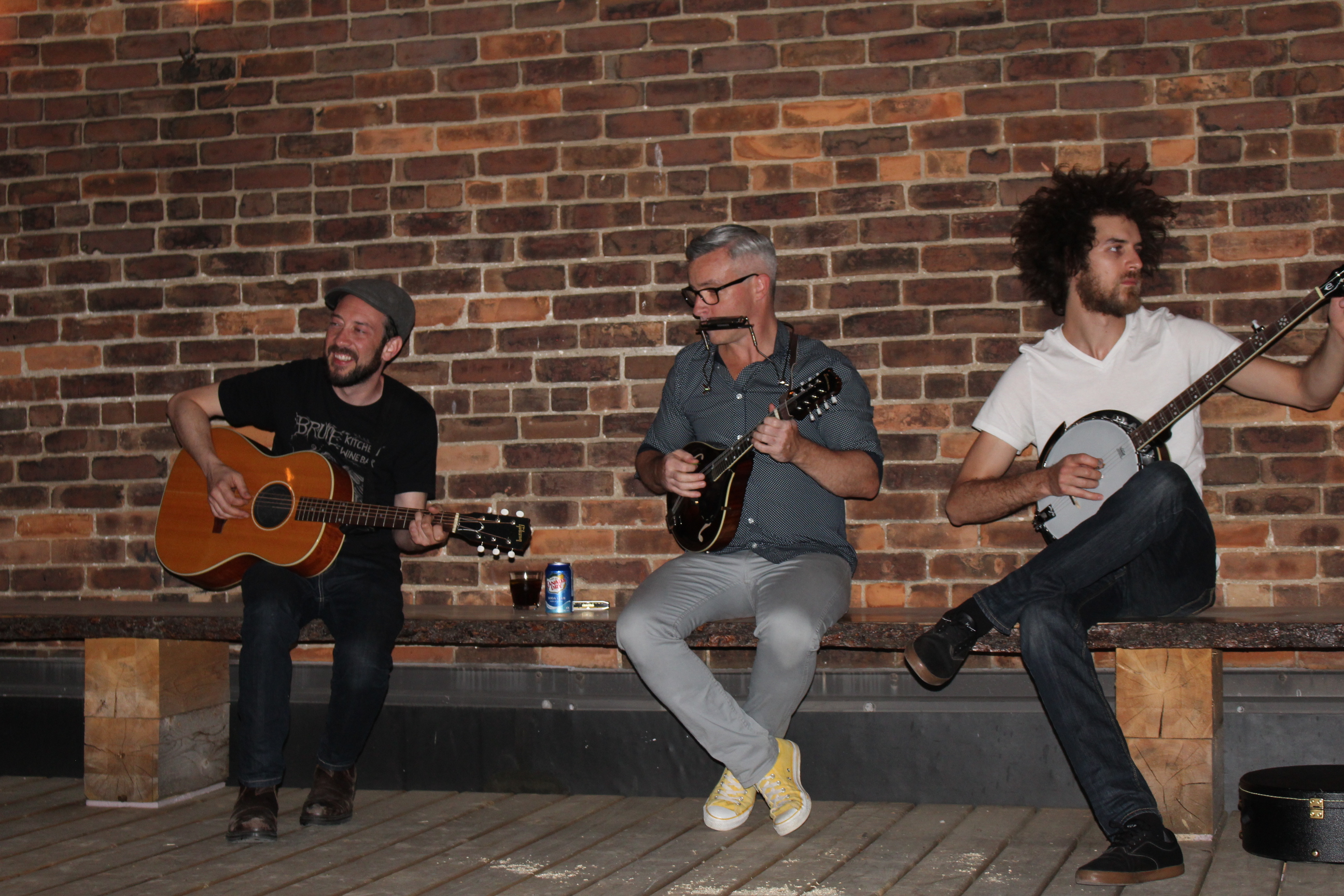 When you go to enough shows, sometimes you get lucky and get one of those rare experiences where spontaneous things happen. This was one of those times. After Freeman Dre and the Kitchen Party treated fans to a spirited set of tunes from their four-album repertoire of drinking and thinking music, they played an encore and invited friends and family on stage to join them for their rendition of Stand By Me. That was really cool, but that wasn't the rare experience I'm talking about. It came later.
I'll get to that in a second, but first I want to explain why Freeman Dre and the Kitchen Party are becoming one of Toronto's best live bands and one that Owen Sound was lucky to host this past weekend. The new album is 'thinking music' as Dre explained in our lead-up interview. The last album, Vodka/Pickle EP, was 'drinking music.' And the two before that are blend of klezmer, irish punk, and folk that address life in Parkdale and the stories that led them there.
The stories go as far back as Dre's grandparents leaving Poland during Nazi occupation, which is the focus for Old Town, their second album. And all that makes for a great variety in their live set. They can have you up dancing and clapping your hands, cheers-ing to your home town, and putting your arms around your good friends; and then they'll drop into a slow, powerful rumination about loss and desire that will have you captivated.
Advertisement
They opened with Ain't Going Back to the City, a great drinking tune and one to test the waters of the crowd. Once they knew they had everyone's attention, they kept it through two electrifying sets with a short break in between that they used to chat with crowd members and do shots of Jamesons. Some highlights from the sets include the Tom Waits inspired Let's Take the Show on the Road; klezmer infused Babylon; Pogues influenced Never Went to Church Much Anyway, and country/western song Went to Town.
They also pulled out some new ones from the recently dropped Reckless Good Intentions, including Hank, Adam and Eve, Maybe Losing Your Mind, and one of my favourites, Record Player. And these songs did get me 'thinking': this is an album that would sound great on vinyl. And for those who are thinking the same thing, they'll have a record release coming soon.
It is no doubt these guys are deserving of NOW Magazine's Best Songwriter's Award when they launch into Hit the Town at Night (No Shame) with lyrics like "no currency but Puritanical delusions/ smiling underneath a pile of cocaine" and "no filter left, I have no parents to embarrass/ no honour to inherit, no name." I haven't heard anything in a long time that so closely touches the masterful Leonard Cohen.
It's clear Dre's got a love affair with Parkdale, an area he's lived in for ten years. "Parkdale is an area filled with artists and oddballs. Just my kind of place" he says before launching into an ode with lyrics like "it feels like home" and "I've been changing all the time just like Parkdale". But Dre also has a connection to Owen Sound, which has brought him to the area to play twice in the past year. His mother resides here and it's clear from his songwriting and stage banter that family is very important to him. This means that Owen Sound can look forward to more shows by Freeman Dre and the Kitchen Party. And they're starting to build a faithful following here.
But the rare experience I was talking about came after the band had stepped off the stage and started mingling. It had been decided spontaneously that they should do an intimate acoustic set on the back patio for a small crowd. On the first warm night of the summer, a few of the band members brought instruments to the back deck and for a handful of fans, played stripped down versions of Oak Tree, Of All the People Here (a request of mine), and a brand new one about leaving the world a better place after you're gone. You can watch them perform this rare acoustic set by clicking here, or clicking on the picture below.
When discussing Freeman Dre and the Kitchen Party, there have been comparisons to Tom Waits, Leonard Cohen and the Pogues. And if we're playing that game, I'd have to add Gogol Bordello and Drive By Truckers. But at some point when you've added enough different 'sounds like' bands, it's a sign that they've really got their own sound. A kitchen party sound. Music for drinking and for thinking.
Written by Jesse Wilkinson
Video by Rachel Paterson