Le Ren – Morning & Melancholia

Earlier this year, I remember reading an article with the headline, "Loretta Lynn declares country music dead" and laughing out loud to myself. It seemed like a fairly out of touch statement, and almost a slap in the face…country music isn't dead, it just lives in Canada now. With established and emerging artists like Daniel Romano, Colter Wall, and Orville Peck leading the scene (I'm only scratching the surface here, my knowledge of country music isn't as sharp as it could be) I'm unsure why anyone would be coerced into listening to pop-country. There's something insulting about being tricked into listening to a genre where somebody(or a team of somebodies) writes a song about "the common man" performed by a millionaire and then try to deem it "authentic", luckily we can add Montreal's Le Ren to the list of people making a case for country music's pulse.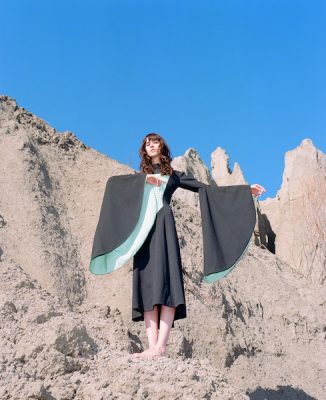 Blurring the lines of country and folk, Le Ren's debut EP "Morning & Melancholia" is an honest recording touching on the loss of her ex-boyfriend who was tragically killed in a car accident two years ago. The album opens with "Love Can't Be The Only Reason To Stay", a melancholy tune about her and her former partner's relationship that paints a picture of heartbreak. "I thought each step that we took/ was to the beat of our unified hearts/ I didn't see you were steppin' on me/ while still in the warmth of your arms", Le Ren sings amplified by her old school vocal delivery, a style not often heard anymore except maybe from the aforementioned Daniel Romano who just so happened to mix this track.
"How To Begin To Say Goodbye" feels like a moment captured in time. The raw production on this track makes it feel as though Le Ren is performing right in your living room, every pluck and squeak of her guitar heard and more importantly, felt. "If I Had Wings" carries on the themes of love, loss, and closure. "Now I'm here without you/ just the keeper of our memories/ as the years roll by I might lose my mind/ but I won't let you leave", she sings, her lyrics wrapped in a security blanket of some pedal-steel guitar courtesy of Aaron Goldstein who also mixed, engineered, and produced the track.
The album concludes with "The Day I Lose My Mind", which serves as a really great closing track. A little more upbeat than the rest of the album, this song is also the most instrumentally diverse. A dry snare guides the music we've come to expect so far to new heights as some more pedal-steel guitar and some piano (again played in an old-school style you don't hear as much anymore) enter the mix. "This old heart has broke down in sorrow/ and I've almost cried myself blind/ the day I lose your memory/ is the day I lose my mind, Le Ren sings closing out what is a fantastic debut effort from a young artist we can hopefully expect great things from.

Advertisement
---
Imperial Triumphant – Alphaville

Building off the blueprint that bred their fantastic 2018 effort "Vile Luxury" Imperial Triumphant is back with another avant-garde metal masterpiece "Alphaville". Combining elements of black metal, jazz, and whatever the hell else they feel like, this masked trio should be on your radar if you're looking for something a little different in your heavy music fix.
Opening track "Rotted Futures" sounds like the title implies, a whirlwind of flys about to feast until they're scared off by the guttural vocals of Zachary Ilya Ezrin. The rhythm section sounds like they're on a mission – punchy bass and pounding drums drive the dizzying fretwork of the guitar; arpeggiated passages, nasty skronk and dissonant slides…Alphaville is off to a great start and doesn't let up from there.
"Excelsior" starts with a wild jazzy bass solo and sets a relentless pace for the rest of the band to keep up with, but they're certainly up to the challenge. If it wasn't evident by now, Imperial Triumphant are masters of their craft and set the new bar on not to be fucked with. Keeping with the jazz elements, "City Swine" features a drum solo that would make Elvin Jones or Max Roach raise an eyebrow, especially in the context of the rest of this song.
As previously mentioned, Imperial Triumphant isn't afraid to incorporate other genres into their music, so why would they shy from being the barbershop quartet from hell on "Atomic Age"? Somehow, the experiment yields some pretty wicked results. The band really tries to make it feel authentic by burying the mix in a layer of static and pops, like a radio station breaking up on a long drive. "Transmission To Mercury" gives the illusion of being in a smokey bar in a detective movie, some cool jazz playing in the background as the mildly sexist protagonist interrogates some dame in a burlesque outfit, I guess some of these themes makes sense as the band has stated they try to "sound like New York".
Title track "Alphaville" successfully blends everything the band has offered thus far – rapid blast beats, punchy bass tones switching between metal and jazz solos at breakneck speed, frantic guitar work, trumpets and piano….there might even be a kitchen sink being smashed! "The Greater Good" is probably the most straight forward track on the album, but that's not to say there aren't some interesting things going on. The band create some tension on this tune, really creating a push/pull dynamic to keep it from being "just another metal song". The album concludes with covers of "Experiment" by Voivod and "Happy Home" by The Residents. It really shouldn't come as a surprise that Imperial Triumphant would be influenced by these 2 bands but it's compelling to hear their take on some already pretty strange songs.
Be sure to check out the "making of" video included in this article for some more insight into what makes this band so captivating.
---
Orville Peck – Show Pony

It would be hard to argue that there was a musician on the planet with a more successful 2019 than Orville Peck. The release of his debut album "Pony" saw Peck go from unknown opener to touring a rigorous schedule and concluding with a huge sold-out hometown show at Toronto's Danforth Music Hall. It would be easy to see why Peck and his labels would want another release ASAP and a little over a year later Peck has gifted us with his latest effort "Show Pony". Originally supposed to released in June, Peck delayed the album to August in support of the BLM protests across the planet, as much as having a "soundtrack to the summer" is important for an artist there's no denying the former is more important than an alt-country album…no matter how great it is.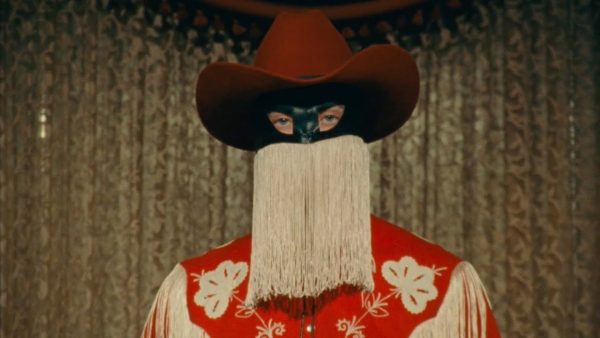 Opening track "Summertime", fits right in with the established Peck catalog of hits, reverb-soaked guitars, splashy cymbals, and steel guitar immediately grab your attention only overshadowed by Peck's booming baritone. "Keep on rockin' baby, keep on risin' on the tide, (somewhere along the rise), son of a gun and maybe, we'll be ridin' all night, (somewhere inside me dies), you and I, you and I, by and by, and I, I miss summertime", Peck sings during the song's gigantic hook backed by live member (and Frigs' frontwoman) Bria Salmena.
"No Glory In The West" is a stripped-back campfire tune (as shown in the amazing video we've attached in this article) with just Peck and his acoustic guitar. The song is a nice contrast from what's to come from some of the other songs like "Drive Me Crazy" and "Legends Never Die". It's not necessarily a bad thing that Peck throws his stetson into the world of stadium-country songs, I mean how else is one supposed to enter into superstardom?
Speaking of superstars did I mention that Shania Fucking Twain is a guest on this album? That's right, you read that correctly, the queen of Canadian country herself is featured on "Legends Never Die", a slice of pop-country, "been gone from my old ways, too long, draggin' these doggone days, but each song keeps me rolling my way, and I pray", she belts in the tune's opening verse almost showing Peck up on his own song. I don't think he minds one bit though, as evidenced by his ear-to-ear grin in the video for this one.
Written by Russ Walsh of Sour Cat Records