FKA Twigs – Magdalene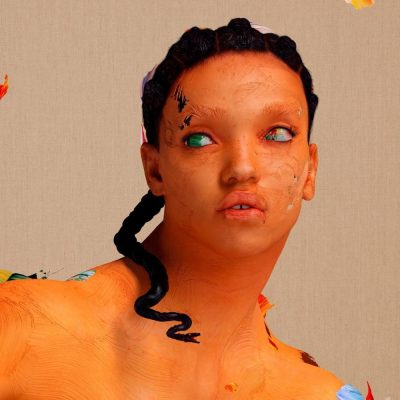 It's been 5 long years since FKA Twigs has graced us with a full-length album, and now the follow up to 2014's brilliant "LP1" is finally here."Magdalene" is a stunning effort touching on the themes of love and heartbreak, and it wastes no time getting to the point on the album opener "thousand eyes" pleading in the opening lines "If I walk out the door, it starts our last goodbye/ if you don't pull me back, it wakes a thousand eyes". Back to back songs "sad day" and "holy terrain" contain some notable production from a long list of collaborators including Skrillex (yes that one), who seems to have ditched his usual bass drops and "wub-wubs" in favour of some more ambient textures and crisp beats.
While the album's production is nearly flawless, it's really FKA Twigs' vocal delivery, range, and lyrics that make the album stand out. "mirrored heart" and "daybed" take us on a journey through loss and the inevitable depression that comes with a breakup, "mirrored heart " containing the devastating chorus "but I'm never gonna give you up/though I'm probably gonna think about you all the time/and for the lovers who found a mirrored heart/they just remind me I'm without you." This leads us to the grand finale "cellophane" which strips away (pun intended if you've seen the music video or powerful Fallon performance) a lot of the production and brings it down to somber piano performance….it's easy to see why the song was released as the first single for the album. By the time the listener has completed the album they begin to realize there's very little closure, these feelings are still very much present helping to truly depict the end of relationship.
---
---
Nick Cave and the Bad Seeds – Ghosteen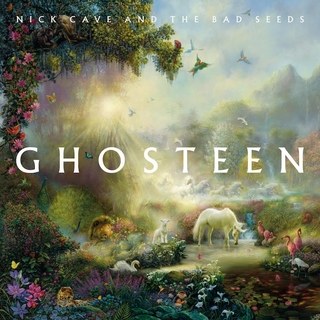 On "Ghosteen", Nick Cave and the Bad Seed's 17th(!!!) studio full-length album, the Bad Seeds take a bit of a back seat to solidify Nick Cave and Warren Ellis' vision of melancholy piano ballads and whirling synths. Right from the opening notes of "Spinning Song" the listener is sucked in by haunting drones and the familiar baritone of Nick Cave. It would appear that the days of Nick Cave barking and howling his way through an album are long gone (unless the rumours of a new Grinderman effort are true) but that's not to say he doesn't still have a few tricks up his sleeve.
During the outro of "Spinning Song" Cave dares to try a falsetto vocal, a huge change from his aforementioned baritone. This vocal style weaves in and out of the album like a strange acquaintance you run into at the bar…not around enough to annoy you, but you're glad they're there long enough to make an impression. On "Waiting For You" Cave really starts tugging on heartstrings, the repeating powerful chorus of Cave singing the song's title really reflects a sense of longing and urgency. "Sun Forest" is Cave at his most poetic, trying to take us on a journey from the opening lines "I lay in the forest amongst the butterflies and fireflies/and the burning horses and the flaming trees." That journey leads us to another whopping chorus, which this album is full of!
The title track of the album is the first on LP2 (the band's first double album since 2004's "Abattoir Blues/The Lyre Of Orpheus") is an album highlight and could go down as one of the band's greatest. Starting with a strange loops and a synth sound almost reminiscent of John Carpenter, it's a 4 minute tease before Cave joins us again with an almost spoken word before diving into yet another incredible chorus!
The music of Ghosteen acts as a foundation for Nick to build his poetry, which without over-analyzing makes a lot of sense. Since the release of their last album "Skeleton Tree", the band has had to deal with the death of Cave's son and the passing of long time Bad Seed Conway Savage. That's not to say the album is a complete bummer – if anything there is an underlying message of hope and even optimism.
For long time fans of Nick Cave and the Bad Seeds "Ghosteen" is another solid album in their discography that's certainly worthy of your attention.
---
---
Crops – Self-titled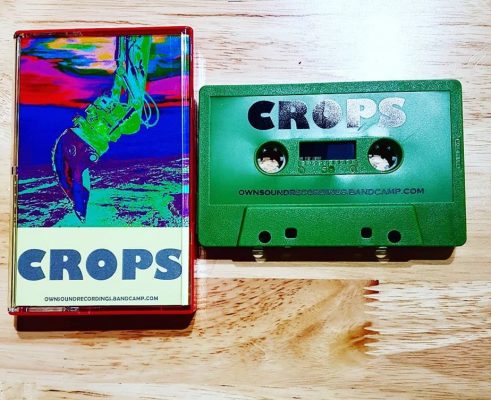 It's always exciting when a group of locals releases something so mind-bending, and experimental you can't wait to listen to it again and again. Cue Owen Sound and area outfit Crop's self-titled album, a collection of sorts this album takes choice cuts from live shows and rehearsals to deliver a thought provoking release. The mostly instrumental album could be described as art-rock or drone…maybe psychedelic but Crops take whatever labels you want to give them and throw it in a mutant blender with a V8 engine and machete blades…all that hardware and you still wouldn't be able to hear over the harsh fiddle playing, grinding lap-steel, numbing bass drones and the additional players Crops has enlisted to help pursue this sonic experiment! This release is another great addition to the already flawless resume of OwnSound Recordings, a local label that should act as a beacon of light for those who love something a little different.
---
"A lot people say music saved their life…it may have ruined mine".
Russ Walsh has spent the better part of his life playing, promoting and going to shows of various genres. He recently left his job selling instruments to open his own record store on 9th St in Owen Sound, Sour Cat Records.