I'm a music lover. It shouldn't be a surprise to anyone.
I'm constantly catching live shows, donning headphones for hours a day, reading about music, writing about music; I even play a little guitar from time to time.
So when I meet someone who values music as much as I do, I know the conversation is going to be a good one. I'm meeting Steve Vipond to do just that. Sure, we'll talk about other stuff too, like his successful businesses at Bruce Wine Bar and CROW: Bar and Variety. We'll talk about how it all got started and what he loves about the Georgian Triangle. Maybe even about how he transitioned from being a contractor to restaurant owner.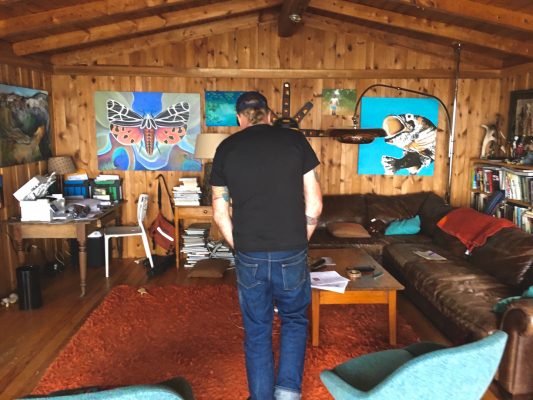 But what I really want to know is who he listening to these days; what bands he grew up going to see live; and where he finds the acts that take the CROW stage – you know the one I'm talking about with that iconic Music Saves sign buzzing on the wall behind.
Advertisement
See the reason I know Vipond is a real music fan is that I've witnessed him get up and pass a jug around his restaurant on behalf of a talented, but timid, young band playing on a Saturday night. There was no cover that evening so during a quick break, he moved around the bar collecting money so the band would leave with a little cash in their pockets, something he does often. 'Feeding the jug' he calls it and he does it because he values music, and wants others to as well.
As a music fan, I respect that. Music has a value, and it's something that comes up in our conversation by the front window of his Collingwood bar and variety looking out to the old Collingwood Shipyards. He greets me wearing a Steve Poltz hat, a clear sign that we have similar musical tastes.
"We're Americana guys" he says referring to himself and Craig Smith, who does sound and stage, and who also hosts the Open Mics on Thursday nights. "I'm a big fan of Craig and Romney," Vipond says. "I first saw them play at the Craigleith General Store, close to where I used to live."
Vipond invited them to play at his house and afterwards looked at Craig and said: "We should do this all the time man!" And so they did. Vipond turned it into a series that became the famed Bruce Street Social Club, which he says inevitably led to the opening of his two successful businesses.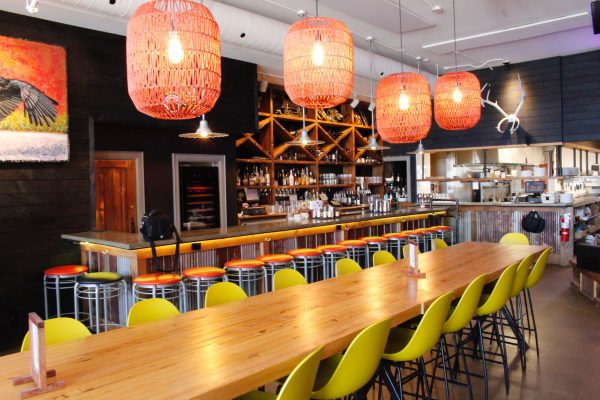 He has a passion for both music and food that he wants to share with others. "Two things that will save the world," he says. If that's right, then he's doing his part to prevent global catastrophe. He and his wife, Jen, and culinary partner and chef, Shaun Edmonstone, have found a way to fuse the two passions into an experience you can't get elsewhere. I'm not sure what's more consistent: the music or the food. In the case of my last visit: the fennel pork sausage pizza or the killer blues band. It's definitely the combo.
"I present it in a different way," he says. "So that people will think – 'I can go there and get a great meal and listen to some of the best music you'll hear – some of the best up-and-coming artists.'"
And it isn't just up and coming musicians he brings to the stage, it's the best from all ages. The only bands he doesn't book are metal and punk. And cover bands. If you want a cover band, there are plenty of venues doing that stuff. But it's his love for authentic Americana, folk, blues and rock that really drives his programming.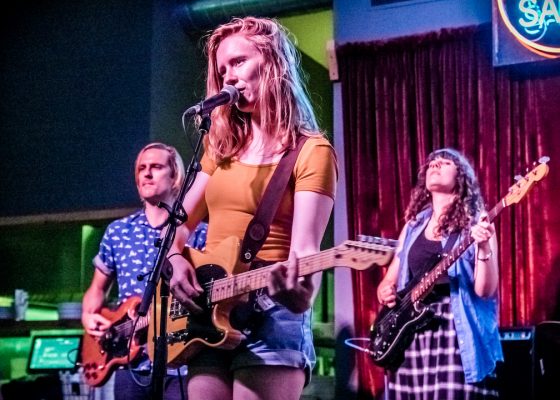 And that's not to say some of his acts don't get loud. "Skye [Wallace] comes in and rocks it out," he says. "She does it so well." It all depends on the experience you're looking for. The weekly Dinner Sessions are typically a little more chill, while Saturday nights can be a little more higher energy where the space by the bar transforms into a small dance floor.
Music is in Vipond's blood, and he feels blessed to be able to call it 'research' now. He's always on the lookout for bands to play at CROW, from venues in Toronto to concert series on Youtube.
"I'll watch Tiny Desk Concerts and send emails…It's my favourite part of the job: the research," he says from behind a big smile that is telling of his larger-than-life personality. If he digs a band he sees online, he'll send them a message, and he often gets a reply. There is only one he mentions specifically that hasn't contacted him back to play – that's Steve Earle. Vipond's a big fan. Another sign we'll get along just fine. "And I'd love to have Jim Cuddy play," he adds.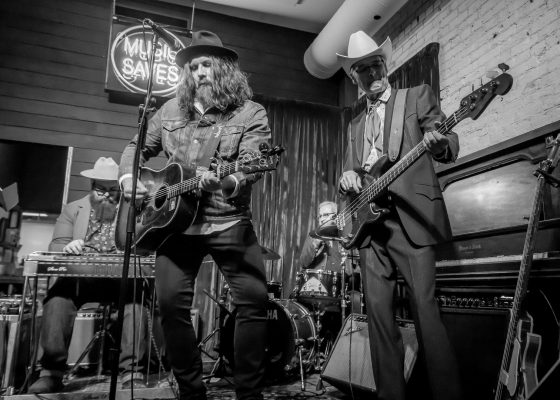 But there are so many great musicians around Ontario that booking the stage on a regular basis is not hard. There are some acts that consistently draw crowds, like Danny Michel and Tom Wilson, and there are some that have filled the place for their debut at CROW, like Erin Costelo.
If you're a music lover, or a food lover, or both, a good time to check out CROW will be this fall for their CROW Sessions where guests are treated to an excellent dinner and a cool show. So far, the lineup consists of Great Lake Swimmers, Russell DeCarle, and Irish Mythen, who will all blow your socks off.
These ones won't require the jug to be passed around, but if you're there for a 'no-cover Saturday night' and see the jug within reach, don't be shy to drop a few bucks in there – music has a value and these musicians work hard to entertain us all. Just ask Vipond – he'll likely be the one handing you that jug.
---
Written by Jesse Wilkinson
Feature photo by Nelson Phillips